by James Martin
McGill researchers join up with AstraZeneca to uncover the root causes of pain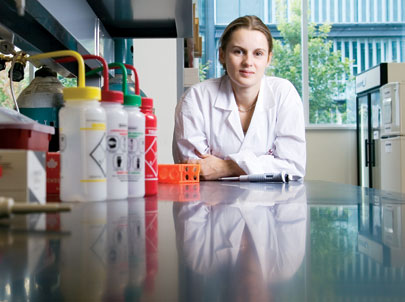 It's a world of hurt out there. Pain is the number one reason people visit doctors, and the indirect costs of chronic pain—such as increased absenteeism and decreased productivity in the workplace—are estimated to cost billions of dollars annually in Canada alone. Now, a new collaboration between AstraZeneca Canada, part of the multinational pharmaceutical company, and the McGill Centre for Research on Pain (MCRP) aims to understand how chronic pain works—and thereby improve its treatment and prevention.
McGill has a storied track record of pushing the pain envelope, from emeritus professor Ronald Melzack's revolutionary insights into how we experience pain, to psychology professor Jeffrey Mogil's discovery of gender differences in pain perception. (For more on Mogil's latest research, see "Sharing the Pain" on page 2 of this issue.) It's precisely this kind of innovation that inspired AstraZeneca to choose Montreal as its North American base of operations in 1994.
"We wanted to build a centre dedicated to the identification of new medicine to treat pain," says Philippe Walker, Vice-President Discovery, AstraZeneca Canada R&D Montreal. "McGill was clearly the driver of academic research in that area."
AstraZeneca is helping further that research by investing $2.5 million in McGill over a five-year period. Walker says the money is to be used to "encourage leading-edge pain science within McGill." Already the AstraZeneca collaboration has allowed the MCRP to hire three new pain researchers and recruit five new post-doctoral fellows. "When you already have a critical mass of pain researchers," notes Mogil, "the chance to add more researchers into the mix is exciting."
The post-doctoral positions are jointly supervised by McGill and AstraZeneca—what Mogil calls "a conduit of collaboration." Every six months, he and Catherine Bushnell, Director of the MCRP based in the Faculty of Dentistry, along with Dr. Fernando Cervero and Terence Coderre, respectively Director and member of the Department of Anesthesia's Anesthesia Research Unit, meet with three AstraZeneca scientists to discuss the direction of the fellowship research. "By being more closely linked to key opinion leaders in the field," explains Walker, "we can identify opportunities for the future. We can be prepared to start projects in the right field. To us, this is invaluable information."
AstraZeneca is interested in further understanding functional changes in pain perception, in the hope of creating new drugs that home in on the specific proteins that create pain. The company is also delving into the role of genetics in pain perception and how biomarkers (elevations of certain substances in blood or tissue) might predict a potential therapy's effectiveness before it's given to test subjects.
AstraZeneca maintains right of first negotiation for discoveries that might result from this research, but the ownership stays firmly at McGill. "It's key for us to protect the ability of McGill scientists to pursue research hands-off and to publish freely," stresses Walker.
The AstraZeneca money was also used to create over 10,000 square feet of new research space in the McGill University and Génome Québec Innovation Centre. The new labs feature multi-user animal-behaviour testing facilities, including a rodent magnetic resonance imaging (MRI) unit.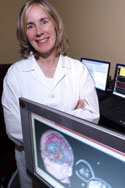 "Space is always at a premium," says MCRP director Bushnell. "This collaboration allows us to do many things that wouldn't have been otherwise possible." An electrophysiologist at the McIntyre Medical Building, for example, might need to do occasional behavioural work on animals. The new space would allow her to do so without sacrificing valuable lab real estate or incurring the sizable expense of retrofitting that space so it is conducive to animal work.
The new space allows McGill scientists the freedom to conduct more contract research for pharmaceutical companies. In addition to paying well, contract research is an invaluable way for academic researchers to apply their expertise to the real-world application of drug prototypes, and to further the sample size of their own test studies.
"I might be offered a big contract from a drug company to test the pain sensitivity of a specific transgenic knock-out mouse," explains Mogil, the E.P. Taylor Professor of Pain Studies and the Canada Research Chair in the Genetics of Pain, who regularly works with genetically engineered mice. "I could do it in my lab—but then that contract is competing for equipment I'm using for work covered by research grants. So the idea is, I hire someone to do the contract work over at the new space. It just expands our options."
AstraZeneca's investment is just the latest stage in a relationship that has borne much fruit over the years. Many McGill grads have gone on to work in AstraZeneca labs and, in turn, two of the company's scientists hold adjunct appointments at the University. Researchers from both organizations frequently mix it up at meetings and social functions. AstraZeneca also supports McGill's annual Pain Day, where dozens of Quebec academics gather to share their current research. Add the new lab space and appointments into the mix, and the bottom line is clear: this collaboration is good news, for both pain researchers and pain sufferers.
"There's a very real need for new therapies for the painful conditions that affect millions of lives," says Walker. "McGill has been able to attract world leaders in the pain field. We recognize their expertise, and want to be close to the action."
---
The McGill Centre for Research on Pain receives funding from the Louise Edwards Foundation.