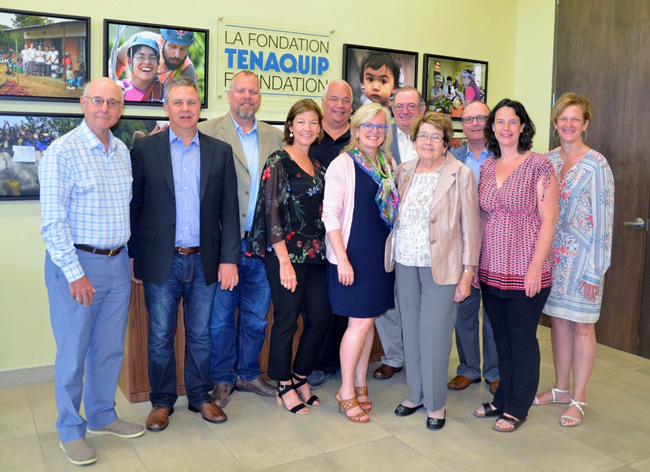 Tenaquip Foundation donation will allow for faster drug development, better care for ALS patients
A generous donation by the Tenaquip Foundation will improve the quality of care available to ALS patients at The Neuro, and increase the rate at which researchers can evaluate new ALS drugs.
The Foundation's $1.5M donation will help create the world's first Phase 1 clinical trial unit dedicated to developing drugs for all forms of amyotrophic lateral sclerosis (ALS), a devastating disease that currently affects approximately 3,000 Canadians and 200,000 people worldwide.
A Phase 1 clinical trial is the first step in evaluating a newly developed drug. The donation will enable biotech companies to collaborate with The Neuro in conducting Phase 1 trials at the highest regulatory standard in a safe environment. The unit has already received approval for four trials in the next 18 months in partnership with leading pharmaceutical companies. The unit will provide local patients with access to the newest and most promising ALS drugs.
"The establishment of a Phase 1 clinical trial unit will give ALS patients in Quebec and Canada first line access to the newest innovations," says Angela Genge, Director of The Neuro's Clinical Research Unit. "This donation by the The Tenaquip Foundation and Reed family will speed the rate at which we can evaluate promising new ALS drugs."
The ultimate goal is to leverage this donation to acquire additional funds that will establish a Global Centre for Excellence in ALS Research and Patient Care at The Neuro. This Centre will establish a bank of biological samples from ALS patients that researchers around the world can use to study the disease, in keeping with The Neuro's Open Science Initiative. The Centre will also allow The Neuro to hire additional ALS clinical staff to expand patient care from two to three-and-a-half days a week, implement new neurogenetics techniques to improve early diagnosis, and develop advanced brain imaging to evaluate drug effectiveness.
"ALS patients and their families are in desperate need of some good news," says Guy Rouleau, Director of the Montreal Neurological Institute and Hospital. "It's been a long, slow process to develop effective drugs that combat the disease. Thanks to the Tenaquip Foundation and the Reed Family for this generous donation."
This is the second major donation by The Tenaquip Foundation to ALS research and care at The Neuro. In 2011 they made a $2 million donation to establish the Reed Family Motor Neuron Disease Research Unit as well as to expand ALS clinical facilities to enhance services and care for patients. At the time this was the largest donation to ALS research and patient care in Quebec history.
"In 2006 Ken Reed, founder of Tenaquip Limited passed away from ALS," explains Michael Fitzgerald, Executive Director of The Tenaquip Foundation. "During his illness, with the help of his family, Ken Reed established The Tenaquip Foundation. Having seen Mr. Reed suffer so much through his battle with ALS, everyone involved with the foundation knew that something had to be done to cure such a debilitating disease. Although The Tenaquip Foundation supports upwards of seventy worthy causes, ALS research, which will someday lead to a cure, is forefront in all the foundation members' minds. This is why it is our pleasure and our honour to support the work of the MNI and especially Dr. Angela Genge, an expert in the field of ALS research and a truly compassionate human being."
About amyotrophic lateral sclerosis (ALS)
Amyotrophic lateral sclerosis, commonly called Lou Gehrig's disease after the baseball player who died of it, occurs as a result of the death of motor nerve cells in the brain and spinal cord. These cells control our voluntary movements. As more of these cells die, muscles weaken to the point of total paralysis. Death typically occurs less than five years following diagnosis, but a small percentage of patients live for ten years or even longer. Fewer than one in ten ALS patients has a family history of ALS. There is no cure.