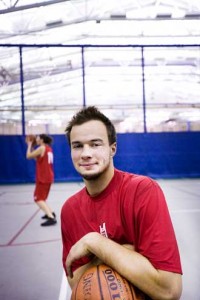 Much-travelled Redmen guard hopes to cap career with trip to Nationals
By Jim Hynes
Fans and teammates, for obvious reasons, call him "Moose." But for all the places basketball has taken him, Moustafa El Zanaty's nickname might just as well be "Suitcase."
Since he left Montreal to attend a Boston-area prep school in 2001, the 26-year-old McGill Redmen guard and Montreal native has played on the basketball team at five different institutions of higher learning across North America.
After a torn ACL in his final year at Prep School derailed plans to play for a Division I NCAA school in Massachusetts, El Zanaty embarked on a journey that eventually took him to Champlain College in St. Lambert, a junior college in North Dakota, Adelphi University in Garden City, New York, and, finally, Fresno Pacific University in California…each for a single season.
At Fresno Pacific, El Zanaty was named a Golden State Athletic Conference (GSAC) Scholar Athlete. He might have kept playing in the GSAC, the most competitive conference in the U.S. National Association of Intercollegiate Athletics, but he ended up graduating after his first year thanks to the CEGEP credits he carried over.
Staying and pursuing another degree at Fresno Pacific was an option, but an expensive one as his scholarship had run out. So El Zanaty returned to Montreal.
"I came back. In my head I thought I was done playing basketball," he said. "But I used to come to McGill and work out and Coach Norman would see my and ask me if I wanted to play. I still had two years of eligibility left in Canada, so I said 'why not,' because McGill is a great school, the best school around."
El Zanaty joined the Redmen in 2006-2007, but had to sit out the games for eligibility reasons.  He came off the bench in most games in 2007-2008, but ended up leading the team in scoring and was named a 2nd team Conference All-Star. In his heart, though, he knew he was capable of more.
"I hadn't played much basketball the year before, so I was rusty," he said. "I had some good games and some bad games. I wasn't consistent. I was unhappy with the way overall. So this summer I really got myself in shape. I played a lot of basketball and got myself to the level I should have been at last year."
And for that, the Redmen faithful are most thankful.  El Zanaty's points-per-game average of 24.25 is tops in the Quebec Conference and second-best in all of Canadian Interuniversity Sports (CIS), albeit after only four games. That said, he has had a number of superb performances in non-conference action, including 30- and 31-point games against NCAA opponents in pre-season games, a 32-point game against UPEI and a 44-point game in a Redmen loss to Dalhousie in November. El Zenaty scored 29 points in McGill's last game before the Christmas break.
"I'm not so much concerned with stats," El Zanaty said. "Since this is my last year, I'd really like to win. We have some guys who can score. I think Sean Anthony is one of the best players in the whole CIS and Matt Thornhill has been playing great.  So it's more the fact that I think we have a real opportunity at McGill to win some meaningful games."
The Redmen started the season with high hopes, and were ranked 7th in the CIS as recently as October 28. With any luck, the team could have a 3-1 Conference record but sit instead at 1-3 after an overtime loss to Laval and a two-point loss to Bishops. Overall, though, the team has a record of 10-8 and showed their potential when they won the Jack Donohue Memorial Tip-Off men's basketball tournament in Ottawa at the end of October.
"We haven't peaked yet. We're positioning ourselves for a good run in January and February when it's most important, because I think we have the pieces in place to win the conference," El Zanaty said. "I think it's the first year in a long time that McGill has the opportunity to go to the Nationals. We have a very strong chance this year."
El Zanaty is currently finishing up a Graduate Diploma in Entrepreneurship and plans to work with some friends who own their own businesses after he graduates. His ultimate goal is to own his own business some day.