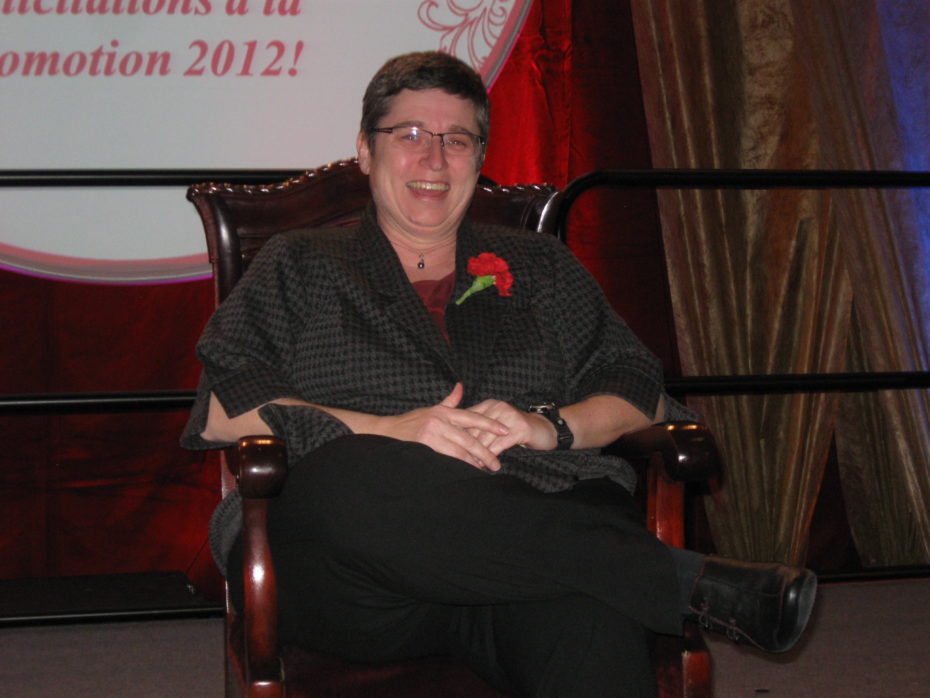 When she learned her cancer had spread, Laurie Jane Hendren did not mope or curse her fate.
"I remember her saying 'Well, there's no reason to save my money now, I'm going to build an extension to the house, this will make me happier,'" recalls her husband, Prof. Prakash Panangaden. "And she did."
Hendren was a much-decorated and highly respected McGill University professor of computer sciences who died of breast cancer on May 27, five years after first being diagnosed. She was 60.
Hendren received numerous awards for her academic achievements and was an elected fellow of the Royal Society of Canada. Recently, she was named the 2019 recipient of the Dahl-Nygaard prize, one of the most prestigious awards in computer science.
Panangaden, also a McGill professor of computer sciences, paid tribute to Hendren's many accomplishments as an academic, researcher, administrator, thesis supervisor and activist. But he said that all these achievements are secondary to what he valued most about his wife of 30 years, her character.
That character led to the creation of Opal, an app for cancer patients at the McGill University Health Centre, where she was treated.
Taking action
"She went in for radiation treatment," said Panangaden, "but even before the surgery, she did her own research on what kind of surgery she wanted, found a paper (by U.S. physicians) that described that surgery and contacted the authors."
She then connected the physicians in the U.S. with her own doctors in Montreal, who eventually agreed to do the surgery, a double mastectomy.
Already unpleasant and anxiety-producing enough in itself, the experience was made worse by the waiting around.
"There were long waits (for radiation treatments), you'd come in at 9 am and sit around until 3 pm," Panangaden said. "You go up to the desk and ask what's happening and they say 'We don't know, you'll just have to wait.' She thought this was not acceptable. Lots of people complain about waiting around, but she said 'I'm going to do something'."
Hendren saw a need for patients to easily access their data and play an informed role in their medical care as they moved through the healthcare system. Her radiation oncologist was Dr. Tarek Hijal, who also happens to be the head of radiation oncology at the MUHC.
"She told him we should develop software to make [the process] more predictable. That was the start of the Opal project."
An app is born
It so happened that Dr. Hijal and Dr. John Kildea, a physicist in the Medical Physics Unit, were already working on medical information software for the MUHC's systems.
But that project changed course rather sharply when Hendren insisted that patients be able to plug into the whole process using an app on their phones. She enlisted about 15 of her McGill students to help develop the software, while the coding was done by an MUHC medical team led by Hijal and Kildea.
It started with information concerning waiting times, but soon became a full-blown app that provides blood-test results, predicts appointment times accurately and allows check-in. Patients check in by waving the phone in front of a sensor, virtually eliminating long line-ups and reducing anxiety-ridden waiting.
"You can even leave the hospital for coffee, and a notification will pop up telling you you're due in 15 minutes," said Hijal.
Hijal said that when asked about her main objectives for the app, Hendren replied "access of data and (reducing) pain of waiting."
Lasting legacy
Still in its infancy, Opal has already won a number of awards including a Prix de cancérologie and, most recently, the 2019 Prix d'excellence du Ministère de la Santé et des Services Sociaux. Sadly, Hendren died just days before the latter was announced.
"We worked very closely with her and we miss her both on the professional level and on the personal level," Hijal said. "She knew what she wanted, she was a militant for patients' rights."
He added that more than 200 MUHC cancer patients are now on the app with "a few more every day."
"Our goal is in the thousands; we think we'll do it."
Hendren's vision was to extend the app to all patients in Quebec, then Canada, then…
"It'll be a tremendous legacy if we're able to get where she wanted to get," said Hijal.
Hendren also started a blog, https://flatchestedwarriors.weebly.com, that includes useful tips and do's and don'ts for relatives and friends of cancer patients.
Panangaden described both himself and his wife as rationalists, "which brought us a lot of comfort."
"Of course, she was very sad that she would not see our daughter grow up and succeed." The couple's daughter, Jane, 25, is pursuing a PhD in mathematics in California.
"But there was no 'What have I done to deserve this? Why is God angry with me?' There is no God. No God is angry with you. This happens by chance," said Panangaden. "Some people are very unlucky. She was very unlucky."
Donations may be made to the Laurie J. Hendren OPAL – Cedars Fund
Learn more about the Opal app.