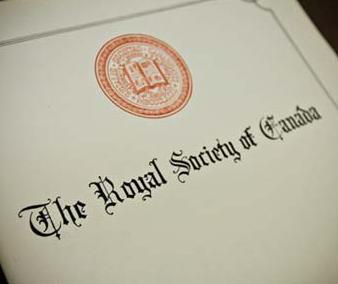 By McGill Reporter Staff
The Royal Society of Canada (RSC) announced 71 new Fellows this week, including eight McGill researchers and scholars from the faculties of Arts, Science, Law, Agricultural and Environmental Sciences and the School of Computer Science. They join the more than 100 current McGill-affiliated Fellows.
The RSC also announced 11 Medals and Awards recipients, four of whom are McGill researchers; professors Siegfried Hekimi and Catherine Potvin from the Department of Biology; Physics professor Guy Moore; and Roxanne Pelletier from the Royal Victoria Hospital's Department of Clinical Epidemiology.
"It is truly extraordinary for so many McGill researchers to receive medals and fellowships in a single year," says Rosie Goldstein, Vice-Principal (Research and International Relations). "We are extremely proud of all the honorees and the immeasurable contributions they make to research, teaching and learning at McGill. Collectively, they embody the University's history of excellence while reaffirming that McGill remains at the forefront of research in Canada."
Established in 1882, the RSC is the senior national body of distinguished Canadian scholars, artists and scientists. The RSC consists of nearly 2,000 Fellows selected by their peers for outstanding contributions to the natural and social sciences, arts and humanities. As Canada's national academy, the RSC not only recognizes academic excellence, but it also advises governments and organizations, and promotes Canadian culture.
This year's new Fellows will be inducted to the RSC during the Induction and Awards Ceremony on Saturday, November 17, at the Ottawa Convention Centre. The medals and awards will be presented at the same event.
Complete list of McGill-based 2011 RSC Fellows:
Robert Lecker – Department of English
Robert Lecker is a leading authority on Canadian literature. His internationally recognized studies have explained the evolution of literary value in English Canada and have transformed our understanding of Canadian cultural identity.
John A. Hall – Department of Sociology
John A. Hall has made important scholarly contributions in a prolific career in the areas of nationalism, liberalism, state theory and international relations. He has been the recipient of the Marcel Vincent Prize from Quebec. He served as Dean of the Faculty of Arts during a crucial period of renewal. He is currently completing a book on nations, states and empires.
François Crépeau – Faculty of Law
Hans & Tamar Oppenheimer Professor in Public International Law and scientific director of the Centre for Human Rights and Legal Pluralism, Faculty of Law, McGill University. United Nations Special Rapporteur on the Human Rights of Migrants. Guest Professor at Université catholique de Louvain. Fellow 2008-2011 of the Pierre Elliott Trudeau Foundation. Member of several editorial boards: Journal of Refugee Studies, International Journal of Refugee Law, Refuge, Droits fondamentaux, Refugee Law Reader.
Vijaya Raghavan – Department of Bioresource Engineering
Vijaya Raghavan is a research scientist and engineer who studies and develops pre- and post-production technologies and processes for growing and handling crops and horticultural produce. His work on soil management, controlled environment storage, drying, and thermal processing have led to the development of technologies and techniques that are being applied in developmental work in India and potentially in Africa to address issues of food security and safety, and poverty.
Timothy Moore – Department of Geography
Dr. Tim Moore has made outstanding contributions to our understanding of the interactions between soils and the environment in a variety of settings. He is an acknowledged expert in both field and laboratory studies. A leader in the biogeochemistry of soils and ecosystems, Dr. Moore has investigated greenhouse gas exchange and carbon cycling under both natural and disturbed conditions in Canada and elsewhere, published widely and been cited frequently.
 Laurie Hendren – School of Computer Science
Professor Laurie Hendren is a world leader in the area of compilers. Her McGill research team is renowned for both new compiler techniques that automatically analyze, transform and optimize programs, and for novel compiler toolkits that are used by researchers worldwide. She is a Fellow of the ACM and holds a Canada Research Chair in Compiler Tools and Techniques.
Bruce Lennox – Department of Chemistry
R.B. Lennox specializes in the synthesis and application of molecules and nanoscale materials that are encoded to self-assemble. The resulting self-assembled materials provide an entry to applications ranging from biosensors to photonics to biomedical devices.
Chao-Jun Li – Department of Chemistry
Chao-Jun Li is an international leader in Green Chemistry—the vitally important field involving the discovery and development of environmentally benign chemicals and chemical processes. He has received both the U.S. Presidential Green Chemistry Challenge Award and the Canadian Green Chemistry and Engineering Award on the subject. In 2007, the Canadian Chemical News listed his research as "one of the most important chemistry discoveries of the past century in Canada".
The McGill-based 2012 RSC Medals and Awards recipients:
The Flavelle Medal: Siegfried Hekimi – Department of Biology
Siegfried Hekimi has made major contributions to the understanding of the aging process of animals by studying long-lived mutants. Using this approach he demonstrated that distinct biochemical processes impinge on aging independently. He also proved the existence of a causal link between mitochondrial function and aging. Most recently he successfully challenged the widely acknowledged free radical theory of aging, by demonstrating that the rate of damage from free radicals can in fact be uncoupled from the rate of aging.
The Rutherford Memorial Medal in Physics: Guy Moore – Department of Physics
Guy Moore is an expert in many-body relativistic field theory. His work includes heavy ion collision theory, where he helped to elucidate the properties and behaviour of the Quark-Gluon Plasma and cosmology, where he has studied the origin of the matter antimatter asymmetry in the Big Bang.
The Alice Wilson Award: Roxanne Pelletier – Department of Clinical Epidemiology, Royal Victoria Hospital
Integrating traditional medicine and psychological as well as relational factors has always been a key interest of Roxanne Pelletier. Currently, she is studying the links between cardiovascular health and quality of life. She is working to improve the situation of women as well as their health prognosis by considering factors specific to both sexes in her research program. Dr. Pelletier has received numerous awards, honours and scholarships for her pioneering work.
The Miroslaw Romanowski Medal: Catherine Potvin – Department of Biology
Global change biology has always been at the centre of Catherine Potvin's interest. Early in her career she worked to disentangle the physiological consequences of elevated CO2 concentration on plant growth and biodiversity. Her current research focuses on tropical landscapes where her team is developing land use strategies that maximize carbon sequestration as a mitigation tool for climate change.