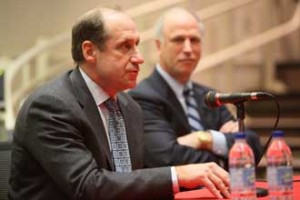 Bob Gainey and Don Meehan discuss the legal side of Canada's game
By Pascal Zamprelli
As the most successful player agent in all of hockey sat down to give a talk in the Faculty of Law Moot Court on Jan. 8, Don Meehan was hit by a wave of nostalgia. He recalled learning about constitutional law (and, he admits, dozing off once or twice during early morning classes) in that very room.
"My first year here at the faculty was 1972," said the Law alum, before remembering that his audience was made up mainly of students. "Were you guys even around then?"
"I was," deadpanned a friend Meehan had bought along (Bob Gainey, General Manager of the Montreal Canadiens) in the monotone Habs fans know so well. But his own studies, Gainey pointed out, had taken place elsewhere.
"I got my degree down the street at the corner of Atwater and St. Catherine [the old Montreal Forum where Gainey won five Stanley Cups with the Montreal Canadiens]," he said. "Then I got my Master's over in Minneapolis [where he won another Stanley Cup as the coach of the Minnesota North Stars in 1991]."
Invited by the McGill Entertainment and Sports Law Association, Gainey and Meehan, whose current client list includes NHL stars Jarome Iginla, Nicklas Lidstrom and Montreal's Andrei Markov, were on hand to talk about all things legal and hockey-related: contracts, negotiations, player agency and arbitration.
They offered a rare glimpse into the action that takes place off the ice before coaches and players are free to concentrate on the game and fans are free to enjoy it. After months of intense negotiation, for example, the 2004-2005 NHL lockout led to a new collective bargaining agreement (CBA) between the league and the players' union, a covenant Meehan said "changed the landscape, and changed the rules."
Indeed, when play resumed it was anything but business as usual: a salary cap, revenue sharing and new clauses on arbitration and free agency meant that the rules had become  more complicated and legal minds were in demand.
Noting that nine of the league's current 30 general managers have legal backgrounds, Meehan made it clear that law and lawyers play a central role in the hockey industry – from interpreting the CBA to negotiating transactions for players in Russia, where "the only certainty is that there are no rules."
Gainey agreed that understanding the laws that govern contracts, for example, is essential for any team.
"The CBA provides me with the ground rules by which we play," he said, but added that its complexities require him to enlist legal expertise. "We need that input."
Students were eager to make the most of the opportunity to ask questions about hockey's legal side and about to get a foot in that professional door. But it didn't take long for the audience to move on to some of the hockey questions to which Gainey is more accustomed, which he took in stride, doling out doses of his dry wit.
For the student who feared that U.S. expansion has diluted the league's talent, Gainey pointed to new youth programs in American cities that now contribute to the talent pool. Without the one in Long Island, N.Y., for example, "[Chris] Higgins and [Mike] Komisarek are playing lacrosse at Rutgers or something." And to the self-described "huge fan" who admitted to being "super scared" about whether the current, highly talented Canadiens team can be kept together: "Why don't you let me worry about that and you just enjoy the game."
Meehan ended the event by offering some words of encouragement for aspiring sports lawyers. After graduating, he had, like many, accepted a job with a major law firm. At the time, player agency and sports law generally were just beginning to emerge. When he told his firm that was what he wanted to focus on, "the senior partner looked at me like I had three heads." So, determined he was on to something, he left the firm and now leads a company that represents 130 NHLers.
With McGill law degrees, he said, "Anything is possible for you. You have every opportunity in the world." Not without hard work, though, he warned. "If you're thinking nine to five, this isn't for you."