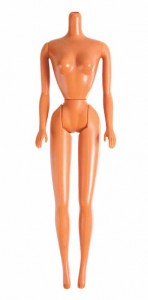 By Shirley Steinberg
This is the book of the generations of Barbie.
(1) In the beginning, Ruth Handler created her, the third day of March in 1959 – in the likeness of Ruth's daughter and Lily, a German whore, she made her.
(2) Female first she created, and blessed her and called her name Barbie after her first-born. Ruth saw that it was good and there was much money to be made.
(3) And Barbie lived three years and Ruth created Ken, male and female she created them both.
(4) Then Ruth said, Let there be baby sister Skipper. And by the year of our Lord 1964, they were three.
(5) In later years, 10 friends were created for Skipper; and Midge was created to be Barbie's best friend.
(6) And in the year of our Lord 1968, Christie was created. Christie was unlike any other creation; verily, her skin was black. She was to be known as the black Barbie. And it was so, Barbie was diverse.
(7) And these are the years and days of Barbie, the days of Barbie and the Rockers; the days of Barbie and her pets, including puppy Sachi and horse Rosebud; and the years of Barbie's family, cousins Francie and Jazzie, siblings Tutti, Todd and Stacie, and Spice Girl Barbie.
(8) And through Stacie, friends were born, Whitney and Janet.
(9) And through Ken, multiple male friends were born and, like Ken, none ever married and, verily, their manhood was always in question, as it was never visible.
(10) But Barbie was most plentiful with friends by the year of our Lord 2009, having multitudes of girlfriends with whom to shop. Among them was Cara, who also was black, and Teresa, who was Hispanic, and Kira, who was Asian.
(11) Hence Barbie was known through the Land as multicultural and virtual, having become cyber-connected.
(12) No one in the Land ever spoke of Barbie's origin as a German working girl; her occupations were truly varied – she was a nurse and a doctor, a pilot and a stewardess, and Scully and Mulder.
(13) Barbie was blessed with the gift of shopping and, ye verily, she had a Bloomingdale's credit card, a Mercedes, a pink condo, a Corvette, a yacht.
(14) Chosen ones were picked by Ruth and Mattel to design for Barbie: Dior, Chanel, Mackie, Nicole Miller and Versace, they created for her all.
(15) Little girls knew throughout the Land that they, too, could be Barbie – ye, they were told that "we girls can do anything."
(16) Non-believers questioned Barbie, for she was created without a brain, nipples or conscience.
(17) In later years, Barbie and her name were sold to the highest bidders: McDonald's, Pizza Hut, NASCAR and Disney, her name was bought by all.
(18) In the year of our Lord 2004, Barbie and Ken announced their breakup. It was known throughout the Land that Ken was not manly, but all were relieved that they would remain friends.
(19) By the 50th year, those who sold Barbie found revelation that they must reinvent the plastic girl in order to replenish the coffers.
(20) And so it came to be that these were the days of Barbie; and it came to pass, when Barbie and her friends began to multiply on the face of the Earth, that little girls began to buy, as verily, one doll was never enough.
And Barbie lived 50 years until this record.
Shirley Steinberg is an associate professor in the Department of Integrated Studies in Education. This article originally appeared in the Globe and Mail on March 3, 2009.