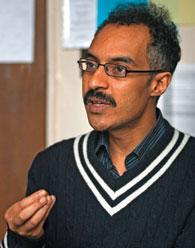 Political science and Islamic studies professor Khalid Medani wants to understand the rise of Islamic fundamentalism in Sudan—and his interest is more than just academic.
Medani was born in Sudan. A 1989 coup made his homeland the first country to be completely controlled by Islamic fundamentalists. During the first year of its reign, the new government killed a group of black marketeers—including someone Medani knew.
"After that execution, I became obsessed with understanding the linkages between formal and informal institutions and the notion of identity in Islam," he recalls. "I wanted to know how and why they took power." Medani wasn't alone in his curiosity. "When fundamentalism came to Sudan, with prisons and tortures, my colleagues said to me, 'Why don't you research and write about what's going on and tell the world?' Muslims are trying to understand what's happening to their religion and to their countries."
Medani's work recently received a big boost when he received a two-year Carnegie Scholarship worth $100,000. He was the only Canadian-based researcher chosen by the New York-based Carnegie Corporation, a non-profit funding organization created in 1911 by businessman and philanthropist Andrew Carnegie.
Medani will be looking at the different factors that drive young Muslims into fundamentalist groups in Sudan, as well as Somalia and Egypt. His approach is multifaceted, interviewing and surveying ordinary Muslims for their street-level perspectives, while also conducting historical research. He wants to get a sense of the various factors—ideological allure, sociopolitical issues, employment histories of local populations, levels of poverty, ethnic or tribal loyalties—that facilitate recruitment by fundamentalist groups.
Medani will also be travelling to Africa to study the expansion of hawwalat (unregulated Islamic welfare organizations) and the role of alahi (private mosques) in providing an environment conducive to recruiting young militants.