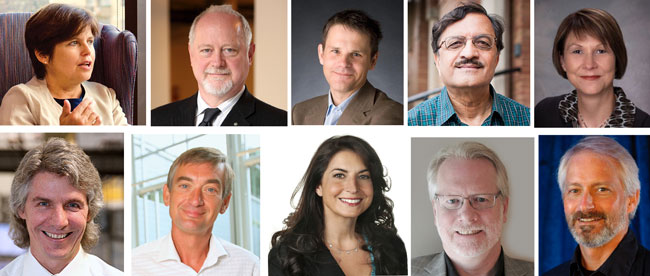 Today, the Royal Society of Canada (RSC) announced the induction of 89 new Fellows, 10 of which are McGill researchers and scholars. The new cohort of Fellows will be formally inducted into the RSC on November 18, in Kingston. They join the more than 160 McGill-affiliated Fellows inducted to the Society since 1966.
Established in 1882, the RSC is Canada's national academy of distinguished scholars, artists and scientists. The RSC consists of over 2,000 Fellows who have been selected by their peers for outstanding contributions to the natural and social sciences, arts and humanities. The RSC works to advise governments and organizations while recognizing academic excellence in Canada.
This year's inductees represent McGill's excellence across the disciplines, with research interests ranging from systemic discrimination and equality rights to developing better a understanding of the genetic bases for diseases
"It is a wonderful honour for McGill to have ten of our scholars inducted into the Royal Society of Canada," said Dr. Rosie Goldstein, Vice-Principal, Research and Innovation. "The RSC does invaluable work in promoting Canadian scholarship, and we are proud that our colleagues are making significant contributions to that mission."
The Royal Society of Canada's annual meeting will be held in Kingston, Ontario in November. Formal induction of this year's laureates will occur at that time.
McGill's 2016 Royal Society of Canada Fellows:
Cindy Blackstock, Professor, School of Social Work, Faculty of Arts
Charles Bourque, James McGill Professor of Neurology and Neurosurgery, Researcher, Research Institute of the McGill University Health Centre; Associate Member, Department of Physiology, Faculty of Medicine
William Foulkes, James McGill Professor of Oncology, Medicine, and Human Genetics, Faculty of Medicine
Thomas Lamarre, James McGill Professor in East Asian Studies, Associate Professor in Communication Studies, Faculty of Arts
Paul Lasko, Professor of Biology, Faculty of Science
David Plant, Professor of Electrical and Computer Engineering, Faculty of Engineering
Hosahalli S. Ramaswamy, Professor of Food Science and Agricultural Chemistry, Faculty of Agricultural and Environmental Science
Guy Rouleau, Professor and Chair, Department of Neurology and Neurosurgery, Faculty of Medicine
Colleen Sheppard, Professor, Faculty of Law
Hanadi Sleiman, Canada Research Chair (Tier 1) in DNA Nanoscience, Professor of Chemistry, Faculty of Science