Systemic racism in Canada is taking a heavy toll on the physical and mental health of the country's Black population. But, according to Dr. Onye Nnorom, people can lessen at least some of the impact through resistance and ancestral wisdom and traditions.
"There are three key lessons that are the foundation of this presentation," said Dr. Nnorom at the beginning of the keynote address at yesterday's Opening Ceremony for McGill's fifth annual Black History Month (BHM). "Systemic anti-black racism is making us sick, both mentally and physically as black people; resistance to anti-black racism can contribute to wellbeing; and we must value Afro-centric approaches and perspectives, values and practices, in order to improve health and wellness."
A graduate of McGill's Faculty of Medicine and Health Sciences, Dr. Nnorom is a leading voice pushing Canada's medical system to recognize, study and address anti-Black racism. She is the Associate Program Director of the Public Health & Preventive Medicine Residency Program at the University of Toronto, and is the Black Health Theme Lead for the Faculty of Medicine at the University of Toronto. As the Black Health Theme Lead, Dr. Nnorom is tasked with developing educational content for teaching medical students about Black Canadian health, and inequities due to systemic racism.
The virtual event drew 300 people making it one of the most successful Opening Ceremonies yet, according to Shanice Yarde, Equity Education Advisor (Anti-Oppression & Anti-Racism Education), one of the main organizers of BHM and emcee for yesterday's event.
Indigenous Elder Charlie Patton opened the event with a traditional welcome. This was followed by introductory remarks from politicians Jennifer Maccarone, MNA for Westmount–Saint-Louis; and Cathy Wong, City Councillor for the Ville-Marie Borough.
Commitment to confronting anti-Black racism
This ceremony is a very meaningful opportunity to highlight the presence and achievements of McGill's Black community – a community that enriches our campuses in so many ways," said Principal Suzanne Fortier in her opening remarks, "as students and staff, as social entrepreneurs, as Rhodes scholars, as musicians, as people who teach and do research so that we can share knowledge and advance our understanding of the world."
"Of course this recognition must go beyond the month of February," said the Principal. "We must work hard, throughout the year, to ensure that McGill's Black community has the tools and the resources and the opportunities to excel in all their activities and their fields."
The Principal said that BHM is also a time to reflect upon McGill's commitment to confronting anti-Black racism.
"As you know, this fall, McGill launched its Action Plan to Address Anti-Black Racism. This is a very important step toward ensuring that we build, and will continue to build, a more inclusive and equitable environment for all students and staff," she said. "This plan sets a very important commitment for McGill as we embark on our third century."
Provost Christopher Manfredi also spoke of the Action Plan as an important step on a critical journey.
"Through the Action Plan, we have made a broad number of ambitious commitments that will lead us to understand more fully, and to address with conviction, anti-Black racism in our environments," said the Provost. "We have already begun work on many of the commitments set out in this Plan, including the creation of a Working Group on Black and African Studies at McGill and the launch of a strategic hiring initiative in Black knowledges and experiences across Faculties and disciplines. These are just two of the important steps we are taking to live up to our commitments in the Action Plan."
"We have taken some important steps but we still have a way to travel. At McGill, we will continue on the path toward full equity through iterative, reflective efforts," continued the Provost. "I recognize that these efforts must emanate from leadership. At the same time, critical work is done by students, faculty, staff and alumni. While many groups have made important contributions to McGill's anti-racism efforts, I note in particular the Dr. Kenneth Melville Black Faculty and Staff Caucus, whose members have helped shape the development and implementation of McGill's Action Plan to Address Anti-Black Racism."
Racism felt at every stage of life
In her keynote address, Dr. Nnorom said that while Blacks experience racism on a daily basis in many forms, there is one form that is more insidious and impactful. "Whether the racism occurs at the individual level, or the interpersonal level, whether it is conscious or unconscious, the main damage caused at a population level is caused by systemic racism," she said.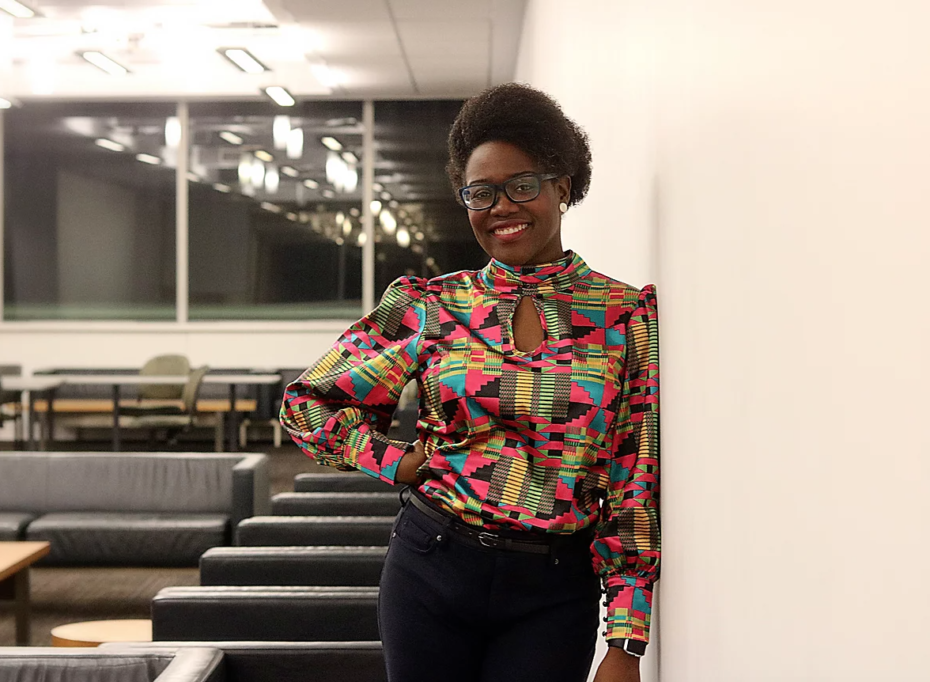 "Our systems, institutions, policies and work cultures were founded on the belief that European appearance, customs, norms, beliefs, behaviours and standards were, and are, inherently superior," she said. "That sets the stage in which we have these systems and structures that have created and then maintained systemic racism."
The impact of systemic racism is felt throughout a person's lifecycle. Black women in Canada have a higher incidence of low birth weight babies and preterm births. Blacks are more likely to be investigated by child welfare services, more likely to drop out of high school, and more likely to be incarcerated. Studies have shown that Blacks earn 75 cents for every dollar non-racialized people earn, and that Blacks with a graduate degree have a higher unemployment rate than non-Black high school dropouts.
"When you look at the statistics, you realize that we are constantly facing barriers due to the color of our skin," she said. "And the anti-Black racism is there in the classroom, in the courtroom. And yes, even in the boardroom."
The never-ending gauntlet of racism is exhausting, said Dr. Nnorom, only increasing the "allostatic load," or the wear and tear on the body which accumulates when an individual is exposed to repeated or chronic stress. This increased allostatic load leads to higher levels of chronic disease, such as hypertension, and mental health issues.
As well, this exhaustion can lower a person's motivation to stay physically active or to cook healthily, resulting in higher levels of obesity and other chronic conditions. The situation is only exacerbated because many Blacks hesitate in seeking medical help "because of the stereotyping and bias" they experience at hospitals and healthcare centres.
Resilience and resistance work best "as team sports"
Dr. Nnorom said that there are any number of important factors that can help reduce stress levels, ranging from positive family support to "city-level programs that teach you how to navigate systems with regards to upward social mobility."
Ignoring or shrugging off anti-Black racism is an unhealthy coping mechanism for individuals. Instead, she said, people need to push back.
Dr. Nnorom cited a study that looked at coping mechanisms among Black women and men. The study found that ignoring anti-black racism actually increases stress and the allostatic load. "Being the type to engage and to either fully resist at an individual level, or collective level is associated, particularly for black women, with a decrease in allostatic load."
Blacks must also "tap into our ancestral wisdom" and "practices within the African diaspora that we have been taught, to disregard, and to be ashamed of," said Nnorom. Greeting each other on the street, talking to strangers and practicing gratitude are all behaviours common "back home," as Dr. Nnorom called it, that promote wellbeing.
"Random acts of kindness – when somebody just brings over food, or you can drop in at their house, unannounced, and spend the day," she said, adding to her "shortlist" of positive activities. "Exercise, like dancing. Support Carnival… I think it's very important for us to not lose these and to keep these in mind as communities."
"In my own experience, I would say that when it comes to resistance and resilience, they are best played as team sports," said Dr. Nnorom. "And we know that from our history that it needs to be done at the level of the collective."
To learn more about Black History Month 2021, including the schedule of events, consult the webpage or the BHM Facebook page.