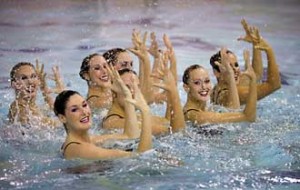 McGill team starts championship quest in home pool
By Jim Hynes
The drive for…six. It doesn't have quite the same ring, or rhyme, to it as the slightly inferior quest. But McGill's synchronized swimming team is striving for it nonetheless – six consecutive national titles, that is.
"That's our goal every year," said team Co-President and Co-coach Lynn Macrae, "to keep that streak going."
The drive for six Canadian University Synchronized Swimming League (CUSSL) titles got off to a good start this past weekend at the McGill Invitational, the first of three events the team will take part in this year. Eight of the white team's 10 members and its twelve red and novice members competed in the event. McGill walked away with top honours in the main team and duet events, while the novice team had an encouraging third-place finish. Eight teams in total from McMaster, Waterloo, Ottawa, Queens (3) and McGill (2) took part.
"Overall it went really well," said McGill swimmer and meet manager Savannah Forrester, a second year Neuroscience student from Calgary. "A meet like this gives us the opportunity to get some feedback from the judges on what they liked and disliked, and let's us fine-tune our routines as we get closer to the Nationals."
Funding for this, and most other McGill club-level teams, is a major challenge. The team's travel budget for its two events away from home tops $5000. The team members each contribute $350 for a place on the squad, where bathing suits alone cost over $100. Some costs are covered by funds raised through bake sales and other events, as well as through alumni contributions.
"In the next couple of years we can expect to have competitions, including the Nationals, out West," said Macrae, a Dollard-des-Ormeaux resident and Masters of Science in Genetic Counselling student. "And it makes me nervous just talking about it because it's such a threat to the club. It would be so sad if we were unable to go. Because we are such a strong club and we want to keep that going. We don't want to have to say we can't come to a competition because we don't have any money."
So why is an under-funded team, one that gets by with a minimum of pool time, a perennial powerhouse?
"I think it's a combination of things, good coaching, dedicated swimmers, and also a good pool of local swimmers," Forrester said.
"We're very fortunate to have really strong swimmers coming to the club," said Macrae. "And most of them have had experience in coaching. So when we create and choreograph the routine it's really a team effort and we get a lot of good, creative results from that."
Next up for the synchro team is the Queen's Invitational on Jan. 16. The CUSSL Championships take place on Feb. 6 at Western.