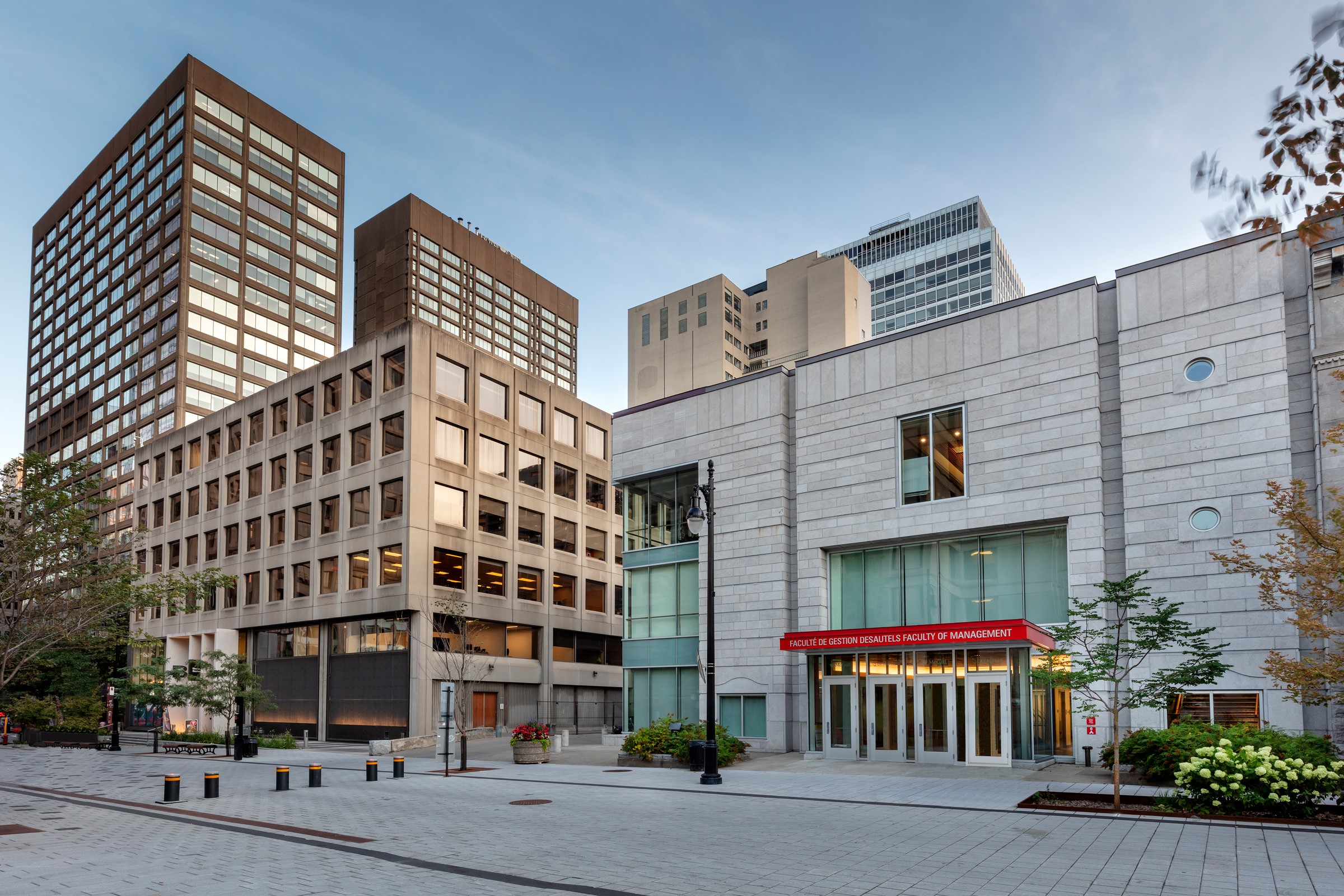 If you walk by the Donald E. Armstrong Building, on McTavish Street, you'll notice a plaque – recently installed – that officially attests to the LEED Silver certification the building was granted. The LEED certification follows the extensive renovation the former home of the McGill bookstore underwent in 2017. The building was transformed to host the Desautels Faculty of Management's master's programs and provide the faculty an additional 48,666 square feet.
Throughout the transformation, efforts were made to significantly reduce the environmental impact of the project, primarily by renovating and, thus, reusing the existing building. In addition, the energy efficiency of the building was improved by 37 per cent and water efficiency by 40 per cent.
LEED, which stands for Leadership in Energy and Environmental Design, is the most widely used green building rating system in the world. It is a framework for healthy, efficient, carbon and cost-saving green buildings. There are four levels of LEED certification: Certified, Silver, Gold and Platinum.
McGill has integrated LEED-equivalent standards in its construction and renovation projects for many years. For example, the Life Sciences Complex, inaugurated in 2008, obtained LEED Gold certification.
"Current or recent projects for which McGill is pursuing LEED certification include a new research facility at the Gault Nature Reserve, the new greenhouse under construction at Macdonald Campus, the new central hub for the Alan Edwards Centre for Research on Pain, and two other research facilities on the downtown campus," says Emmanuelle Lapointe, Director, Design Services, Facilities Management and Ancillary Services (FMAS).
McGill's new Gold standard
In its Climate and Sustainability Strategy 2020-2025, McGill established the requirement that all new construction and major renovation projects be, at minimum, LEED Gold certified.
Increasing the number of LEED-certified buildings contributes to McGill's long-term target of achieving a Platinum sustainability rating under the Sustainability Tracking, Assessment & Rating System (STARS®, a framework used by universities and colleges).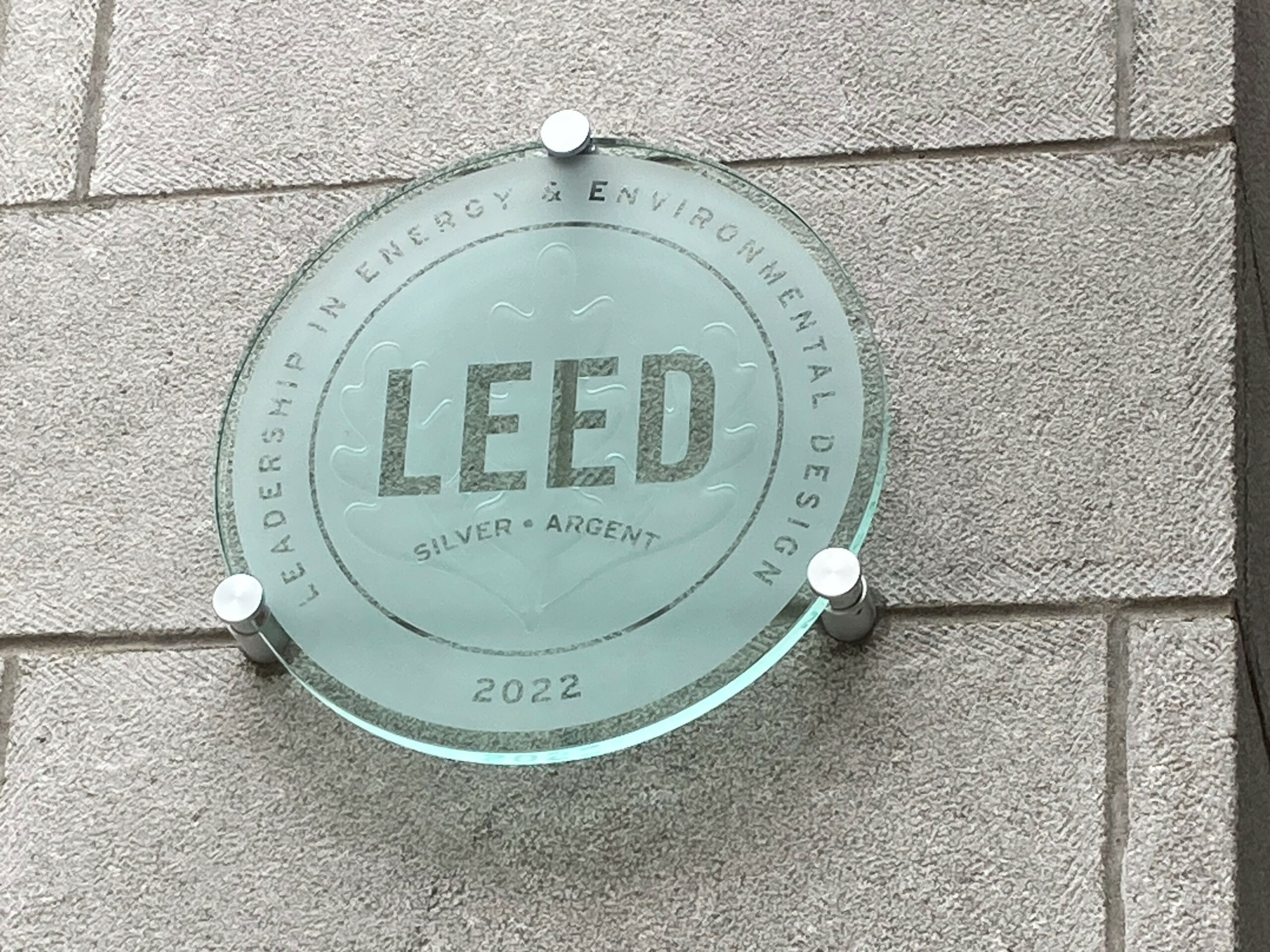 The LEED Gold requirement applies to the construction of all new buildings and renovations consisting of more than 50 per cent of a building's floor area. In this respect, McGill is pursuing LEED Gold certification for two of its major infrastructure projects: the New Vic and Fiat Lux.
For major interior fit-outs, meaning renovations of more than 500 m2 of a building and the modification of two or more building systems, McGill aims for LEED Gold equivalency. Equivalency is defined as the integration of LEED Gold criteria without officially submitting the project for certification.
"Due to technical constraints, limited scopes and/or financial constraints, it is not always possible to submit all of McGill's projects for certification," explains Philippe St-Jean, Senior Sustainable Construction Officer, Design Services, FMAS. "For example, projects in historic buildings that cannot be properly insulated for technical reasons might fail to meet the energy performance prerequisites."
However, McGill's building design standards are developed so as to apply best practices related to sustainability across construction and renovation projects, including applicable LEED requirements, even without pursuing certification per se.
Raising the bar through building design standards
McGill's building design standards ensure consistency across projects. Developed in collaboration with the various FMAS teams, based on each unit's expertise, these standards touch upon every aspect of construction and renovation.
In addition to sustainability considerations, McGill's standards also integrate aspects related to the wellbeing of building occupants, inspired by WELL criteria. The WELL certification is a roadmap for promoting the physical and psychological health of occupants through design decisions.
Standards aimed at improving sustainability and wellbeing include those that provide guidelines for the choice of products and materials, waste management, the elimination of refrigerants in HVAC equipment, occupant access to nature within or around the building and daylight maximization.
Another important factor in decisions is the cost of the material or equipment over time. "We require an analysis of what is called the Total Cost of Ownership [TCO] for all major construction and renovation projects," says St-Jean. "TCO, or actual cost, quantifies the cost of the purchase across the product's or equipment's entire lifecycle, from purchasing and deploying to use and retiring. For example, a piece of equipment may be more expensive to purchase but more durable or less expensive to operate." The TCO analyses therefore help identify the solutions best aligned with a sustainable and efficient management of McGill's financial and human resources, and of its physical infrastructure.