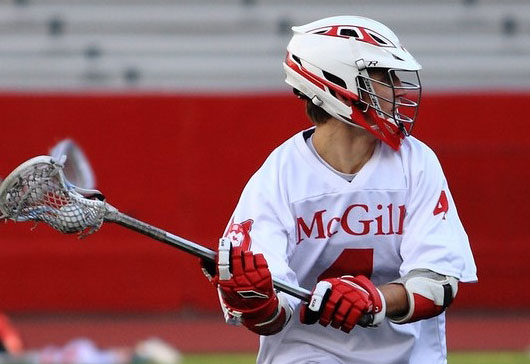 By Earl Zukerman
Midfielder Emile Sassone-Lawless of Ithaca, N.Y., collected eight points and attacker Spencer Bromley of Surrey, B.C., scored six goals as the McGill men's lacrosse team overwhelmed Ottawa 15-8 at Percival Molson Stadium, Sunday.
The result extended McGill's win streak to seven and clinched second-place for the Redmen, who improved to 9-1 in the East Division standings of the Canadian University Field Lacrosse Association.
Despite the lopsided score, it took until the fourth quarter for the Redmen offence to become untracked. The only led 2-1 after the opening quarter, 6-4 at the half and 10-7 after three stanzas.
"Slow start, big finish," quipped McGill head coach Tim Murdoch, trying to explain a recent plethora of slow starts. "We're a fragile young team that is still forming our identity and sometimes it takes us a while to get into our rhythm."
Sassone-Lawless, who quarterbacked the offence all night, scored twice and added six assists. He leads the league with 27 assists in only eight games. Bromley ranks fourth in goals with 30 in nine contests.
Overshadowed on the scoresheet was a five-point soiree, including four goals, by sniper Goose Bolton of Darien, Conn. Teammate Alex Linton of Ridgewood, N.J., added a pair and rookie Liam MacDonald of North Vancouver, B.C., added a single.
The game featured a third hat-trick, as Frederick Hartley of the Gee-Gees potted three in a losing cause. Rounding out the scoring for Ottawa was Brandon Perras with two, plus one apiece from Shayne Snider, Liam Brechin and Keith Lee.
McGill had a 25-19 edge in shots as goaltender William Waesche registered 11 saves for the victory. At the opposite end of the field, a shell-shocked Isaac Lavallee took the loss, conceding 15 goals on 25 shots.
With two games remaining on the schedule, McGill (9-1) is still in hot pursuit of the division-leading Trent University, which sports an unblemished 10-0 record, including a 10-9 decision over the Redmen in Peterborough on Sept. 17. All is not lost, however, as McGill will host Trent in a made-for-TV season finale, Oct. 23 at 4 p.m. Before then, however, McGill has one more game, at Queen's (4-5) on Oct. 22.