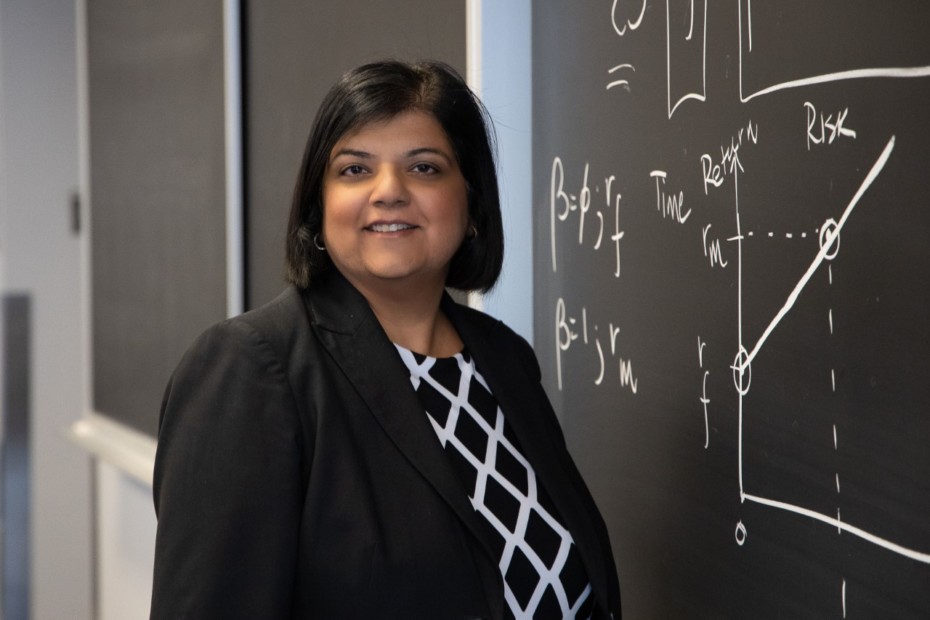 Sujata Madan, Professor of Finance at the Desautels Faculty of Management, has been named one of ten 2020 3M National Teaching Fellows – the highest recognition of individual teaching excellence and educational leadership at the university level. The Fellowship is jointly managed by the Society for Teaching and Learning in Higher Education (STLHE) and 3M Canada.
"Sujata Madan is an inspirational leader and a charismatic teacher of financial literacy. She is an innovator who has found ways to help learners, from undergraduate students to seasoned business professionals, to advance their financial skills," said the citation on the STLHE website. "Sujata is devoted to training the leaders of tomorrow and to assuring her students are ready to adapt and excel, in tune with an ever-changing environment. She does this by giving her students opportunities to apply theory to the real world and building intuitive thinking. The generosity she shows to her students transcends the classroom walls, inspiring them to become giving and empathetic people."
Standard bearer for excellence in teaching
Since joining McGill in 2005, Madan has become a standard bearer in the University's mission to enhance its quality of teaching. Her enthusiasm has made a lasting impression on finance students in undergraduate and graduate programs who see her not only as a teacher, but as a mentor, a champion and a friend. With an innate ability to translate complex concepts into relevant and digestible content, Madan helps to bridge the gap between theory and the real world.
"This award belongs squarely to my students," says Madan. "They are the ones who constantly teach me how to be a better teacher. Their constant love and support gives me the confidence to try out crazy teaching techniques, including inane analogies, and their enthusiasm and curiosity push me to ensure that they leave class feeling empowered."
The best of Canadian post-secondary educators
"These ten educators will join the Fellowship community of over 300 dedicated and inspiring leaders who have all helped shape post-secondary education in Canada for the past three decades," said Denise Stockley, President of STLHE. "Each recipient is a leader and educator who represents the Canadian post-secondary landscape at its best."
"Canada faces unprecedented environmental, social and economic challenges in the coming decades. And tackling those challenges requires a highly skilled, resilient workforce," said Penny Wise, President of 3M Canada. "By recognizing and honouring teachers who are innovating, evolving and equipping Canada's next generation of leaders, we're proud to help put a brighter future within reach."
Recipients of the award each receive a lifetime membership for STLHE and are invited to a retreat with their cohort to share knowledge and create synergies to continue to promote leadership and excellence in teaching and learning. STLHE and 3M Canada will officially welcome these teachers into the Fellowship at the Annual Conference of STLHE which will be hosted in Ottawa June 9-12.