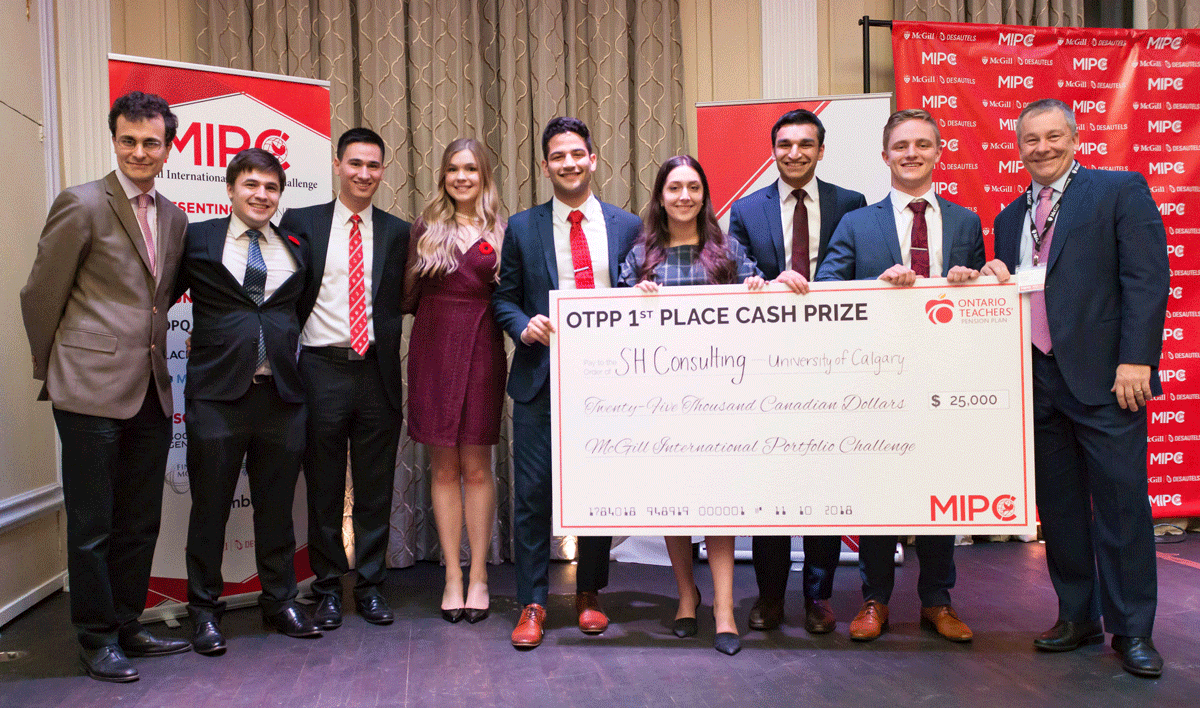 It is a jarring fact that many U.S. citizens must come to terms with: the number of workers supporting the surge of retiring baby boomers is not enough to pay for all the benefits they are owed. According to Bloomberg, this reality has already become glaringly apparent in states such as Illinois, Kentucky, and New Jersey, where only one third of the money needed to cover retirement benefits of public employees is available. What's more, recent estimates suggest that Social Security overall will begin to run out of money in 18 years.
In sum, the current state of the U.S. pension system has the makings of a perfect storm that will send populations into a financial tailspin at a time in life when they are most vulnerable – retirement. So who is heeding the call to help remedy a seemingly insurmountable problem?
First business competition of its kind
Enter a group of motivated BCom students from the Desautels Faculty of Management and Sebastien Betermier, an Associate Professor of Finance who has dedicated his most recent research to the issues surrounding pension investing. Together, they have developed the McGill International Portfolio Challenge (MIPC) – a pioneering university competition that targets pensions, innovative portfolio design, and institutional asset management. Inaugurated in 2017, the MIPC is the first business competition to focus on the retirement-savings shortfall – an endemic, multi-stakeholder problem that presents no simple solution.
This year's case involved a severely underfunded defined-benefit pension plan, VanPERS, which delivers pension benefits to public-sector employees in a fictitious U.S. state. Participants were asked to contend with the conflicting interests of numerous stakeholders and devise a creative, feasible solution to ensure that the fund remains sustainable over the long-term.
Undeterred by the complexity of the problem, 90 teams from around the globe responded to the call – more than double the number who participated in 2017. From there, the top 25 teams, originating from as far as Australia, India, and Spain, were invited to McGill in November to pitch their ideas to a panel of experts from Canada's largest asset management firms, including CPP Investment Board, Ontario Teachers' Pension Plan, Caisse de dépôt et placement du Québec, PSP, and BlackRock, to name a few.
In the end, participants from the University of Calgary emerged victorious, securing a $25,000 prize, followed by students from Université Laval ($10,000) and the University of Connecticut ($7,500) in second and third place respectively.
Thoughtful, creative solutions
Based on the proposals put forward, Betermier commended the teams for their "thoughtful and creative solutions that demonstrated a profound understanding of an incredibly complex problem." The winning solution was especially noteworthy for making efficiency gains in any way possible, recognizing that changing the fund's asset allocation alone would be insufficient, and for spreading the cost of restructuring among all stakeholders to ensure that the total impact per group remains manageable.
If this year's MIPC brought to light the many difficulties ensnaring U.S. defined-benefit pensions, for Dr. Marlene Puffer, President and CEO at CN Investment Division and invited MIPC speaker, the defined-benefit pension is far from obsolete. "Despite what many people may think, the defined-benefit model is not broken. When it is well managed, it provides an outstanding mechanism for risk-sharing both within and across generations," remarks Puffer.
Even if, according to Bloomberg,only one in three millennials believe that social security will be available when they retire, the path toward a sound, sustainable pension model can be paved collaboratively. For Betermier, the hope is that initiatives like the MIPC will "increase awareness among the new generation of finance managers, as well as bring fresh and diverse perspectives from student talent and key stakeholders."