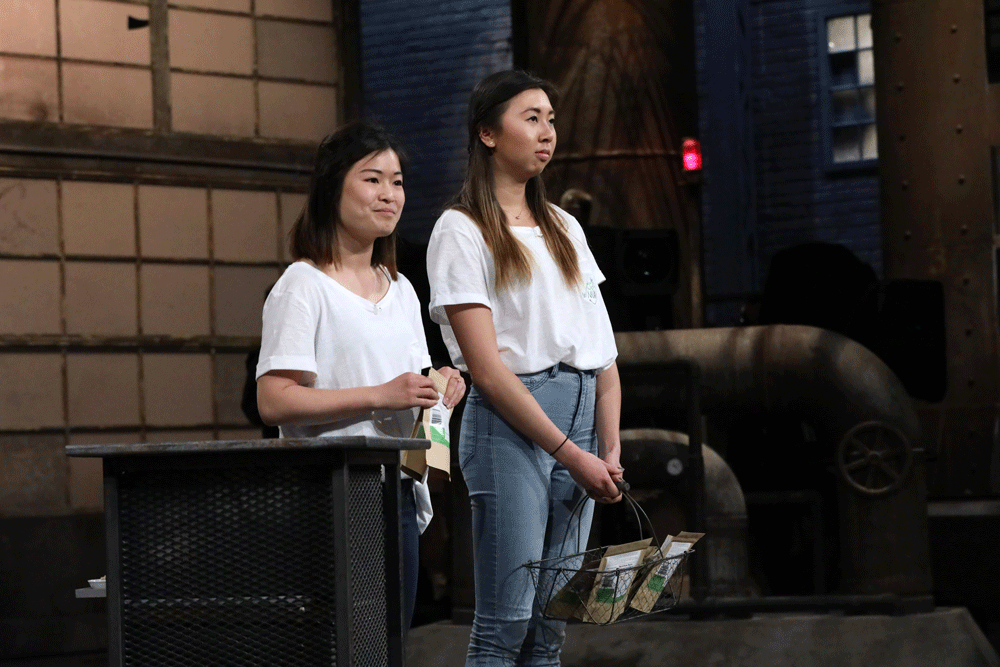 Seeking – and securing – an investment in their fledgling startup from six high-powered entrepreneurs on the popular CBC TV show Dragons' Den was the last thing that Jamie Lee and Isabelle Lam could have imagined less than a year earlier, when they came up with their business idea: a nutritious chocolate-based snack.
While studying Dietetics and Nutrition at the Faculty of Agricultural and Environmental Sciences, the two classmates and friends sold cookie-jar mixes at the Macdonald Craft Fair. The experience ignited an entrepreneurial spark and inspired them to create a small business venture – reMIXed Snacks – that they planned to enter in the 2018 Dobson Cup Competition.
Simple, healthy, tasty
Their first product, BEANBARK, is a healthy and delicious snack containing three simple ingredients: quality chocolate, dehydrated fruit and a unique protein source – beans – all of them sourced with an aim to combat food waste.
"When supermarkets receive produce from farms, they discard fruits and vegetables that are not perfectly shaped. We use the rejected apples in our snacks," says Lee. "We also source the finest Belgian 64 per cent dark chocolate. Our product is not only plant-based, but also soy, nut, gluten and preservative-free," she adds. ​
True to its motto – Dark Chocolate Made Healthier – BEANBARK packs a nutritious punch. Each serving provides up to 6 grams of protein, the building block of lean body muscle and a healthy immune system; 27 per cent of daily iron requirements, for enhanced mental and physical performance; and six grams of fibre, which helps to maintain a healthy gut.
Juggling studies and start-up
Launching their startup was not without its challenges for the aspiring entrepreneurs, who were in the final year of their BSc degree. Countless weekends and evenings were devoted to all aspects of product development, from testing various recipes, designing the packaging and drawing up a marketing strategy.
Asked how they have successfully juggled being classmates, business colleagues and friends, Lam explains: "We definitely balance each other in terms of our strengths and weaknesses. Having already worked together on the executive boards of several organizations, we knew who was best at what. I handle the logistical side of things related to production and distribution, while Jamie takes care of the more creative tasks such as package design, sales and marketing."
Their dedication and hard work paid off, with reMIXed winning the Macdonald Innovation and Entrepreneurship Prize, funded by the Macdonald Innovation & Entrepreneurship Program. The next goal was securing a place on the Dobson Cup podium.
Surprise callback
The accelerated timeline for McGill's signature entrepreneurship competition – with pitches, semi-finals and finals all taking place within four months – kept the partners focused on their goal. "We really owe the Dobson Cup a lot of thanks for spurring on the growth and development of our startup. The tight deadlines kept both of us really motivated," says Lee.
In fact, the partners were so motivated to do well at the Dobson Cup that in April 2018 they auditioned for Dragons' Den, which was doing a cross-country tour to secure participants for its student segment.  "We figured that the show would give us experience pitching our idea to the Dobson judges," explains Lee. "Since we were the youngest and least established of those vying for a spot on the show, it was a huge surprise to be called back and invited to take part in the episode."
Since the show's taping in May 2018, Lee and Lam remained tight-lipped about how they fared. The outcome was finally revealed when their episode aired on January 10, 2019, with reMIXed securing an investment from two "dragons," Arlene Dickenson and Vincenzo Guzzo.
"Although we were both nervous, we decided to focus on making the most of the experience. We were very gratified by the supportive feedback we received," says Lee. "And we were well prepared for the Dobson Cup finals, where we received the Food and Agribusiness Convergent Innovation Prize."
Platform for success
The partners readily acknowledge the important role McGill has played in their success. "The University provided us with a platform for our startup, and most of the mentors who have given us advice on our business are part of the McGill network," says Lam. "The funding we received from the Macdonald Innovation and Entrepreneurship Prize and the Dobson Cup has given us the freedom to test new products, without being afraid of failure."
Both Lam and Lee are especially grateful to one McGill mentor: Zoey Li, BSc(NutrSc)'17, a fellow Nutrition graduate who, since winning a prize at the 2016 Dobson Cup, has gone on to achieve success with her company, YUMI Organics.
"After seeing how far Zoey went with her startup, we have been inspired and motivated to build our own company," says Lee. "Her advice is very relatable, not sugar-coated. She knows what it's like to be just starting out and she cautions us not to expect to go from zero to 100 all at once. She reminds us that success will come with patience and hard work."