The Natural Sciences and Engineering Research Council (NSERC) is funding nine new Strategic Research Networks that support the research priority areas identified in the Government of Canada's Science and Technology (S&T) Strategy. Two of these initiatives are based at McGill: the Healthcare Support through Information Technology Enhancements (hSITE) and the Canadian Seismic Research Network. The projects were selected through a peer-reviewed competition. NSERC will provide each network with $5 million over the next five years.
When Canadians think about how to improve the health care system, "better information technology" may not be the answer that springs to mind. But the hSITE initiative, led by David Plant, professor in the Department of Electrical and Computer Engineering, is built on the idea that novel, advanced communications systems and infrastructures will boost health care workflows, patient care and safety—as well as help deliver more efficient and costeffective health care to Canadians.
The researchers will focus on wireless communications, networking, software, location technologies and smart systems. "One example is emergency rooms," says Plant. "By providing health care workers with timely information, such as scan or blood test results, on device platforms that work for them like laptops or hand-held computers, they will make better decisions."
The network brings together 17 researchers from McGill, University of Toronto, University of Ottawa, University of Waterloo, Université Laval, University of Calgary and Carleton University. Eight health care partners—McGill University Health Centre, Mount Sinai Hospital, North Simcoe Muskoka Local Health Integrated Networks, Ontario Ministry of Health, Sunnybrook Health Sciences Centre, SCO Health Service, St. Michael's Hospital and Toronto Central Local Health Integrated Networks—will "bridge the gap" between clinicians and industry partners, including TELUS-Emergis, RIM, Nortel, IBM and HInext.
Earthquakes may not be as immediate a Canadian concern as health care, but civil engineering professor Denis Mitchell thinks we should be ready for the ground to shake.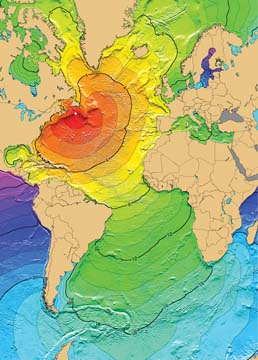 "Seismic activity is a really serious problem," he says, "and we've had some major earthquakes in Quebec— magnitude 7, for example—quite a few years ago. They're bound to come back. The only thing we can do to guard against it is to make sure our structures are capable of resisting these major events."
To that end, Mitchell is heading the Canadian Seismic Research Network, which is aimed at mitigating the impact of earthquakes on Canada's urban centres. The network comprises 26 researchers drawn from McGill, Université de Sherbrooke, École Polytechnique de Montréal, University of Ottawa, Carleton University, University of Toronto, University of Western Ontario and the University of British Columbia.
Resilient though it may seem, much of our infrastructure predates proper seismic provisions, which emerged in the mid-seventies, and can't withstand the stresses earthquakes impose. "That's where we have a problem," Mitchell says. "You want to make sure that your bridges are still functioning after a major event, that the hospitals can still operate properly." The researchers will map major cities for the seismic risks their key structures face. They'll evaluate how these structures would resist an earthquake before focusing on how to improve them.
NSERC is a federal agency that invests in Canadian science and technology by supporting some 28,000 university students and postdoctoral fellows, and more than 11,800 university professors every year. NSERC also fosters innovation by working with 1,500 Canadian companies that participate and invest in post‑secondary research.