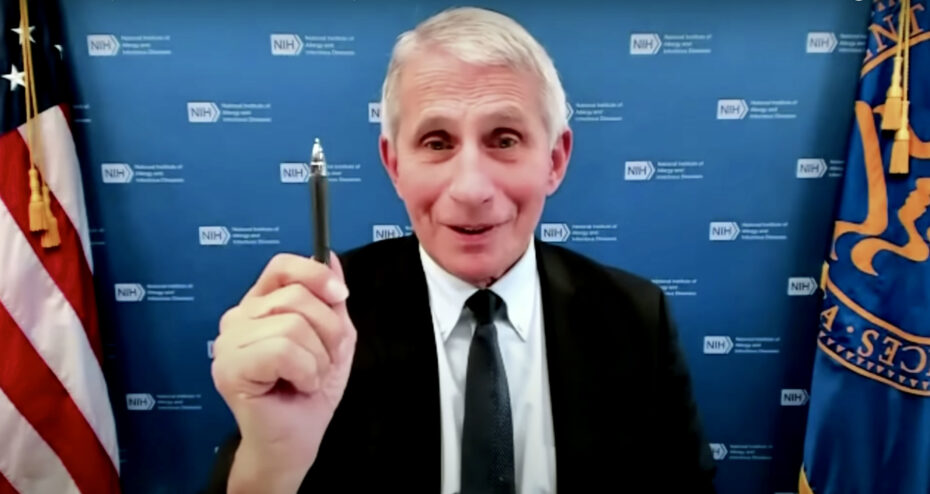 If we are to win the war against COVID-19, it will take collaboration and teamwork on a global scale. This was one of the underlying messages delivered by Dr. Anthony Fauci in his Beatty Lecture on October 1.
"We do have an obligation, and I believe a moral obligation, as rich countries to make sure that we make [COVID-19 vaccines] available for the developing world [where vaccines are not readily available]," said Fauci, chief medical advisor to U.S. President Joe Biden – and advisor to six presidents before him. "And the United States has done that… we've already committed 1.1 billion doses to the developing world. But we are working on ways to expand capacity."
Held virtually for the second-consecutive year, the 67th Beatty Lecture was emceed by Nahlah Ayed, host of the CBC Radio One program IDEAS.
Moral obligation to support developing nations
In an interview with the McGill Reporter following the Beatty Lecture, Dr. Fauci expanded upon this idea.
"A global pandemic requires a global solution," said Dr. Fauci. "The reasons to make sure you address the issues in the developing world are not only because it is a moral imperative, there is also enlightened self-interest in that. If you have a pandemic that is still raging out there, you will ultimately get more variants and the variants will then likely comeback and obviate the effects of your own vaccines.
"You do it because it is the right humanitarian thing to do, but you also do it because it is the right public health thing to do," he said.
Science building upon science
In many ways, the unprecedented speed with which COVID-19 vaccines have been developed is a result of decades of collaborative research. Dr. Fauci explained that much of the science used to create COVID-19 vaccines was actually developed in the efforts to make vaccines for HIV, SARS and MERS.
"The speed and efficiency with which of these highly efficacious [COVID-19] vaccines were developed and their potential for saving millions of lives are due to an extraordinary multidisciplinary effort involving basic, pre-clinical, and clinical science that had been underway – out of the spotlight – for decades before the unfolding of the COVID-19 pandemic," said Dr. Fauci.
Rampant misinformation creates "worst possible environment" during pandemic
Not surprisingly, Dr. Fauci was particularly eloquent when Ayed questioned him about the misinformation about COVID that is constantly circulating, particularly on social media.
"This is something that is so disturbing to me as a physician, as a scientist and as a public health person," he said. "If ever you could imagine the worst possible environment into which a global pandemic emerges, it would be in an environment of anti-science and complete normalization of lies… There is nothing worse than that in the middle of a pandemic.
"I lose as much sleep worrying about the overall implications of the rampant spread of misinformation and disinformation on society in general," said Dr. Fauci. "It's terrible how we've gotten into a situation, and I think it is the phenomenon of social media."
"Kinship with McGill"
Following his Beatty Lecture, Dr. Fauci was awarded an honorary doctorate – Doctor of Science, honoris causa – from the Faculty of Medicine and Health Sciences.
"I am both humbled and highly appreciative to receive this recognition from your renowned and prestigious institution for which I have great respect. This is particularly meaningful for me as I have a kinship with McGill. I have had for more than five decades and continue to have significant collaborations and shared experiences with McGill scientists and McGill graduates including investigators in my own laboratory," he said.
Fauci ended his address by offering what he sees as the path to winning the war on COVID.
First, as he said, we must have faith that "science will provide the solution to this pandemic."
Second, we must come together in a collective effort to beat COVID. "Societal divisiveness is counterproductive in a pandemic… The virus is the enemy, not each other," said Dr. Fauci.
"Hopefully as we move forward our collective commitment and tireless efforts, passion and resilience will help us achieve a successful end to this unprecedented public health emergency," he said. "Only by working together with our partners in academia, industry and the community, will we be able to rapidly achieve this goal and be prepared to respond to future infectious diseases outbreaks that inevitably will occur."