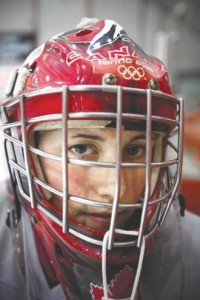 Marlets pluck Ravens, swat Stingers
Defenceman Cathy Chartrand did her best Bobby Orr impersonation by netting a hat trick, including the game-winner as No.1-ranked McGill crushed Carleton 8-1 in women's hockey at McConnell Arena, Jan. 18. The win extended the team's CIS win streak to 39 games.
It was also McGill's 30th consecutive victory over Carleton as the Martlets improved to 42-0-1 lifetime against the Ravens with 24 shutouts.
Dominating the game from the opening faceoff, McGill finished with a resounding 54-5 shot margin, including a 14-0 margin in the middle period. Goaltender Charline Labonté was credited with only four saves to establish a school record for the lowest save total ever recorded in a victory by a McGill netminder. Labonté, who leads the nation with a stingy 0.57 goals-against average and a.965 save percentage, improved her career record to 89-9-3 in a McGill jersey.
The day before, the Marlets made the trip across town to drub the Concordia Stingers 10-0 at the Ed Meagher Arena on Jan. 17. Ann-Sophie Bettez and Vanessa Davidson each notched seven points to propel the Martlets to their 24th straight victory over Concordia, dating back to Feb. 5, 2006.
Bettez tied a single-game school record with five goals, equaled another McGill mark with seven points, broke the team's single-season record for goals (16) and tied the Quebec university record. Davidson netted four markers and added three assists.
Labonté, who stopped a penalty shot early in the third period, registered her 47th career shutout in her school record 100th career start, surpassing the 99 starts made by Kim St-Pierre between 1998 and 2004.
The magnificent seven
McGill track and field enjoyed a mini gold rush at a meet at the four-team Vert & Or Open in Sherbrooke on
Jan. 17.
The Martlets led the charge for the Red and White, winning five events at the one-day meet. Freshman Charlène Puel won the 1,000 metres in two minutes, 58.84 seconds; senior Heather McCurdy finished first in the triple jump (10.80 metres); sophomore Catherine Drouin-Audet, took the 600m (1:39.01); and freshman Mélanie Myrand was victoriuous in the 3000m (10:25.32). The Martlets' final gold came at the hands (and feet) of the 4×200 relay (time not available), which featured Majenta Whyte Potter-Mal, Alison Cameron-Vendrig, Katherine Elmore and Hilary Kellar-Parsons.
On the men's side, the Redmen, Lucas Lafourcade captured the long jump with a leap of 6.60 metres, and Dong Liu won the 60m sprint in 9.01 seconds.
The first home competition of the new year will be the McGill Team Challenge, arguably the largest university meet in Canada. The two-day event, which is expected to attract about 20 teams and 600 athletes from CIS and NCAA institutions, will be held at Tomlinson Fieldhouse, Jan. 30-31.