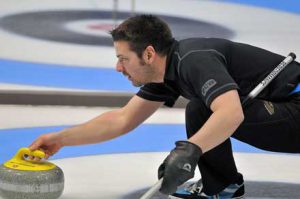 By Jim Hynes
It's a long way from the Club de Curling Longue-Pointe to the Brier. Just ask Christian Bouchard.
Bouchard, the Manager of McGill's Waste Management Program, (Environmental Health and Safety, University Services), started curling at the club on the Longue-Pointe military base, where he grew up in Pointe-aux-Trembles at the eastern end of the island of Montreal, at age 12. But he quit, finding the game too difficult. The member of a family of curlers, Bouchard returned to the game at age 14, and stuck with it for good. Now he is about to live every curler's dream. He and his newly crowned provincial champion teammates are headed to the Brier, the Canadian men's curling championships.
For the uninitiated, the Brier is to curling what the Stanley Cup Finals are to hockey, its coveted championship tankard the curling equivalent to Lord Stanley's famous silver cup.
Bouchard and his teammates Francois Gagné (skip), Phillipe Ménard (lead), and Robert Desjardins (third) earned the right participate as Team Quebec by capturing the provincial title in Gatineau on Feb. 6.
As the team's second, Bouchard gets to "clean up the house" and show off his considerable sweeping skills, fitting for a guy whose day job is managing the department responsible for the safe removal of chemical, radioactive and biomedical waste materials at the University.
Team Gagné defeated a team skipped by two-time Quebec champion and 2006 Brier champ Jean-Michel Ménard in an extra end of the championship final. A miraculous shot in the ninth end by Gagné, Bouchard's best friend and long-time teammate, was the turning point in the game.
"He took a big chance. Nobody wanted him to risk it, and if he had missed, we would have lost," Bouchard said. "But he just said, 'trust me,' and he pulled it off. We ended up stealing three points."
The extra end proved less dramatic, with Gagné needing to make a routine shout to send his squad to the Brier in London, Ont. By then, Bouchard said, his nerves had kicked in to high gear.
"Then I realized…he's throwing the rock he's wanted to throw all his life, an out turn open hit, to go to the Brier. It was perfect. Just before it hit I realized…we're going, this is amazing. It was the best feeling ever, the best day of my life."
Bouchard didn't have a chance to savour the taste of victory with his teammates. He had to hurry, hard, back to Montreal to catch a flight to Barbados, where he and his colleagues had a job to do at McGill's Bellairs Research Institute.
"It's slowly starting to sink in now," Bouchard said of the big win. "The first time it really hit me was when I got back and my colleagues in my department threw a little surprise reception for me."
On Facebook, through email and by phone, the messages of congratulations nearly overwhelmed him on his return.
"It took me a day just to thank everybody," Bouchard said. "Our family and friends understand how big this is, because lots of them are curlers and they know how much time and effort we've put into this for the past 20 years – the money we've invested, the time we've put in, the time we've spent away from our families. They understand that it's a big deal."
A big deal indeed. We're not talking about your Monday night curling league here. This is the big time, where skips seek the best players, period, to help take them to curling's upper echelons.
"That's what the good teams do now, like Kevin Martin, (Randy) Ferbey, and (Brad) Gushue," Bouchard said, "They just get the best players at the best positions, even if they're not from the same province."
Bouchard, who now curls out of the Mount Royal Curling Club with two of his Team Quebec mates, plays in two different leagues during the week and hits the road for events all over eastern Canada every second weekend from September to December.
"I hardly ever take vacations. Almost all of my vacation days are used for curling," Bouchard said. "You need to have a boss that understands what you are doing. One thing I've always done wherever I've worked is to make sure my employer can accommodate my curling. That's something that my boss, Wayne Wood (Associate Director, Environmental Health and Safety), understands. He used to curl himself, so he knows what it's all about."
Luckily, his girlfriend, Ève Bélisle, understands too. She's been to women's curling's big dance, the Scotties Tournament of Hearts, twice, as the skip of the Quebec women's champions.
Bouchard will always remember the day his team qualified for the Brier, just as he'll likely never forget his 37th birthday, on March 5, the day the event kicks off at the John Labatt Centre in London, Ont.
You can keep tabs on Christian Bouchard and Team Quebec on the official Brier website: www.curling.ca/championships/brier/ or follow the live action on TSN.