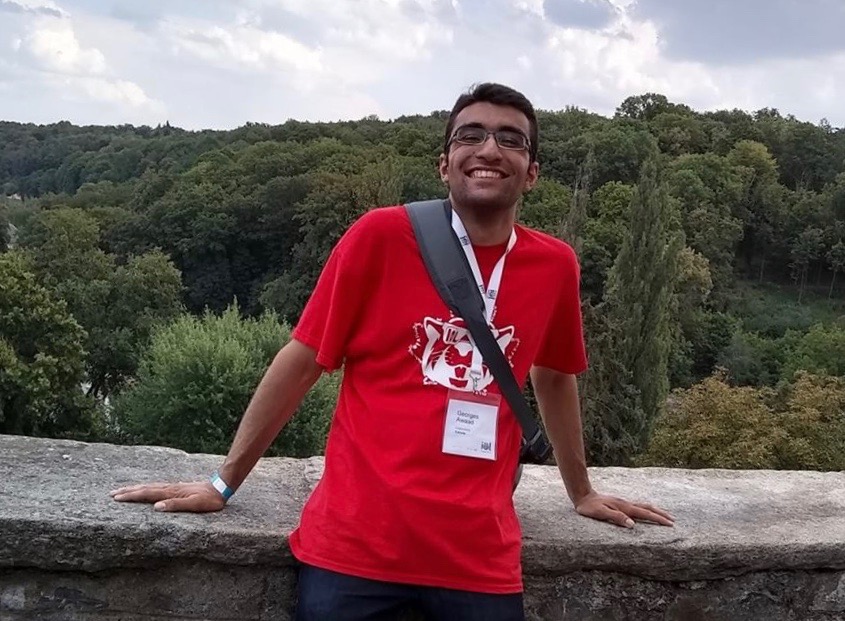 So, feeling pretty smug that you're bilingual? Think you're cool because you toggle back and forth effortlessly between French and English? Or maybe you're trilingual, also conversing at home with your parents in their language from the Old Country?
Please.
Talk to Georges Awaad. In fact, talk to Georges Awaad in any of the 19 languages he's learned over his 20 years – most of them in the last few years – and he'll tell you in the language of your choice, using appropriate grammar, syntax and inflection, about his passion for linguistics.
The polyglot extraordinaire and first-year student in McGill's Department of Linguistics gets excited about the intricacies of a language – like, say, Chuj, a Mayan language spoken in parts of Guatemala and Mexico – the way Trekkies go on about Klingons or Canadiens fans argue over the team's second forward line (to save you time, it's never any good. Ever.)
For the record, Awaad is fluent in French, English, Arabic, Spanish, Mandarin, Cantonese, Japanese, Russian, Georgian, Esperanto, Italian, Portuguese, German, Hebrew, Armenian, Swedish, Romanian, Korean and Dutch.
Like many Montrealers, Awaad spoke French and English early, along with a smattering of Arabic from his Lebanese mother and Egyptian father. Then, at the ripe age of 10, the language bug bit him – in an improv class.
"Each person had to sit around the table and debate another person in a different language," he said. "I got to hear the sounds of many different languages, and that, for me, was like a light bulb lit up."
"At first, when I started learning languages, it was the accents, the sounds. They sound really beautiful, like music to my ears, and I wanted to reproduce those sounds. That was fascinating."
Do-it-yourself beginnings
Awaad found Google Translate, language tutorials on YouTube and websites dedicated to language learning.
"I started teaching myself some languages, and over time, I picked them up. I found some friends to practice with, I went to some polyglot events … and here I am now."
One of those events was LangFest Montreal, an annual gathering of polyglots from all over the world, who attend workshops and lectures with about 450 equally zealous language lovers. Topics can vary from how to raise a child to be bilingual to methods used by speech therapists to help patients. The event this year will be held at the Pavillon Lionel-Groulx of l'Université de Montréal from August 23 to August 25.
Babbel, a German-based language learning app, asked student polyglots in Canada to film themselves speaking various languages recently. Awaad submitted two YouTube videos of himself speaking in tongues. Native speakers of the languages spoken judged his proficiency and singled him out for praise. The incipient linguist has accepted an invitation from the company to visit its headquarters in Berlin later this summer.
Joey Perugino, a co-founder and co-organizer of LangFest, called Awaad "a phenomenon," even in the world of polyglots.
"There are not many Georges in this world."
Perugino, a polyglot himself and former colleague of Awaad's father, learned about Georges' linguistic prowess from his erstwhile co-worker.
"I know him personally, and he doesn't know only the basics of the languages, he's very proficient. Especially in Mandarin Chinese," said Perugino.
Mandarin mania
Awaad can converse on many topics in most languages, but he says "I'm not as good in them as in my own language (French), of course."
Still, Mandarin, the lingua franca in China that every student learns even though they may be native Cantonese or Wu speakers, has become Awaad's greatest passion, almost an obsession.
At a Mandarin speech competition in Quebec a few years ago, he took 1st prize at the level he competed at. That won him an invitation to Beijing and Kunming in China to watch the finals of that international event.
"I made friends from all over the world there, and they're the reason I practice a lot today," he said. "I ask for feedback, and we Skype and Facebook and talk in (Mandarin)."
"Mandarin is my favourite writing system now that I can read it very well. It looks like art and sounds like music. It has tones. When you change the tone of your voice, the pitch, it changes the meaning of the word. That's really fascinating… And I love the calligraphy. The characters are visual representations of the thing itself. To me, it shows a lot of historical and cultural background, how the Chinese see things. I love it."
Awaad is not sure which linguistics field he wants to concentrate on yet, although syntax is currently at the top of the list. "It's about our human intuition for building sentences. It's innate and we don't know how to explain it. 'I often eat apples' is good, 'I eat often apples' is bad. French is the opposite."
"I think it's also a way to unlock the door to other people's souls, because if someone speaks another language than yours (but) you have a language in common, you can still communicate. There's a very strong emotional and cultural component to language; this is what I learned over time – to connect more deeply with other people, to make more friends and get myself out of my shell. I'm definitely not as shy and more social than I used to be. I grew up so much as a person."
A special case
Perugino said he himself knows "five or six languages, but that's it. I'm no Georges. He's special."
No argument there from Jessica Coon, a McGill associate professor of linguistics, who called Awaad "a great student."
"It's unusual for 1st year students to be involved in research (helping to preserve the Chuj language), but Georges is certainly a special case."
Justin Royer, a linguistics graduate student who works with Awaad on documenting the Chuj language with the help of a Guatemalan who came as a refugee, said that he was impressed with Awaad's immediate grasp of the Chuj intricacies.
"There's no tense in Chuj, just aspects. Georges learned to conjugate verbs (in Chuj terms) in one hour."
One reason for that is synergy: Awaad's comprehension of other languages allows him to make connections that others couldn't.
"In Chuj, and in many other languages, to say 'I have a dog' you literally say 'There's my dog,' " Royer said. "English instead uses 'have'. Many languages actually lack the verb 'have' altogether. Georges speaks Russian so this wasn't hard for him to learn, since Russian also kind of works like this."
Coon said it's equally unusual for undergrads to attend – as Awaad does – monthly meetings of an advanced linguistics field work lab generally intended for graduate students and faculty.
Coon herself had her high-profile moment: the McGill prof was a consultant on the much-praised 2016 Hollywood sci-fi movie Arrival, directed by fellow Quebecer Denis Villeneuve, about a linguist trying to communicate with aliens.
She cautions that there is not necessarily a link between polyglottism and linguistics; the latter studies the theory of language. Some polyglots are linguists and vice versa, but many linguists are also unilingual.
"Georges the polyglot will be a good linguist, too," said Royer.
"I do plan on learning more," said Awaad. "But I'll just let life unfold and just give me the will – or not – to learn other languages."
Awaad is not sure about his ultimate goal – some friends have suggested AI or the intelligence services.
"I don't know," said Awaad. "I'm exploring different fields, still thinking about which one I want to go into."
"But this is where I belong right now, in linguistics at McGill. It's where I belong and what I'm good at."
Watch the video below to learn more about Georges Awaad