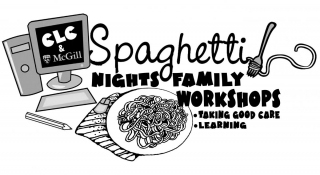 By McGill Reporter Staff
As rewarding as it can sometimes be, parenting isn't easy. Sometimes parents feel like they are operating in a bubble, far removed from other adults and trying their best to deal with challenges – and put out fires – as they crop up. If only kids came with an owner's manual, frustrated parents have ruefully mused. And wouldn't it be nice if, just once, someone else did the cooking and took care of the children?
Enter Spaghetti Night Family Workshops, a collaboration between McGill's Social Equity and Diversity Office and LEARN Québec that helps families in four Montreal-area elementary schools learn together to become more engaged, prepared and supportive of their children's academic success and development.
Offered once a month from October to May, Spaghetti Nights provide families with a free meal, followed by two-hour workshops on topics suggested by parents and guardians and facilitated by McGill faculty, staff, graduate students and local family educators. Past topics have included everything from how to create a home environment for learning and school success to making healthy meals quickly and on a budget. Free childcare is provided by volunteers under the supervision of a Family Care Animator.
According to Deborah Dixon, Principal of Riverview Elementary – one of the participating schools, "Parents and guardians today need creative resources and support to deal with the child of the 21st century. One of these ways is through the monthly Spaghetti Nights Family Workshop. It is so encouraging to see moms, dads and guardians come out to the find the strategies needed to effectively raise their children."
Since 2012, the program has offered over 60 interactive workshops, and free dinners and child care to over 300 parents and guardians. To celebrate Spaghetti Nights' fifth anniversary, there was a birthday party where it all started at Riverview Elementary (917 Riverview Avenue, Verdun) on Thursday, April 6.
True to form, however, there was a learning component to the soirée as well. The April 6 workshop, Raising Resilient Kids, Part 2, was led by facilitator Megan Webster, an instructor in the Faculty of Education. "It's important as a researcher to ensure my research translates to a public good and provides practical tools to teachers, parents and children," says Webster.
In feedback offered about Webster's previous workshop, one parent commented, "Sometimes you get caught up in your daily routine and don't have time to take a step back and see if you are indeed acting with your children the way you want to. Thanks to Megan's workshop, I will be more aware of my coping strategies and the ones that my children can use."
Spaghetti Nights are part of the suite of McGill's Access to Education programs which includes the Homework Zone Afterschool Mentoring Program and My Day @ McGill. Get more information about Spaghetti Night Family Workshops.