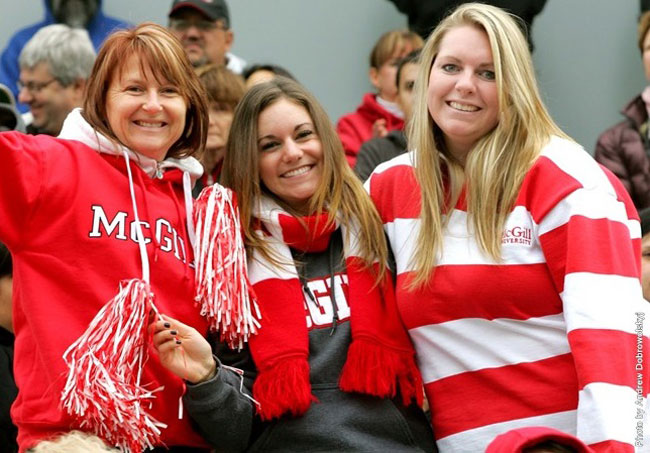 The countdown has begun to this year's Homecoming Celebration Weekend and Open House, and a diverse, entertaining array of events – everything from a YouTube viral sensation to a Canadian literary icon – are on the agenda for the 2016 edition of McGill's fall classic.
The celebration takes place Thursday through Sunday (October 27-30) and features activities on both campuses for the whole McGill community, as well as dozens of special reunions for returning alumni, including the Golden Jubilee reunion of the Class of 1966 and a salute to earlier classes. The annual alma mater pilgrimage brings graduates and their families, parents and friends of McGill back to campus from across Canada and around the world from Barbados, Bermuda, United Arab Emirates, England, France, Gibraltar, Greece, Haiti, Iceland, Israel and Switzerland – not to mention McGillians from 22 States in the US.
The festivities get underway in grand style with this year's sold-out Beatty Memorial Lecture featuring internationally-acclaimed Canadian novelist, poet and essayist Margaret Atwood. On the heels of yet another best-selling novel (The Heart Goes Last), a re-telling of Shakespeare's The Tempest (Hag Seed) and a graphic novel (Angel Catbird), Atwood is primed to unleash some vintage wit and insight with her lecture entitled, "The Critical Importance of the Humanities in an Age of Environmental Crisis."
Perennial Homecoming favourites are back including the Leacock Luncheon, hosted by McGill's very own stand-up comic/librarian assistant, Franco Taddeo, and featuring YouTube sensation and engaging storyteller Dave Carroll, whose viral video about United Airlines has garnered almost 16 million views.
McGill's Genius Minds and Innovations invites guests for a whirlwind tour with four of McGill's top researchers as they share their expertise on diverse topics from affordable homes and communities to the mysteries of autism. Young alumni are invited to share Cocktails with a Twist of Inspiration, and hear the stories of three recent graduates who have pursued their passions and launched innovative start-ups. Over at the McLennan-Redpath Library Building, Colleen Cook, Trenholme Dean of Libraries, hosts Fiat Lux: Reimagining the McGill Library, a fascinating glimpse into the planned future of the McGill Library.
Of course, it wouldn't be Homecoming without a cross-town football rivalry. This year's Homecoming football game pits the Redmen against the Université de Montréal Carabins. Fans are encouraged to wear their finest red and white and join the pregame alumni and family Homecoming Open Air Pub. And, yes, the noble tradition of Marty the Martlet (Canada's prime minister himself says he once donned a Martlet costume while a student at McGill – albeit for unofficial reasons) continues in 2016 as the magnanimous mascot will be available for selfies.
Looking for music with charms to tame the savage breast? Look no further than a performance by the renowned McGill Symphony Orchestra with artistic director Alexis Hauser interpreting Mahler's Symphony No. 9. The MSGO continues to win accolades after making their debut performance in front of a sold-out audience at Toronto's famed Koerner Hall last November and earning rave reviews. The music continues with the Golden Violin Competition which features students in a public recital vying for a cash award of $25,000, concert engagements and a 14-karat gold lapel pin in the likeness of the Golden Violin donated to McGill by alumnus Seymour Schulich.
For old visitors and new, there are tours galore on campus. Student guides from the Redpath Museum Society offer a Leafy Legacy – Guided Tour of the Trees of McGill. Members of the Visual Arts Collection team offer Public Art at McGill: an Introductory Tour of art on the McGill campus, while alumni, parents, friends and families are invited to join the Friends of the Mountain for a guided tour of Montreal's namesake park, Mount Royal, the only urban park outside the United States designed by renowned landscape architect, Frederick Law Olmsted. Meanwhile, at Mac Campus, visitors can tour the farm, the Morgan Arboretum, and the Mary Emily Clinical Nutrition Research Unit.
The Homecoming tradition at McGill dates back to 1921, when McGill's first alumni reunion took place for the University's centenary, having been postponed for years following the outbreak of World War I. 95 years later, several thousand alumni – from the University's most recent graduates to members of the Class of 1947 – will return to campus and enjoy its open doors.
To see a complete list of Homecoming Celebration Weekend events, visit the Homecoming website.