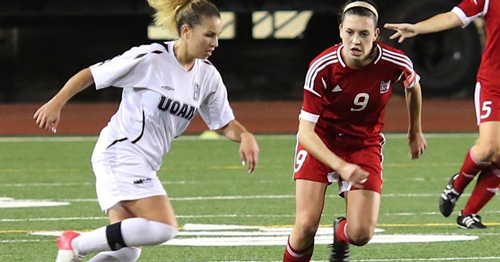 Team clinches playoff berth for 26th consecutive year
By Earl Zukerman
Meghan Bourque of Burlington, Ont., tallied two goals late in the first-half as the McGill women's soccer team waltzed to a 4-0 whitewash over UQAM at Molson Stadium, Thursday.
The result clinched a playoff berth for the 26th consecutive season and stretched McGill's undefeated streak to nine games since opening the regular season with back-to-back losses. During that stretch, the unranked Martlets have outscored opponents by a lopsided 21-2 margin.
"We've progressed significantly as the season has worn on," said Jose-Luis Vales, in his first season as head coach of the Martlets. "We started the season against two of the top teams in the league and adapted to their pace, getting better each game. Today we controlled the ball well, did not expose ourselves to counter-attacks and converted on our corners and free kicks."
The Martlets held an 8-2 advantage in shots and an identical margin in cornerkicks.
Goalkeeper Victoria Muccilli of Scarborough, Ont., was only called upon twice en en route to earning her league-leading fifth shutout in eight starts. She improved to 5-1-2 and lowered her stingy goals-against average to 0.27, tops in the RSEQ conference.
Bourque, a 20-year-old physiology senior, struck pay dirt in the 38th and 39th minutes to send the Martlets into intermission with a safe lead.
Kelsey Wilson, a senior defender from Pincourt, Que., made it 3-0 in the 63rd minute after UQAM goalkeeper Valerie Labbe was injured while making a save. The 5-foot-9 junior from Laval, Que., dove to her right and her head appeared to strike the goalpost in the west end zone. She slumped to the ground and lay motionless. The injury appeared eerily similar and in the same area as a Bishop's football player who was removed by ambulance three weeks ago. In both cases, the game was delayed for about half an hour. Labbe was eventually removed on a spinal board and dispatched to hospital in an ambulance, which arrived six minutes after a call was placed to 911. No further update was available.
Labbe, the only 'keeper listed on UQAM's roster, was credited with the loss, making three saves on six shots. She was replaced by Anne-Isabelle Lavigne, a second-year midfielder from St. Lambert, Que., who played the final 27 minutes and was beaten once on two shots.
The final McGill marker came in the 83rd minute from the foot of defender Hannah Kirby, a senior from Kanata, Ont.
With three games remaining before playoffs, the Martlets improved to 7-2-2 and moved into a second-place tie with the Montreal Carabins (7-1-2) who holds a game in hand. McGill plays at UQTR (2-7-1) on Oct. 20 at 3 p.m., then will close out the season with a home game vs. Bishop's (2-8-0) on Oct. 25 and a road game at division-leading Laval (8-1-1) on Oct. 27.
UQAM, which dropped to 2-8-1 and sits sixth in the eight-team Quebec league, was officially eliminated from post-season play.