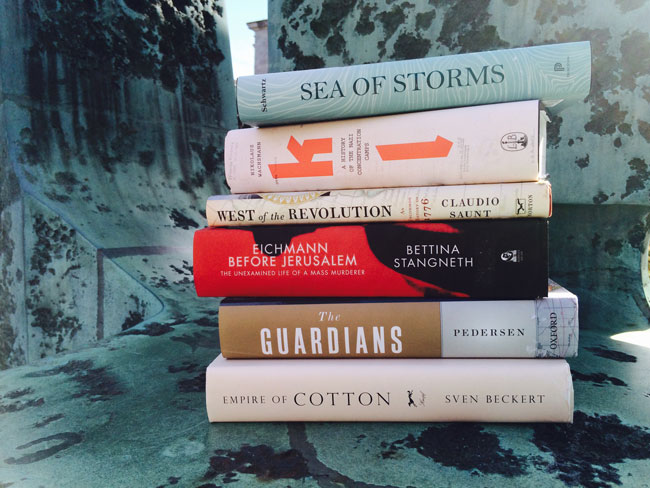 By McGill Reporter Staff
The six books vying for the 2015 Cundill Prize in historical literature were announced Tuesday, Sept. 22, by Prof. Hudson Meadwell, Interim Dean of the Faculty of Arts.
"The Cundill jury has selected six remarkable works of historical writing for this year's shortlist," said Meadwell, who serves as Administrative Chair of the Cundill Prize. "The Cundill Prize continues to identify and to reward outstanding contributions to historical understanding."
Now in its eighth year, the Cundill Prize is the world's most lucrative international award for a nonfiction book, featuring a grand prize of US$75,000, with two "Recognition of Excellence" prizes of US$10,000 each.
The six shortlisted titles, chosen from a field of 159 submissions, are:
"The books that have been named today to the Cundill Prize's shortlist are a celebration of diversity and excellence in historical practice," Meadwell said. "These titles show the importance of historians in marking and interpreting our collective past."
The three finalists will be announced the week of October 5. The grand prize-winner of the 2015 Cundill Prize will be announced at a gala awards ceremony in Toronto on Monday, Nov. 2, at the Shangri-La Hotel. Famed Canadian author (The Massey Murder; Gold Diggers, Striking It Rich in the Klondike) and speaker Charlotte Gray will be the host.
This year's Cundill jury includes Anthony Cary, British Commissioner of the Commonwealth Scholarship and Fellowship Plan; David Frum, author and a senior editor for The Atlantic; University of Ottawa Professor of History and University Research Chair in Digital Scholarship Chad Gaffield; Coolidge Professor of History and Harvard College Professor at Harvard University Maya Jasanoff (American Loyalists in the Revolutionary World); and author (Buying a Better World: George Soros and Billionaire Philanthropy, The Ghosts of Europe) and winner of the Shaughnessey Cohen Prize for Political Writing, Anna Porter.
The Cundill Prize in Historical Literature at McGill is the world's most important international nonfiction historical literature prize. It was established in 2008 by McGill alumnus F. Peter Cundill, who died in January 2011. The prize is administered by McGill University's Dean of Arts, with the help of the McGill Institute for the Study of Canada (MISC), and is awarded annually to an individual who has published a book determined to have had a profound literary, social and academic impact in the area of history.