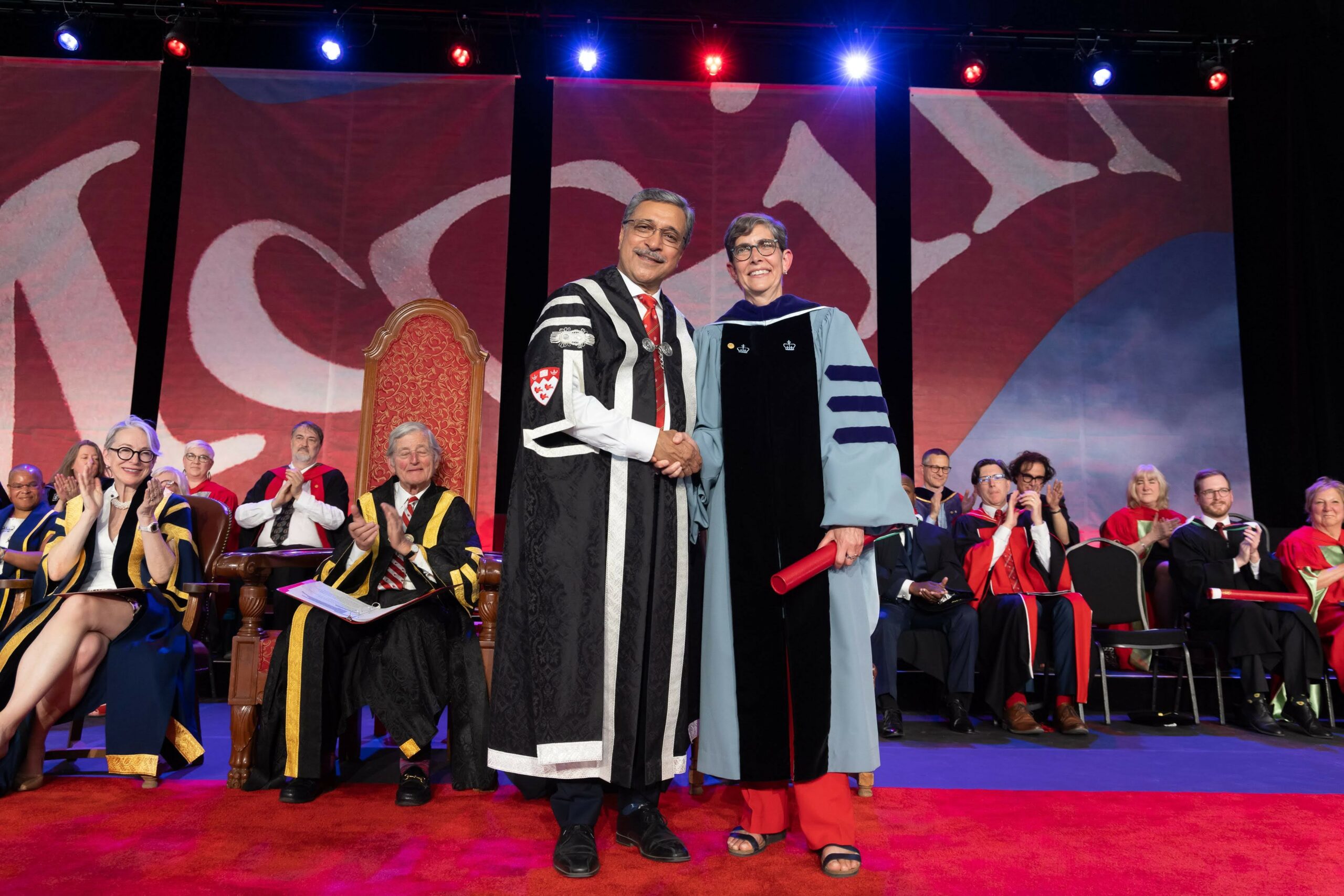 The world is facing the need to transition rapidly to alternative forms of energy, and McGill has an untapped resource in energy supply: law professor Shauna Van Praagh.
Winner of this year's Principal's Prize in Teaching Excellence for full professors, Van Praagh has taught since the mid-1990s and specializes in contracts, torts, social diversity in the law and children and law. She is a whirlwind, with a visible passion for teaching that has kept her in the classroom and out of the courtroom for her entire legal career.
On the day she learned she had won the teaching prize, she was also told she'd been appointed president of the newly revived Law Commission of Canada, a job that will pluck her from McGill and plant her in Ottawa for five years.
Even in commenting on that prestigious position, she can't tear her herself away from the importance of her teaching. "I'm keen to go into the Law Commission as a teacher – and a good teacher," she says in an interview.
Dean of Law Robert Leckey said of her appointment earlier this year: "Professor Van Praagh is uniquely qualified to lead this renewed federal commission through her proven capacity to drive change and think creatively beyond the conventional boundaries that can limit our legal imaginations."
Focus on innovation and creativity
Unconventional appears to have been a watchword.
In fact, Van Praagh had never planned to be a lawyer. There were no lawyers in her family (her parents were both senior journalists who worked in foreign capitals with kids in tow) and she was never called to the bar. But she brings an intensity to teaching in ways that are innovative and creative – and which can spark both criticism from students who aren't accustomed to such a style and much glowing praise and thanks from many more, who credit her with getting them through the tough slog that is Law.
She pushes them. "I encourage my students to be creative in their thinking, to find their own voices, to develop their own capacities, and to reflect on their own responsibilities in learning and communication. … My students should feel challenged, should practice the exercise of judgment, and should develop confidence through a highly demanding exchange of ideas," she wrote in an exercise on teaching philosophy in legal education.
Creativity is a theme that runs through her approach, from the poster projects she has groups of students work on to explain concepts in law to borrowing from Harry Potter to shape the dynamic of the classroom, including the creation of "houses," within the classes she taught online during the pandemic.
From physiology to law
Van Praagh first studied physiology and English at the University of Toronto, where, as student president at her college, she bumped into the university's provost, Frank Iacobucci, who would go on to be named in 1988 as Chief Justice of the Federal Court of Canada and a Supreme Court Justice in 1991.
Unenthused with her academic career to that point, Van Praagh listened when Iacobucci told her it was OK to ask herself if she was enjoying what she was doing. He suggested trying law; knowing she didn't want to leave university, she accepted the challenge. And loved it.
In the fall of 2022, she published an sweeping biography of Iacobucci, described by UofT Press as "a compelling consideration of the study and practice of law as it follows the stages of Iacobucci's life and career: from his childhood in Vancouver, his practice as a young lawyer, his time at the University of Toronto and with the Federal Department of Justice, his work as a judge at the highest level of court, and his significant engagement with Canada's ongoing response to the legacy of residential schools."
Van Praagh did graduate work at Columbia University in New York, one of the few law schools that teaches people how to teach.
Laying the groundwork for trans-systemic program
"I had met people from McGill when I clerked for Supreme Court Chief Justice Brian Dickson (1989-90), but didn't know the university well," she recalls. "A little over 30 years ago, I got a call from the Dean offering me the Boulton Fellowship (I had applied for it) which provides space for someone still working on a doctorate to come to McGill. I taught a seminar that very first year (1993), then stayed on a contract, taught a couple of seminars in children and law and feminist legal theory, and then became a full-time, tenure-track professor in 1995.
"In my first full-time year, the Dean (Stephen Toope) asked me to chair a working group on the curriculum, which ended up producing a blueprint for what we now call our integrated or trans-systemic program, which has attracted students looking for a unique legal education experience, that includes the study of Indigenous legal traditions among other aspects."
That same year, the McGill Law Students Society awarded her the John W. Durnford Teaching Excellence Award.
Teacher and mentor
"I get to know my students," she says. "I meet every first-year student individually." She has never used PowerPoint, she knows her students expect to be challenged intellectually and she understands that "a big part of what makes a good teacher is supporting students – being a teacher and a mentor."
Van Praagh also keeps up to date. The first question on this year's final torts exam was about how to deal with Artificial Intelligence in the classroom, and why students in a study group would be wrong to use ChatGPT to cram. "ChatGPT can't do feelings, nuance or creativity," she says, referring to what had been discussed in class. "Teaching and learning and thinking and critical understanding require feelings and nuance and creativity and so there are going to be lots of challenges with AI."
Van Praagh was impressed with her students' thoughtful answers setting out what would be missed if they used ChatGPT for study, especially the elements of creativity and emotion.
"The worst thing is conformity without thinking – always, in anything" including technology, she says. "It's a responsibility for all of us as teachers to assume that in our classes there's just this incredible range of backgrounds, experience, identity, ability… and we don't want to treat any of that as fixed and not subject to ongoing, dynamic evolution in the classroom. Everybody's going to be finding, connecting to different things and learning in different ways.
"Just being aware of that and realizing that you can't do it all perfectly, but you can do it in a way that conveys to students that you care about them learning in the classroom," she says.
"I'm so honoured. It's lovely to receive this prize."