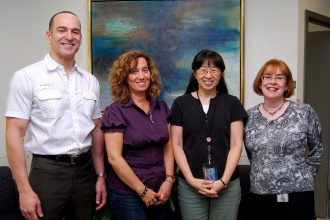 When Alison Verkade joined Human Resources, she quickly realized that her experience in systems technology would play a major part in simplifying HR processes and procedures, while reducing the inordinate amount of paper work and moving toward process automation.
The Shared Services concept emerged during the restructuring of HR.  A task force was created and the unit was launched in June three years ago with the integration of operational functions from specialized and administrative units such as payroll, systems, benefits, pensions, total compensation and academic personnel records.  At any given time, there are close to 20,000 employees and pensioners on file in HR whose records are being processed in one way or another.
But to the extent that many transactional processes are now automated, Shared Services is usually a person's first point of contact with McGill.  "The Service Centre within Shared Services is indeed the face of Human Resources as representatives interact in person, by phone or in writing, responding to queries ranging from getting an ID badge to dealing with pension calculations," explains Alison Verkade, Shared Services Director.
Service Centre is about satisfied clients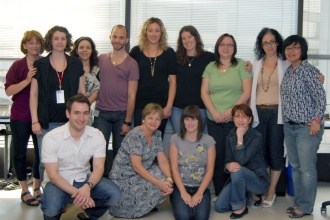 The Service Centre provides first line services and transactional processing, which includes creating and maintaining employee records and profiles.  The Centre is also responsible for answering queries from anyone calling 514-398-HRHR (4747) or writing at hr.hr@mcgill.ca
Statistics show that each year the Service Centre receives an average of 30,000 calls with 96% being picked up by one of 15 representatives within 30 seconds.  Emails account for another 7,400 queries. Over 100,000 transactions are processed annually by Service Centre representatives. The team includes Andrew Delatolla, Antonio Tarenzo, Caecilia Widati, Elaine Rowley, Holly Gosse, Josie Colubriale (supervisor), Laurena Deligny, Lynn Veronneau, Maria Faria, Megan Clancy, Shelley Bevan, Stephanie Leonhardt, Stephanie Lynch, Tammy Brunet and Vivian Riley.
Training is instrumental. Representatives go through refresher courses on customer service and service excellence. They also have general knowledge of all aspects relating to HR.
Shelley Bevan appreciates the incredible support she gets from her colleagues.  "I enjoy working with the community. The day-to-day problem-solving and sharing of information makes me feel as though I have accomplished a great deal every day.   Helping other employees allows me to learn while sharing my knowledge with them," says Shelley.
Antonio Tarenzo says that the learning curve is constant. "Dealing with a wide variety of calls on a wide variety of subjects gives me the opportunity to learn about all aspects of HR, which helps me to provide the most accurate information possible. To me, what is most challenging is also what I enjoy most about my work – that and the team spirit in our group."
Information systems are key tools
The Systems group provides data analysis in support of the HR function.  They oversee the HR data warehouse and the development of HR applications in Minerva, Banner and other systems. They ensure data integrity and develop HR systems training and documentation. They control and give access to HR systems and data. Finally, they act as functional team members in IT projects and upgrades.
Minerva, a self-service information system, is a major tool for HR. It allows employees, managers and HR to access information or to process transactions. HR works closely with IT and the community to set development priorities.
As Nunzia Lo Presti, User Support Officer in the Systems group explains, the focus is on automating, developing and enhancing HR applications on Minerva and in Banner HR Information Systems.  Data analysis and reporting is performed by Lorenzo Luciano and Nancy Wong while Nunzia takes part in assessing and developing applications, testing them and designing the testing scripts for training sessions.  "I welcome the opportunity to work with other groups such as, for example, when I am training the trainers in IT Customer Services on the new Minerva applications," says Nunzia.
HR specialists are an important link
HR Specialists provide more advanced transactional services and data processing. They advise the community on matters relating to payroll, pensions, records, seniority and academic appointments.  This group is also responsible for paying salaries and remitting taxes and dues to government agencies and unions.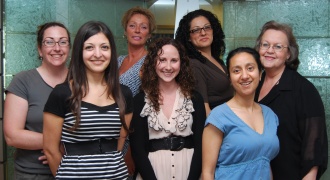 The group's seven specialists/professionals includes Nancy Furlano, Johanne Lachapelle, Linda Fraser, Nadia Carpini, Hitu Sodhi, Zuiggly Bobadilla-Lopez and Valerie Osler. There needs to be a strong link between them and the centers of expertise within central HR – Payroll, Total Compensation, Benefits and Pensions, Staffing, Labour Relations, Organizational Development and Professional Services.
Nadia Carpini, Payroll Administrator, was given this responsibility after working earlier as an administrative coordinator on the Shared Services task force. She enjoys the variety in her work and the chance to learn. "Last May, two pensions and records-related resources were brought into to our group, which helped to broaden our knowledge in these areas.  I really enjoy the challenge of working under tight deadlines and assisting the community and central HR with any payroll and pension-related issues."  Nadia joined McGill in 2006 as a records clerk while finishing her bachelor's degree in Commerce with a major in human resources management.  She is currently working toward becoming a Certified Human Resources Professional (CHRP) – HR practitioners who stand out as leaders in human resources.
The Operations and Documents team make it happen
The Operations and Documents team establish personal contact with visitors to HR. They also scan documents, distribute the mail, book meeting rooms and equipment and produce ID badges among other things.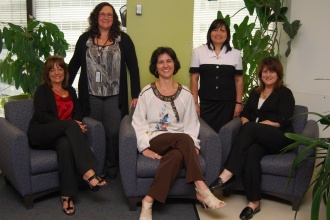 Irene Sauchuk joined McGill 35 years ago but feels like it was yesterday.  Irene is part of the team that also includes Fabiana Rassier (supervisor), Nadia Urli, Linda Gagné and Maria Ollague, who is responsible for the appointment forms for tenure stream and contractual academic staff. She also coordinates retirement allowances and acts as a resource person regarding academic employment classifications and working conditions.
For Irene, the most rewarding part of her work is the opportunity to interact with a variety of people who come to HR for help.  "I always enjoy directing people to the right resources. Every day is a new challenge and a chance to grow and learn. The most challenging aspect of my work is to constantly learn about the people in HR and what they do, to assist in the best possible way."
Team members face similar challenges
Shelley Bevan explains that the most challenging aspect of working in Shared Services is making sure a person gets the right information at the right time. "Having a satisfied client boosts confidence, which comes across in the quality of work and in the way we are perceived by people outside our area; they know that we will be able to guide them, whatever their issue," says Shelley, a theme that is echoed by Irene.
For Nadia Carpini, it is about resolving issues involving an employee's pay. "It is important to balance compassion and sensitivity to an employee's needs with the University's policies and procedures. Resolving these types of issues are the most challenging but also the most satisfying part of my job."
More and more HR processes are being assigned to Shared Services. As Alison points out, managing the Service Centre has to constantly strike a balance between taking calls and processing accurate information for anyone looking for assistance in HR matters.  To that end, she is encouraging more interaction between her unit and the rest of HR to ensure that her team members are aware of the latest changes that are likely to affect the community.
Alison and her team are also working to ensure the right mix and number of people to handle the ever increasing volume in the Service Centre.  "We are now reviewing segmented processes and combining them where possible to create one process flow performed by the same individual. This should lead to a more robust process, a representative who is more knowledgeable about a given employee's file, and a satisfied client."
Shared Services has matured significantly in the three years since its inception.  There is a strong sense of team spirit and accountability. There is also more interaction between Shared Services and the centers of expertise when there is change or new policies or procedures are introduced.  And it is truly a diverse group with about a dozen languages spoken, a definite asset in dealing with clients.
Alison's goal is to keep growing Shared Services.  "Process review and quality control will continue to be priorities as will increasing the self-service functionality available to employees. My objective is for team members to minimize routine tasks to free them up to perform more meaningful tasks, providing greater satisfaction.  I am proud to say that we have a truly motivated team who do their best every day to ensure client satisfaction."