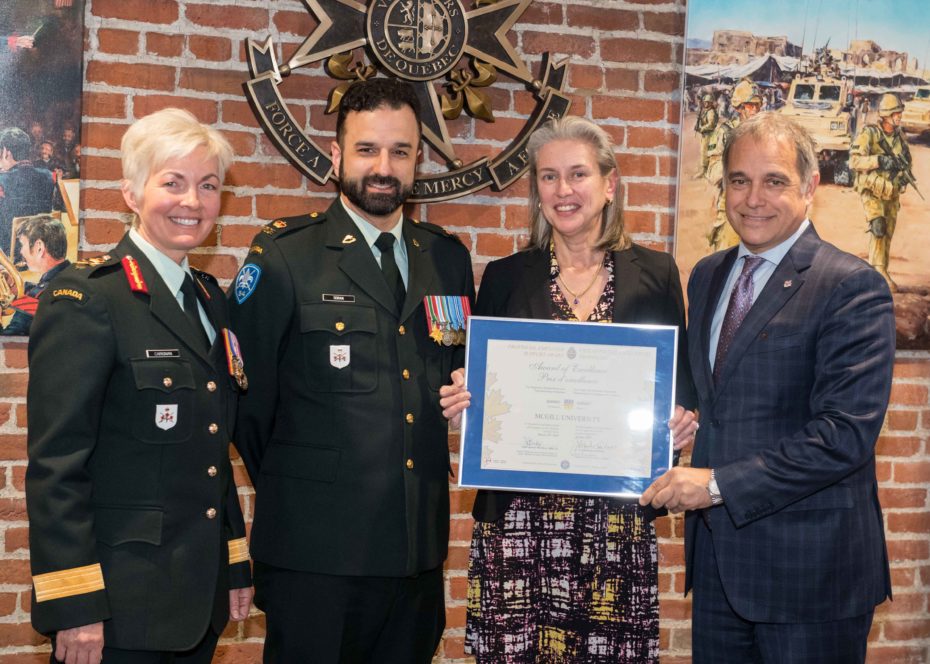 On March 30, McGill was among a select group of Quebec institutions honoured for their support of employees who serve in the Canadian Army Reserves. Representing McGill, Diana Dutton, Associate Vice-Principal, Human Resource; and Daniel Doran, Associate Director, Administrative Excellence Centre 12, Rosalind and Morris Goodman Cancer Research Centre, accepted the Employer Support Award, Award of Excellence from the Canadian Forces Liaison Council (CFLC). The ceremony took place at the Voltigeurs de Québec Armoury in Quebec City.
Since 1994, the CFLC has recognized deserving civilian employers and educators who have demonstrated exceptional support for Reservist employees. Awards are presented every two years and awarded at the Provincial and National Levels. All Canadian employers, and educational institutions, in both the private and public sectors, are eligible.
Serving at home and abroad
A long-time officer in the Canadian Armed Forces, Doran has served on the NATO mission in Afghanistan as well as UN missions in both Sudan and the Democratic Republic of the Congo. In 2010, he transferred from the Regular Force to the Army Reserves, where he serves part-time as a Deputy Commanding Officer of 34 Combat Engineer Regiment. Doran underscored his gratitude for the support he's received while balancing his career at McGill with his commitment to serve his country.
"It is incredibly motivating and encouraging to work for an employer that supports the work done by Canadian Forces Reservists, as well as one that recognizes the added value veterans bring to an organization," said Doran. "Without employers like McGill, the Army Reserves would not be able to do the work it does in the context of supporting our fellow Canadians in domestic emergencies such as the flooding that occurred in the West Island in 2017 as well as the Ice Storm in 1998, to name only two.
"Without McGill's support, I wouldn't have been able to take six months of leave to deploy to the Democratic Republic of Congo as a Peacekeeper and have the opportunity to work within a mission level headquarters as the Force Planning Lead," continued Doran. "It is training and experience that cannot be duplicated and I hope it will add to the depth and breadth of my contributions to McGill as a leader and employee."
More than 25,000 Canadian reserve personnel
Reservists are members of the Canadian Forces who usually serve on a part-time basis, with service divided across the five elements: Army Reserve, Naval Reserve, Air Reserve, Health Services Reserve and Reserve Legal Services.
Reserve units are located in hundreds of communities across Canada, with an establishment in excess of 25,000 personnel. The majority of Reservists hold civilian jobs and therefore work part-time with the Canadian Forces. Many Reservists are students, and about one-third currently work full-time within the Canadian Forces.