Badawy Sha'ath's path to becoming a member of the Canadian Armed Forces was a little more circuitous than most people. In fact, it began thousands of miles away. "Originally, I was stateless, a Palestinian refugee with travel documents from Egypt," he says. "My parents used to work as foreign nationals in Kuwait and decided to immigrate to Canada once they saw that there was no future for their kids in Kuwait."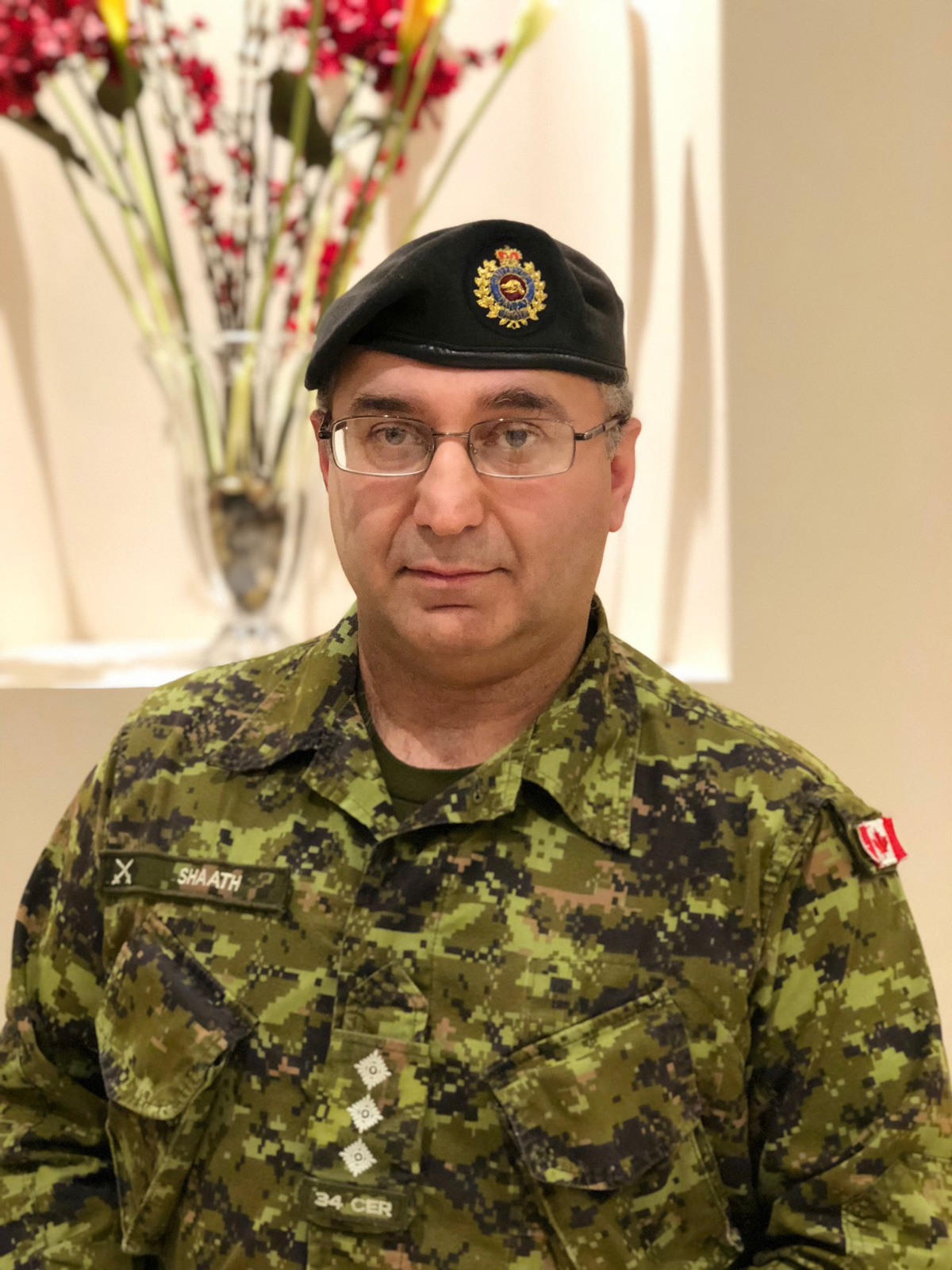 Sha'ath immigrated to Canada with his parents and three siblings in June 1987. Enrolling in Engineering at McGill, Sha'ath was so grateful to his new home, he felt like he had to do something to help. "As a new Canadian, I wanted to serve my community, so I joined the volunteer organization Sauvétage Canada Rescue in the region of Montreal as a volunteer rescuer while I was at McGill."
When he completed his BEng in 1992, Sha'ath was even more inspired to serve his country. "I wanted to utilize my education and knowledge and give back to Canada and Canadians. Joining the Canadian Army, reserve, was the logical choice."
Sha'ath signed up with the Canadian Military Engineer corps in 1994. Today, he is a reserve combat engineer officer with 34 Combat Engineer Regiment (34 CER).
Serving citizens
And give back to Canada, he has. Because he his father to four children and married to "a lovely wife," Sha'ath didn't seek lengthy deployments outside of Canada. Instead, he followed his original plan and served his fellow Canadians.
Included among the diverse operations he has taken part within Canada are Operation Recuperation (the Quebec ice storm of 1998); Operation Abacus (the Canadian military's response to the Y2K Bug); Operation PROVISION (supporting to the Government of Canada's initiative to resettle 25,000 Syrian refugees in Canada in 2016); and Operation LENTUS (assisting Quebec victims of the 2017 floods).
"During my deployments to disaster areas, I am always touched by the way total strangers work together to achieve the same goal of helping people recover from the disaster's aftermath," he says.
Through it all, Sha'ath has strived to maintain a healthy balance between, his family, his military commitment, and his job at McGill. He has been working full time in the Department of Chemistry since 1992. Presently, his job is the course coordinator for the first-year general Chemistry courses.
Proud but humbled
Asked what are the biggest rewards of his military career, Sha'ath stays true to the original impulse that first inspired him to join the military more than two decades ago. "Working with the Canadian public during stressful situations and being able to help Canadian citizens through hard times and natural disaster," he says.
With the centennial of Armistice Day fast approaching, Sha'ath reflects upon those soldiers who came before him "I am proud and humbled in face of the great sacrifices that the Canadian troops endured during World Wars in order to secure and offer us the quality of life that we presently enjoy," he says. "When I visit other countries, all people profess toward the Canadian Armed Forces and Canadian soldiers is respect and appreciation."