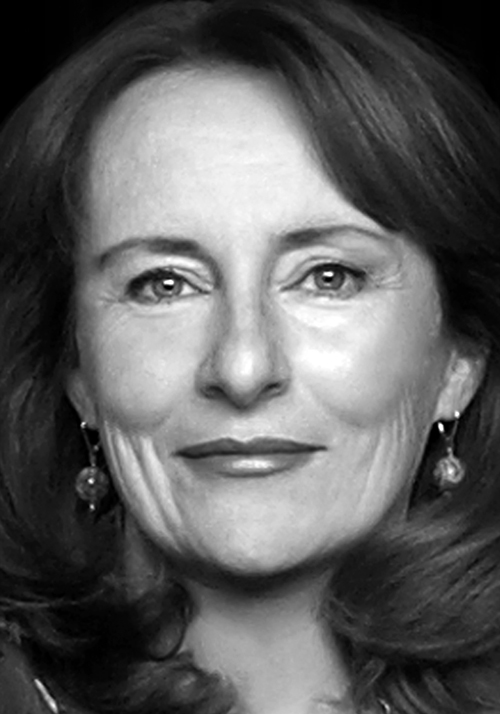 Seana McKenna is considered by many to be Canada's finest dramatic actress of her generation. 2013 marks McKenna's 22nd season at the Stratford Festival. This past season she played Elizabeth in Mary Stuart and Madame Arcati in Blithe Spirit. Next season McKenna will be taking on Constance in King John and Mother Courage in Mother Courage and Her Children. Friends of the McGill Library in collaboration with the Stratford Festival present the Annual Shakespeare Lecture featuring McKenna on Tuesday, Nov. 12 at 6 p.m. in Moot Court. In her lecture titled Shakespeare in 3D: An Actor's Point of View, McKenna will be speaking about her long relationship with Shakespeare's stories, characters and the actor's process involved in bringing The Bard's words to life. Note: The lecture is sold out.
You have taught at the American Conservatory Theatre, Stratford's Birmingham Conservatory and your alma mater, the National Theatre School here in Montreal. What is your teaching philosophy?
My teaching philosophy: share my experience. I am a practitioner, an actor who works in the theatre, constantly. In my 33 years as a professional, I have gleaned much from teachers, coaches and other professionals, but I have learned the most by acting, by actually doing it. I do not promote any particular methodology, but pass on what has worked for me. I suppose I teach my students to ask questions, the most important question being "why?". Why do I do this, why do I say this, why do I choose these words to say it, why am I silent? There are no end to the whys, and you keep asking to get closer to the truth. It is very hard to truly ask questions, without fear of being judged as stupid or naive; often we would rather remain silent and ignorant. I want to whet young actors' appetites for the detective work ahead of them. I think teaching is all about fostering independence: I want my students to question, to bring ideas to the table, to make their own choices, to know what they think the play is about and what they think they can bring to the play. I want them to inspire themselves, and find the delight and freedom in hard, disciplined work.
When you studied acting at NTS, what did you love about student living in Montreal?
I started my studies at NTS in the fall of 1976. Could there have been a more exciting time to be a young student in Montreal? The Parti Québécois had just been elected for the first time, with René Lévesque as Premier. I think the French section of the school took the day off. We Anglos stayed in class. They were heady days. Montreal was exciting, exotic to many of us from other parts of Canada. My university French did not get me far, except with genteel older women who asked me if I was from Paris. Rent was cheap, the bagels were fantastic, my classmates were wonderful people. But our hours were long, and thinking back, I wish I had spent more time enjoying what the city had to offer, that I had ventured beyond St. Joseph and St. Denis more often, and gone to a few more of those wild discos. Yes, I said discos.
From Richard III to Medea, Saint Joan to Lady Macbeth, you have played a slew of powerful roles from the classical canon. How do you prepare for a role prior to the rehearsal process?
I read the play. Again, and again, and again. With Shakespeare, I will also do work on the poetry, sussing out the rhetorical and poetical devices that I then hope to forget in the playing. I usually read the other work of the playwright if I am not familiar with it, or other translations or adaptations of the play if it was not written in English. I will also research the era in which the play was written, and the time in which the play takes place, or in which period the director has decided to set the play. I look at paintings, or photographs of the period. Sometimes films related to the play can help, but I rarely watch a film version of the actual play I am doing. With each project, I become a mature student, immersing myself in the world of the play. Certain roles require physical preparation. When I played Richard III, I spent months experimenting with his physicality, often with Miles Potter, the director and my husband, commenting from his seat at the kitchen table. I also knew I had to build up the strength in my broadsword arm. This preparation happens long before rehearsals begin, because once you are in the rehearsal hall, you are focussing on your relationships with the other characters. You have to be ready to play.
2013 marks your 22nd season at the Stratford Festival. Without revealing too much from your upcoming Shakespeare Lecture at McGill, how has your relationship with Shakespeare evolved over the years?
My relationship with Shakespeare is a bit like Anne Hathaway's: a long, fruitful and mysterious marriage. When we met, I was awe-struck, thrilled even by the thought of a relationship with Shakespeare. On our first date, I was truly smitten. With courting came familiarity: I relaxed, trusted him and found true pleasure playing with him. Now, after three decades, and many collaborations, my passion has only increased, my trust has not faltered and my respect burns bright. I may not revere him as much, because he is, and was, after all, only human. Which makes me love him even more.
Bonus question:  After intense performances, night after night, how do you decompress/relax?
I don't really find the need to "unwind". I tend to shed my character with the makeup remover. By the time I am uncorsetted, unwigged, undressed and dressed again to leave the theatre, I have left the world of the play. The particulars of that performance may linger for a bit – the mishaps, the marvels, the cellphones that went off, the responses of the audience that night- but I don't need to "come down". Hopefully, I have expended my energy in the performance. I usually want to go home, maybe watch some Netflix with my husband, maybe have some dark chocolate and wait for the teenaged son to come home.