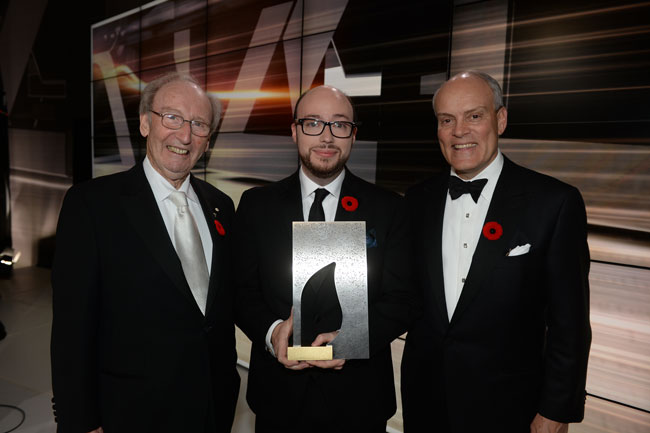 On Wednesday, Sept. 9, 2014 Scotiabank Giller Prize winner Sean Michaels (BA'04) will announce the 2015 longlist, at 11 a.m. in Moyse Hall of the Arts Building. All are welcome to attend. Please RSVP.
The Giller Prize was founded by Jack Rabinovitch in 1994 to honour the memory of his late wife Doris Giller, an outstanding literary journalist who died of cancer in April 1993. In 2005, the Giller Prize teamed up with Scotiabank to create the Scotiabank Giller Prize. It is the first co-sponsorship for Canada's richest literary award for fiction. The Scotiabank Giller Prize celebrates the best in Canadian fiction each year, and enhances marketing efforts in bringing these books to the attention of all Canadians.
Sean Michaels is an award-winning Canadian novelist, music critic and blogger. Based in Montreal, he has written about music for numerous publications including The Guardian, McSweeney's, The Observer, The Wire and The National Post. His weekly music column, Heartbeats, debuted in The Globe & Mail in 2015. His articles about travel, food and culture have twice won a Canadian National Magazine Award and his blog, Said the Gramophone has been recognized by Time Magazine as one of the world's 25 best blogs. Us Conductors, for which he won the Giller last year, was his first novel. In addition to the 2014 Giller, Us Conductors won the 2014 Hugh MacLennan Prize for Fiction and was shortlisted for the 2015 Amazon.ca First Novel Award and the 2015 Council of Literary Magazines and Presses' Firecracker Award for Fiction.
This winter, Sean Michaels will be the Mordecai Richler Writer in Residence in the Department of English.
Michaels recently spoke with The Reporter about the Prize, writing and books in Canada.
Why does the Scotiabank Giller Prize matter?
So many great books get overlooked. So, so, so many great books get overlooked. Publishers and retailers both hate taking risks; newspapers' book sections have scarcely any resources; readers try to spend each penny wisely. Thankfully we have literary prizes like the Giller. They can take risks; they have resources; they can spend their money unwisely. There's no accounting for taste, different readers love different sentences, but the more ways there are for readers to discover new books – and for writers to earn the money that allows them to continue writing – the better. Let's have a thousand Canadian literary prizes.
Did winning the Giller Prize change your career?
It transformed it. A jury chose me and suddenly, absurdly, my work mattered to more people.
Are you nervous about writing a follow-up to your prize-winning novel?
No. Of course everyone might hate it, I might be an imposter and a hack. But as an artist you always feel like you are on the verge of humiliating yourself, like you are about to be called out as an imposter or a hack. The difference now is simply that I can work on a new book without feeling fearful, every hour of every day, that I am making a terrible and costly mistake.
How can Canada become a better place for readers, writers and books?
People can buy more books. They can buy newspapers and magazines that write about books. They can elect politicians who invest in libraries, publishing and the arts. Rich people can become patrons, giving stipends to individual artists. Poor people can go to readings; heck, everyone can go to readings, or buy zines from little indie bookshops, or tweet the words of a new sentence they loved. We can march in the streets for a fairer society, one that is more just and equitable. We can pay our taxes and love our friends. And we can try to turn our cities into shared paradises, imagined communities, where everyone can afford to dwell in peace and happiness, in summer and in winter, resting in the company of a few hundred pages.
Read last year's Q&A with Jack Rabinovitch, founder of the Scotiabank Giller Prize