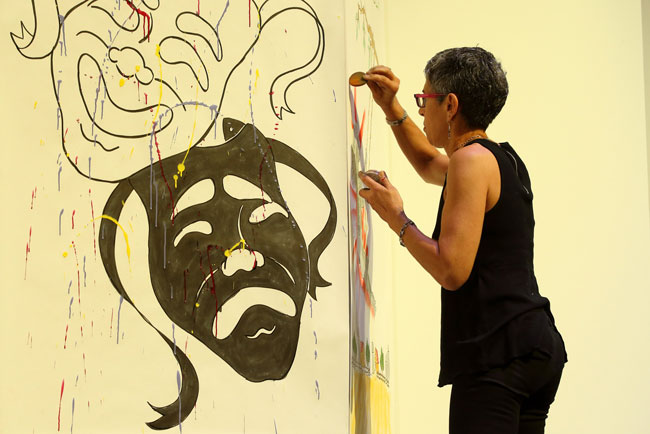 By Sharon Engbrecht
Students, faculty, administrators, the press and members of the literary community filled Moyse Hall on Sept. 9, to hear who was on the Scotiabank Giller Prize Longlist. The Scotiabank Giller Prize is Canada's most prestigious literary award.
Last year was the first time the Longlist was announced at McGill. Previously held in a boardroom in Toronto, founder Jack Rabinovitch wanted "make a bigger splash to give the Longlist authors a bit more attention and visibility because the Giller is, more than anything else, a celebration of literature and writers." For Rabinovitch, who received his BA from McGill in 1952, holding the event in Moyse Hall is an obvious choice. "It is like coming home," he said.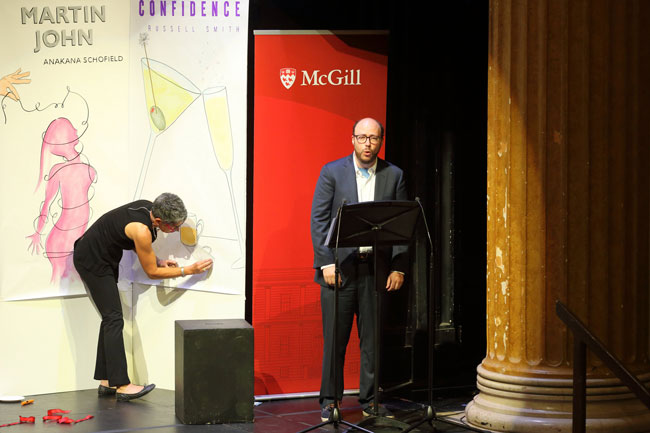 Last year's winner, Sean Michaels (BA'04) – who will be the Mordecai Richler Writer-in- Residence in the Department of English this winter – presented this year's nominees. He stressed the importance of the Longlist, not just for the authors, but also for Canadian literature in general. "There are so many great books," he said, "but fewer and fewer showcases. . . . This prize is massive. There are so many readers that use the Giller as a guide. If they haven't heard of an author, the Giller is the thing that makes them read that book."
Michaels was joined by Sara Heppner-Waldston who, as she did at last year's announcement, completed her graphic recording of the passages as Michael's read them. Her six-by-three foot drawings captured the essence of each passage and made the books come alive for the audience.
A five person jury (including three Canadians) narrowed the list down to 12 from the 168 books – a record number of books in the prize's twenty-two year history – submitted by 63 publishers, from every region of the country. Jack Rabinovitch's charge to the jury is a simple one – "Choose the best book of Canadian fiction of the year."
The 2015 Longlist in alphabetical order:
Fifteen Dogs by Andre Alexis (Coach House Books)
Arvida by Samuel Archibald (Biblioasis, translated from the French by Donald Winkler)
If I Fall, If I Die by Michael Christie (McClelland & Stewart)
Outline by Rachel Cusk (Harper Perennial, an imprint of HarperCollins Canada)
Under Major Domo Minor by Patrick DeWitt (House of Anansi Press)
Close to Hugh by Marina Endicott (Doubleday Canada)
A Beauty by Connie Gault (McClelland & Stewart)
All True Not a Lie in It by Alix Hawley (Knopf Canada)
The Winter Family by Clifford Jackman (Random House Canada)
Daydreams of Angels by Heather O'Neill (HarperCollins)
Martin John by Anakana Schofield (Biblioasis imprint, A John Metcalf Book)
Confidence by Russell Smith (Biblioasis imprint, A John Metcalf Book)
The Shortlist will be announced on Oct. 5, and the winner will be announced on Nov. 10, on CBC TV. Get more information about the Scotiabank Giller Prize.
Sharon Engbrecht is a MA candidate in the Department of English