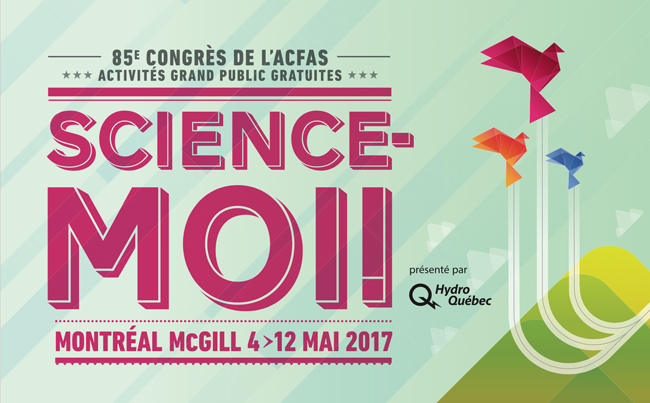 By McGill Reporter Staff
From May 8 to 12, McGill is hosting the 85th edition of the Congrès de l'Association francophone pour le savoir (Acfas). Over 5,000 researchers and graduate students from some 40 countries will be at McGill to present 3,400 scientific papers, 213 seminars, in 30 fields of research.
But, as part of the Congrès, the public is invited to participate in "Science-moi!", a series of free science-oriented public events that will feature the work being done in neuroscience, urbanism, music technology, the City of the Future, and the last working dairy farm on the Island of Montreal at Macdonald Campus.
"Science-moi" is sponsored by Hydro-Québec and features activities for adults and children, including exhibitions, theatre, live radio shows, guided visits, hikes and debates. All activities are free, but reservations are recommended.
Here is a guide to some of the events being offered as part of "Science-moi!"
Thursday May 4
From 7 to 9 p.m.; Espace pour la vie – Montreal's Botanical Gardens (4101 Sherbrooke East)
No time to be bored: Finals of  Ma thèse en 180 secondes
Come watch Ma thèse en 180 secondes, a crash course in the latest work by student researchers. Students present their research topics in an original, interesting and extremely succinct manner – in just three minutes! The first and second prize winners will fly to Liège, Belgium, to participate in the international finals of Ma thèse en 180 secondes in September.
Saturday, May 6
From 4 to 6:30 p.m.; Moyse Hall, McGill University, (853 Sherbrooke West)
What happens when you mix Theatre and Science? – Binôme
Binôme, which means duality, is a series of theatre and science productions that are the result of work done by a theatre artists who meet and discuss scientific research with a scientist. A dramaturge meets a scientific researcher, comes up with an idea and then actors portray it. The result is a video of their meeting and discussion, a lecture/show by performers, a reaction from the scientist and a public discussion.
Sunday, May 7
From 10 a.m. to 3 p.m.; Macdonald Campus (21 111 Lakeshore, Sainte-Anne-De-Bellevue)
Farm visit: From the stable to the table, Montreal's last working dairy farm
Where does our food come from? McGill invites you to its Macdonald Campus Farm to better understand food production. Learn more about the wellbeing of dairy cows, water resource management and innovations in food security. You can also taste food produced to help address nutritional deficiencies. The calves are waiting for you at the mini farm. Bring a picnic and spend a day in the country in the city! (Free shuttle bus from McGill College Avenue, between President Kennedy and Mansfield.)
Tuesday, May 9
From noon to 1 p.m. Departure point: University and Milton, McGill downtown campus
Urban Planning walking tour: Rethinking the cityscape to better get around
During a 60-minute walking tour discover some ways a city can be made more livable and easier to move around in. Take a look at the pedestrianization of Place des Arts, learn about the impact of bike paths and go on a stroll in Montreal's famed underground city.
Tuesday, May 9
From 5 to 7 p.m.; Trottier Pavillon, Mezzanine, McGill University (3630 University)
Rendez-vous with the city of tomorrow: Exhibition and public panel
Five of Quebec's leading experts on cities will speak on a panel about some of the little known innovations implemented in municipalities across Quebec. Panelists include Richard Shearmur, Professeur at McGill's School of Urban Planning; Bernard Sévigny, Mayor of Sherbrooke and President of the Union of Municipalities of Quebec; Peter Trent, Mayor of Westmount; Gérard Beaudet, Urbaniste and Professeur à l'Université de Montréal; and Marie-Josée Fortin, Canada Research Chair in Regional Development at l'Université du Québec à Rimouski. Diane Bérard, columnist at Les Affaires, will moderate the event.
Wednesday, May 10
From 5 to 7 p.m.; Elizabeth Wirth Music Building (527 Sherbrooke West)
Music festival and debate: Technology and research in musical creation
Music and autism, bionic ears and hearing, and sonic design are just some of the topics being explored in the music and science fair being held in the foyer of the Wirth Building. Take in a debate entitled  La technologie en recherche et création musicale, quel impact pour l'étudiant, le chercheur, et l'industrie? hosted by Michel Rochon, science reporter at Radio-Canada. The panel of researchers and experts will discuss everything from audio for video games and careers in contemporary music production, to changes in the music industry.
Thursday, May 11
From noon to 2 p.m.; Redpath Hall, Espace Radio-Canada, (3461 McTavish), McGill University
Live pan-Canadian radio broadcast – Les années lumière
The public is invited to watch and listen to the live cross-Canada broadcast of Radio-Canada's award-winning science radio program. It is also a chance to meet renowned science journalist and broadcaster Yanick Villedieu and his production team. They will set up and broadcast a live show from the Radio-Canada stage about the research being focused on at the Acfas conference.
Thursday, May 11
From 5 to 7 p.m. Montreal Neurological Institute (3801 University)
Discovering the Montreal Neurological Institute (MNI): Your brain and you
How do brain surgeons operate on delicate brain tissue? How does the brain see? Dr Richard Alby will give a presentation on the neuroscience of vision and optical illusions; and Dr Sandra McPherson will take visitors on a tour of the Neurospeed and Neuroimaging Labs at the MNI.
Get to know McGill and Montreal's famed Neuro, home to some of the most innovative research in cognitive and brain science in the world.
From Monday May 8 to Thursday, May 11
Noon until 2 p.m., every day
Discover one of the jewels of the McGill campus: Tours of the Redpath Museum
Meet Sarah the Dinosaur, see the collection of fossils, shells, minerals, meteorites, mummies, stuffed animals and curiosities of all kinds on exhibition at the Redpath Museum, a gem hidden in the heart of McGill's downtown campus. Museum curators have gone into the vaults and put on display items linked to the subjects being discussed at Acfas.
From Sunday May 7 to Friday May 12
7:30 a.m. to 5 p.m.; Redpath Hall – Espace Radio Canada, (3461 McTavish), McGill University
Exhibition: La preuve par l'image
A photo exhibition of compelling images from all fields of scientific research, these are photos submitted to Acfas in the context of a pan-Canadian competition supported by Science Exposed, a project of the Conseil de recherches en sciences naturelles et en genie du Canada. These images will also be on show at the Biodome in the Espace pour la vie adjoining the Botanical Garden.
From May 8 to May 12
Every day at noon; Redpath Hall, Espace Radio-Canada (3461 McTavish), Montreal
Live daily radio broadcast produced and hosted by young dynamic science journalists of tomorrow – the producers and hosts of L'oeuf ou la poule radio show.
Rising stars of science journalism will interview some of the leading researchers at Acfas around the broadcast table of CHOQ.ca, l'Université du Québec à Montréal's web radio.
Get the complete "Science-moi!" schedule