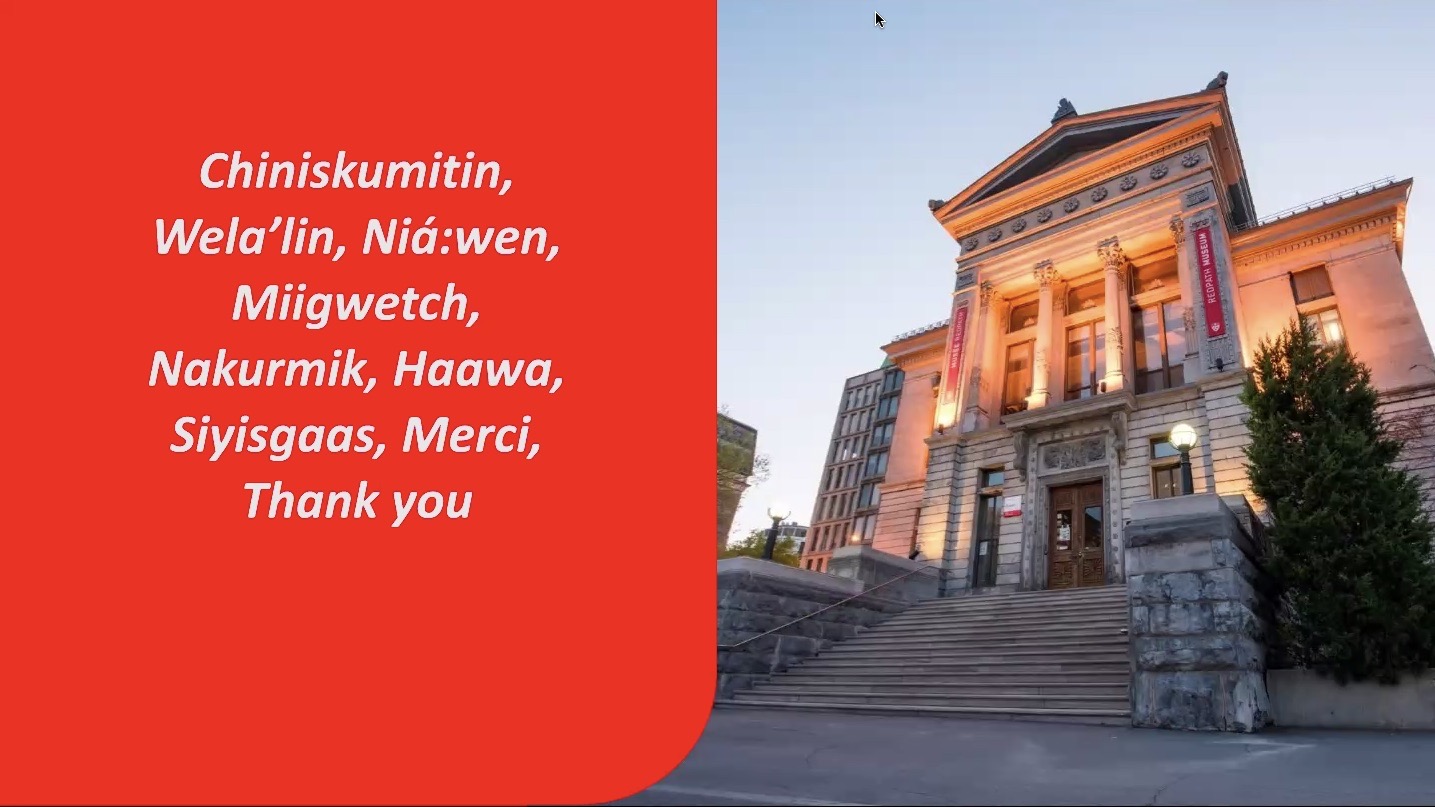 A remarkable Spring Convocation season drew to a fitting close on Monday, June 20, with an equally remarkable Scarf Ceremony celebrating graduating Indigenous students. In all, 110 First Nations, Inuit and Métis students were honoured for completing certificates and degree programs at both the undergraduate and graduate levels from across McGill's Schools and Faculties. The virtual ceremony was hosted by First Peoples' House.
Graduating Indigenous students each received ceremonial scarves. Created by Kahnawake-based designer Tammy Beauvais, the scarves incorporate symbols important to Indigenous cultures. Red scarves are offered to degree recipients and white ones to diploma and certificate recipients.
Good mind, good health, good spirit 
The celebration was framed by Opening and Closing Words of Kahnawake Elder Kevin Ka'nahsóhon Deer.
"I am looking around at all of you who did all this work – hard work. Today is a special day and a precious day for you because of the fruits of your labour," said Deer to open the ceremony.
"We're all in good mind, good health and good spirit," continued Deer, who graduated from McGill in 1996 with a Bachelors of Education in First Nations Education. "Hopefully we will continue to be blessed with our good health, good mind, and good spirit, because when everything is said and done, everything we will ever need for our happiness and joy is right here."
The ceremony also featured performances by Theresa Bear Fox and Nina Segalowitz. 
Pan-McGill celebration
The broad range of interest of McGill's Class of 2022 Indigenous graduates is impressive, reaching across most fields of study. Thirteen faculty representatives, including nine deans and two associate deans, gave congratulatory speeches during the celebration. Principal Suzanne Fortier and Provost Christopher Manfredi also addressed graduating students.
After delivering the land acknowledgement, Provost Manfredi spoke directly to the students, praising them for completing this chapter in their lives while looking forward to the next chapter.
"During your studies, you have acquired new skills and knowledge, as well as precious friendships, and you have enriched our university community in an incomparable way," said the Provost. "Your paths leading to this moment may not have been easy. Many of you confronted and overcame systemic barriers just to get here. For all your perseverance and commitment, especially under the exceptional constraints of the pandemic, you have many reasons to be proud of yourselves and to feel confident in your abilities. May this confidence stay with you as you move onward in your personal journey.
"As you embark on your next chapter, know that McGill will continue the important work outlined in our 52 Calls to Action with the aim of Truth and Reconciliation with Indigenous communities."
Pride and joy
Principal Fortier spoke about the "great pride" felt by the McGill community for Indigenous graduates, emphasizing the resilience and dedication needed to overcome the added challenges of COVID-19.
She also spoke of the happiness she felt at this year's Convocation ceremonies, the first in-person ceremonies since 2019. "I have never seen or heard that much joy at Convocation. So much joy," she said. "In each ceremony, the Provost explained the [significance] of the scarves … and that there were 110 First Nations, Inuit and Métis students graduating at this year's Convocation. It always received a big round of applause – as it should – because this is quite an accomplishment."
"I know people will look up to you as role models, as people they can count on o help them," continued the Principal. We hope you continue to wear the scarves and inspire others to get on this path of great accomplishment."
Finish the journey
Gabrielle Yakotennikonhrare Doreen delivered the was a special guest speaker for the Scarf Ceremony. A mother, grandmother, educator and award-winning scholar, Doreen taught as part of McGill's Indigenous Studies Program from 2017-2021. As such, she understands the difficult journey many students undertook to reach this point.
"You are the future of your people and I want you to be strong, be confident, be humble, but most importantly be you. I am extremely proud of all of you. It took a lot of courage and hard work to come to McGill," she said. "When you started this journey, you may have moved away from your home and communities, your support systems, your friends and families. You may have experience culture shock, studying theories and practises that were different from your own understanding and teachings, being alone in a new city – everything. Your whole life changed when you started this journey."
Doreen spoke of triumphs experienced by students during their time at McGill, and about becoming a part of the University's growing Indigenous community. She also spoke of the challenges of the past two years, notably COVID-19 and the discovery of mass graves on the sites of former Residential Schools.
"As we persevered through our online studies the legacy of Residential Schools came to the forefront as the mask graves became real," she said, voice breaking. "Our minds and our spirits fell to the ground. We mourned, we grieved, we wore orange shirts and we lay down our shoes and moccasins for the little ones who didn't make it home. It was tough but we carried on with the work that we needed to do. We started this journey and we were going to finish it. We were so determined."
"You deserve it"
"Today we are celebrating your journey and I extend this soft piece of leather to wipe the tears from the harmful things you may have seen so that you can see clearly again," Doreen said, holding a piece of leather to the camera. "I have a rabbit fur to wipe your ears so that you can hear clear again… And I offer you this drink of water so that the lump in your throat can go away and you can speak kind words again".
"My heart is filled with joy for all the accomplishments you have achieved – be it an award, a personal goal, a scholarship, or an A on a final grade or paper. Know that you deserve it. You deserve your degree," said Doreen. "Here we are celebrating your convocation at McGill University. I am so proud of you."