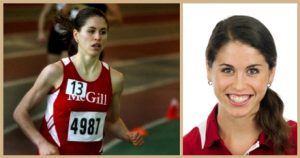 Immunology student becomes McGill's 134th Rhodes Scholar
By McGill Reporter Staff
Unlike many university students who take time off from their studies to travel around the Continent, Sarah McCuaig has never been to Europe. That will change next fall, as McCuaig, a 22-year-old Immunology student, will be packing her bags for the University of Oxford after becoming McGill's 134th Rhodes Scholar.
When the announcement was made earlier this week, no one was more surprised than McCuaig.
"I never really would have considered myself among the ranks of the people who get a Rhodes scholarship," she admitted. "I'm not a Dr. Penfield or a Bill Clinton… for that matter. But my roommate … was the first person who suggested that I apply for this about a year and a half ago. At first I laughed at her suggestion but… ultimately I just decided that nothing ventured is nothing gained and went ahead with it."
That uncertainty didn't lessen following her interview with the Rhodes representatives. "To be honest… I felt that I had no chance in the world because I thought that my interview didn't go that well," McCuaig said. "When I received the call… I was speechless… I had absolutely no inkling… it came as a shock and it's all very surreal right now.
Established in 1902, the Rhodes Scholarships rewards individuals who have achieved high academic standing and who have demonstrated respect for their fellows, an unselfish spirit and the potential for leadership. The world's oldest and pre-eminent academic fellowship, the Rhodes covers two years of study, valued at approximately, $20,000 U.S. per year, with the possibility of renewal for a third year, at Oxford. All educational costs, including travel, are paid on the Scholar's behalf by the Rhodes Trustees. Each Scholar receives in addition a maintenance allowance adequate to meet necessary expenses for term-time and vacations.
Just 11 Rhodes Scholarships are awarded in Canada annually and McCuaig joins Harvard rugby player Madeleine Ballard, of Baie D'Urfé, Que., as the two recipients from Quebec this year.
Ahead of the pack on track, in classroom
On top of being an award-winning student, McCuaig is an accomplished distance runner and team captain of the McGill track and cross-country teams. One of the most decorated student-athletes at the University, in both the classroom and on the track, the conference all-star runner earned Academic All-Canadian status, made the Principal's Student-athlete Honour Roll and qualified for the Dean's Honour List.
McCuaig, who received a Greville Smith entrance scholarship to McGill in 2009, valued at $10,000 per year for up to four years, has also won a plethora of academic and athletic bursaries from the Quebec Foundation for Athletic Excellence, which will be announcing her among their latest honorees tonight at their 27th annual university awards gala at the Delta Hotel in Montreal.
In her sophomore season, McCuaig was named Team MVP of both the track and cross-country squads, was voted 2010-11 conference athlete of the year in the Réseau du sport étudiant du Québec (RSEQ), as the McGill Martlets captured their first of three straight Quebec university titles in cross-country. She also received McGill's Uldis Auders Award as the top sophomore who best combines academic success with athletic performance.
McCuaig has twice been honored as the RSEQ athlete who best combines academics with athletics and community service for her volunteer work in the Neo-natal Intensive Care Unit at the Royal Victoria Hospital and with the Student Athletic Council at McGill.
So while McCuaig is looking forward to her studies at Oxford, she also has another reason to be excited to be heading to the venerable institution. "I will be thrilled to run for Oxford and train on the same track where Roger Bannister broke the four-minute mile," she said.
 Mixed emotions
McCuaig spends a large portion of her time at the Meakins-Christie Laboratories – one of the premiere centres for research on respiratory diseases in the world – under the supervision of Dr. James Martin.
"I'm studying respiratory diseases… the effects of oxidated stress on… molecules that are implicated in asthma," she says. "And what's neat is the connection between what I study and athletics because asthma is a condition that affects runners. I witnessed it in my teammates and my competitors and unfortunately this fall, I've begun to experience it a bit myself. So it just makes me able to connect the two things on a molecular level."
But while McCuaig is understandably excited about earning a Rhodes Scholarship, the news is tinged with some sadness. "I'm so happy to know now where I'm going to be next year but it's kind of bittersweet because McGill will always feel like home to me," she said. "It's hard to imagine leaving here at this point, leaving such great friends and memories and support from, not only my professors, but from my coaches and other members of the athletics community. It'll be a tough transition but an exciting one."
With files from Earl Zukerman