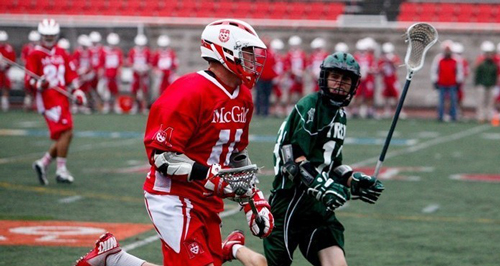 By Earl Zukerman
Alexander Rohrbach scored six goals and Connor Goodwin collected nine points as McGill trounced Trent University 19-7 in a men's lacrosse homecoming game at Percival Molson Stadium, Saturday.
The result improved McGill's record to 6-0 in CUFLA action and extended their win streak to 16, dating back to last year.
The Redmen roared to a 9-1 lead after the opening quarter, then led 12-5 at the half and 14-7 after three periods.
Rohrbach, a management junior from Princeton Junction, N.J., who also had one assist, scored two goals in the first and fourth quarters, along with singles in both the second and third stanzas.
Goodwin, who hails from New Westminster, B.C., struck for four markers and assisted on five others. The electrical engineering junior now leads the CUFLA scoring race with 13-11-24 in six contests.
Also registering a hat-trick for the Redmen was Tayler Sipperly of Charlotte, N.C.
Other McGill marksmen included Brandon McLean of Victoria, B.C., and Richard Klares of Warrenton, Va., with two apiece. Singles went to Kevin Donovan of Bethany, Conn., and Emile Sassone- Lawless of Ithaca, N.Y. Donovan's marker was his league-leading 18th in five games.
Cole McWilliams potted a pair to lead the Excalibur, with singles going to Josh Gilray, Niall Caravello, Ryan Gunn, Joe Bedington and Andrew Lytle.
Trent was undisciplined and they were caught with three illegal sticks on referee stick checks (new CUFLA rules in 2013 have refs checking sticks of each team between quarters and time outs).
McGill freshman William Waesche started and earned his first career regular season victory. He allowed seven goals in 60 minutes before being relieved by veteran Riley McGillis who blanked the Excalibur over the final 20 minutes.
Trent, which dropped to 1-3, plays at Concordia (0-1) on Sunday afternoon before heading back to Peterborough, Ont.
The Redmen will host Concordia on Sept. 24 at 9 p.m.
REDMEN RAP: Earlier in the day, the McGill Redmen and the Redmen lacrosse alumni played a "friendly" match up on Forbes Field. The Redmen won by a score of 9-5… McGill's high-powered offence has scored a league-leading 96 goals in six games, an averaging of 16.0 goals per game… The Redmen defence ranks second in the league, allowing an average of 5.83 per game.