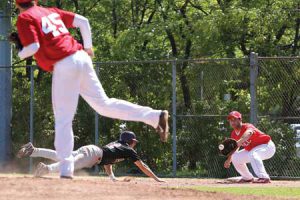 Baseball Redmen need to regroup if they hope to defend national title
By Jim Hynes
The McGill Redmen baseball team hasn't exactly picked up where it left off – the defending Canadian Intercollegiate Baseball Association (CIBA) champions lost their first four games of the new season before finally winning one this past weekend. With 11 games remaining in the 16-game regular schedule, McGill had a 1-4 record.
It's not the start McGill Coach Ernie D'Alessandro wanted. But having teams gun for you, saving their best pitchers to try and take you down, is part of the price you pay for winning a national championship.
And D'Alessandro, back for his 16th season as Redmen bench boss, is OK with that.
"We're facing everybody's good starters, and that's fine. I actually like that," D'Alessandro said.
"We've had a team from our conference (the CIBA's National Conference, which also features Concordia, Carleton, the University of Ottawa and John Abbott College) in the national final for five years running, either us or Concordia. And that's because of the type of pitching we see during the season. When we get to Nationals, we're not really overwhelmed by the pitching."
Huge turnover
But getting invited to the big dance this year just might be the biggest challenge of all.
The team, which had expected to lose a few key players from the 2010 squad to graduation ended up losing several more.
Third-baseman Channing Arndt, MVP at the Nationals last fall, returned to the U.S. where he hopes to continue playing college baseball, and second-baseman Max Tierno, a New York City native and last season's team MVP, is taking a year off to rest a sore arm.
"Hitters one through five in the batting order from the last National Championships are gone, and that's huge, " D'Alessandro said. "A lot of younger guys who are still trying to feel their way around the team and aren't used to starting on a regular basis are doubting themselves a little. It's a question of confidence at this point."
Mighty Casey back at bat
The Redmen will get one of their top hitters back when veteran Casey Auerbach, a Westmount-native currently playing professional baseball in Switzerland, returns as expected in the next few weeks to play the remainder of the season.
"And then there's Concordia," D'Alessandro said. "Concordia gets in our heads."
Indeed, the rival Stingers, who defeated McGill in the Northern Conference playoff Finals last year, continue to get the best of the Redmen. Three of McGill's first four 2011 losses have come at the hands of crosstown Concordia.
The Redmen, who earned their way into the National Championships as a wild card last year, will need to beat the Stingers at some point, most likely in the Northern Conference playoffs, if they want to defend their title. The event, hosted by Crandall University, will take place in Moncton N.B at the end of October.
McGill and Concordia play each other one more time in regular season play on Wednesday, Sept. 21 at Cote St. Luc's Trudeau Park, which both teams use as their home field. The game is being billed as Redmen Baseball Fan Night. Three buses have been chartered to bring fans to the park and back. Those wishing to hop aboard are asked to meet in front of the Roddick Gates at 6:15. The buses will depart at 6:30. Game time is 7:30.