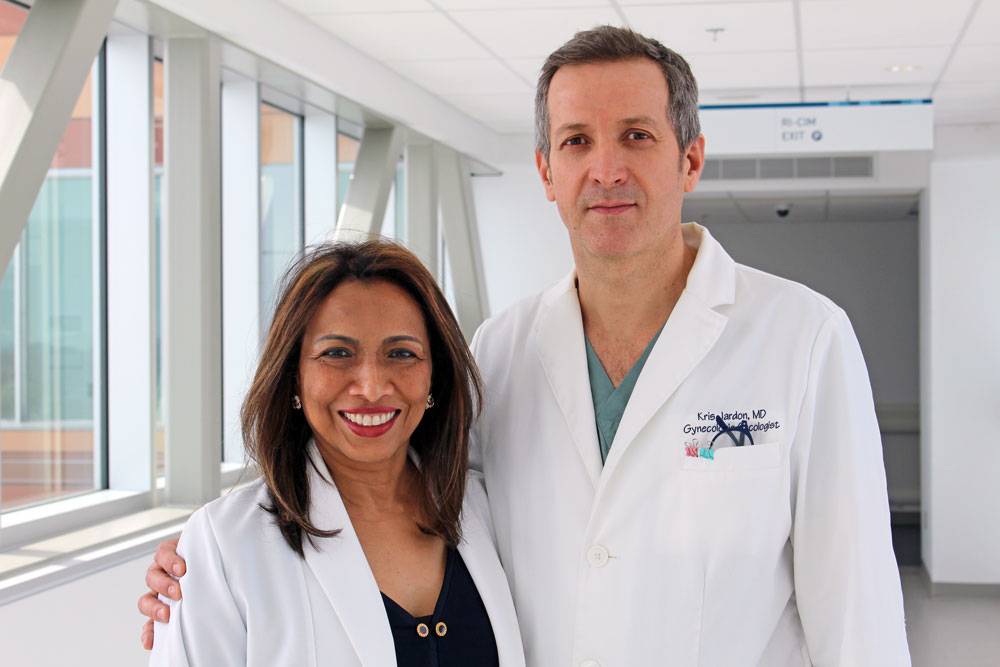 For the past 26 years, Québec Science magazine has  continued a tradition: each fall, a jury of researchers and journalists selects the 10 most impressive discoveries made in Quebec over the previous year  and invites the public to vote for their top choice. This year, a new test for endometrial and ovarian cancers has been chosen by readers with almost a third of all votes cast in the 2018 Discovery of the Year contest.
Together, uterine and ovarian cancers are the third most commonly diagnosed, and the third leading cause of cancer deaths among women. They are also usually difficult to identify at an early stage. Their cure rate has not improved much in the last 25 years. However, hope is on the way thanks to an early detection test called PapSEEK, developed by a team from the Research Institute of the McGill University Health Centre (RI-MUHC), led by Dr. Lucy Gilbert, Director of the Gynecologic Oncology at the MUHC and a professor in the Department of Obstetrics and Gynecology at McGill and Dr. Kris Jardon, a researcher and gynecologist-oncologist at the RI-MUHC. This work was done in collaboration by researchers at Johns Hopkins University School of Medicine.
Non-invasive genetic analysis
Currently, there is  no reliable screening test for these cancers in women who do not have symptoms. Even when symptoms do appear, they are vague and make diagnosis difficult.
The PapSEEK test is non-invasive and consists of the genetic analysis of a cell sample taken from the uterine wall. The procedure, which is similar to the Pap test done during gynecological examinations, detects the presence of mutations in ovarian and endometrial cells.
To date, 18 genes have been associated to a significant degree with cancers of the uterus and ovaries. They make it possible to identify abnormal cells at an early stage. By comparing samples obtained from patients who had previously been diagnosed with cancer with those from healthy women, the researchers were able to detect up to 93 percent of cases of uterine cancer and 45 percent of cases of ovarian cancer, without any false positives. A first for a non-invasive technique. The team published its findings in the journal Science Translational Medicine.  The PapSEEK test may be available within a few years if research progresses steadily.
New hope
"It's a great pleasure to hear that our team has won the Discovery of the Year Public Choice Award. Over the past 30 years, cure rates for these cancers have stalled because of late diagnosis. There is a need for hope out there, and this public recognition shows that our research is answering that need," says Dr. Lucy Gilbert. "We thank Québec Science for their efforts to promote the work of Quebec researchers and to raise public awareness of the scientific issues of our century."
"With this vote, the public is telling us that they want a reliable test for early diagnosis of ovarian and endometrial cancer to be available in the coming years," explains Dr. Kris Jardon. "The price is often very heavy for women and their families. This vote is a cry from the public and it encourages us to redouble our efforts to progress in this field of clinical research."
"Cancer alone is responsible for 33 percent of deaths in the province. It is a scary disease, and every ray of hope brings strong public interest. Our readers saw in this test the opportunity to change and prolong the lives of many women here and around the world," says Marie Lambert-Chan, Editor-in-Chief of Québec Science.
"The Cedars Cancer Foundation is proud to support MUHC and RI-MUHC clinicians and scientists, such as Dr. Lucy Gilbert, whose groundbreaking efforts impact the early detection and treatment of cancers," states Cedars President and CEO Jeff Shamie. "Through DOvEE and now PapSEEK, Dr. Gilbert is helping to define new care standards and decrease the high mortality associated with gynecologic cancers. Congratulations, Dr. Gilbert; your passion and perseverance are truly inspiring."
"On behalf of the MUHC Foundation, I want to congratulate Dr. Gilbert on this incredible recognition. We are so proud and honoured to support her and her team, and all that they are doing to advance women's health. Thanks to the generosity of our donors, it has been our privilege to provide Dr. Gilbert with the financial support required to pursue excellence in research," adds Julie Quenneville, MUHC Foundation President
Also participating were Xing Zeng, Jocelyne Arseneau and Lili Fu from the RI-MUHC and McGill, as well as researchers from the Johns Hopkins University School of Medicine, the University of Gothenburg, the Rigshospitalet in Copenhagen, the University of Gothenburg and University Hospital of Odense