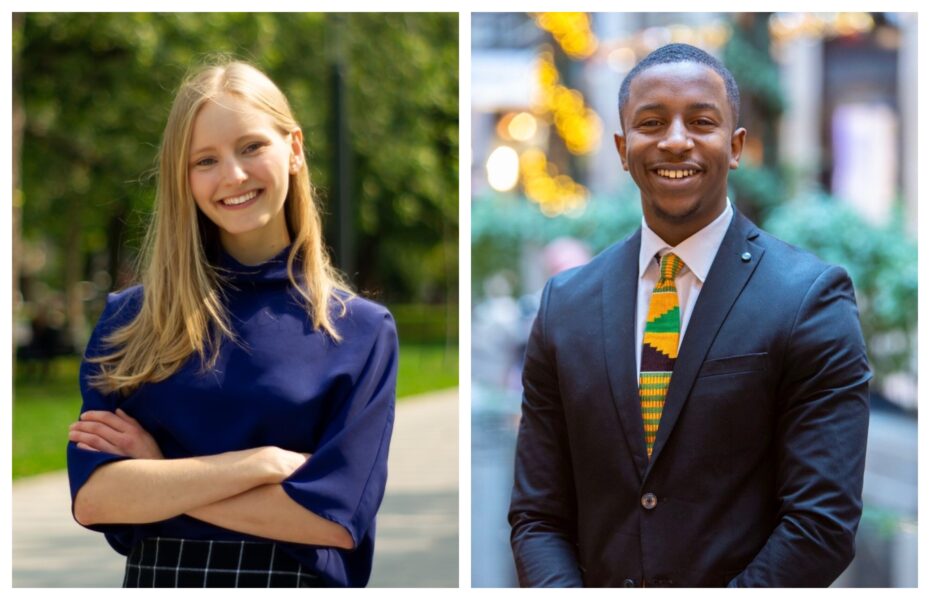 Abdel Dicko, a U3 Joint Honours Political Science and African Studies student, and Ffion Hughes, a U4 Honours in History student, have been named 2021 Rhodes Scholars. This brings to 147 the number of McGill Rhodes Scholars since the awards were created in 1902 to provide for studies at the University of Oxford, the most in Canada.
In all, 11 Canadians are part of the Class 2021 Rhodes Scholars, totalling over 100 recipients from more than 60 countries. The newest Rhodes Scholars are set to begin their studies at the University of Oxford in Autumn 2021. Since the Scholarship was established in 1903, nearly 8,000 Rhodes Scholars, including over 1,000 Canadians, have gone on to serve at the forefront of government, the professions, commerce, the arts, education, research and other domains.
"This year's class of Scholars is among the most diverse and most representative cohorts that we have ever selected," says Richard Pan, the Canadian Secretary of the Rhodes Trust and the Chair for the Rhodes Scholarships in Canada. "Not only are they to be commended for their remarkable talent, academic excellence, and meaningful contributions, the selection committees were struck by the life experiences of our scholars, which have imbued them with a deep sense of humility, humanity and responsibility to the community around them."
Motivated to "live a life that benefits the next person"
Pan could have been talking specifically about both of McGill's newest Rhodes Scholars
Abdel Dicko is a U3 Joint Honours Political Science and African Studies with a profound passion for human rights advocacy and a deep desire to find solutions to the plight of marginalized communities around the world.
Dicko was selected a World Economic Forum Global Shaper and is recipient of various awards in recognition of his internship work for organizations such as the Commission on Human Rights and Administrative Justice of Ghana, and the United Nations High Commissioner for Refugees (UNHCR) Canada.
At the UNHCR, Dicko was a member of the Protection Unit, a team that "works to ensure that individuals fleeing violence, persecution, war or disaster in their homes have the right to seek asylum and find safe refuge in Canada."
At Oxford, Dicko will pursue either a two-year MPhil in Development Studies or a one-year MSc in African Studies, followed by another one-year Master of Public Policy. "After Oxford, I hope to go to law school and I aspire to, ultimately, pursue a career in international law and diplomacy – ideally with a focus on the African continent," he says.
While he is understandably thrilled to begin this next stage in his studies, Dicko will leave part of his heart at McGill.
"As the timeless African proverb goes: 'it takes a village to raise a child,' he says. "I am deeply grateful to the McGill community for being a part of my extended family and village for these past three memorable years."
"McGill's stimulating intellectual environment, the profound commitment of the student body to matters of justice and equity, and the numerous extracurricular opportunities available for students, are unique aspects of our village that I have greatly benefited from," says Dicko.
"These experiences, inside and outside of the classroom, have prepared me extensively for this new chapter in my life and motivate me to keep living a life that benefits the next person."
Ffion Hughes: Tackling cycles of oppression, poverty and criminalization
Like her fellow Rhodes Scholar Abdel Dicko, Ffion Hughes is deeply committed to the community, especially people who have been marginalized.
While pursuing her Honours BA in History at McGill, Hughes has volunteered extensively at local homeless shelters, Accueil Bonneau and Open Door Montréal. It is an experience she holds dear. "I am incredibly grateful for the connections I've developed with shelter guests and staff, and I will hold them all in my heart as I launch into this new adventure," says Hughes.
Hughes is also a passionate advocate for mental health. While serving as a member of the Senate Committee on Student Services, she was committed to improving student access to essential psychological support services. "Campus mental health advocacy has been an important aspect of my undergraduate trajectory," she says. "While pressing for equity, inclusion and service improvement isn't always easy, I've been grateful for these opportunities to contribute to student well-being."
At Oxford, Hughes will pursue an MPhil in History, likely specializing in 20th-century US History. "That said, I have a wide range of research interests, so I may end up in another historical domain," she says. "For instance, I'm also fascinated by medical history, histories of race and gender, and the history of war."
Not surprisingly, when Hughes is asked about her career goals, she talks about serving others – particularly society's most vulnerable.
"I hope to pursue a career in law, serving clients experiencing poverty, mental illness, or structural violence," she says. "I aim to support marginalized individuals as they navigate the justice system, while also pressing for needed policy reforms at a systemic level. In particular, I intend to tackle the cycle of oppression, poverty, and criminalization that vulnerable members of our communities too often face."
Looking back at her time at McGill, Hughes is grateful for the opportunities presented to her, and the support she's received from professors and fellow students.
"At McGill, I've been challenged to broaden my perspectives, pursue new adventures, and hone my academic and advocacy skills," she says. "I am particularly grateful for the McGill History Department, where I've learned to explore the historical dynamics which forged – and continue to perpetuate – contemporary marginalization. I am immensely fortunate to have studied with such wonderful professors, whose support and guidance have inspired me to continue my studies in history."
"Moreover, I'm very fortunate to have found a wonderful community of friends and peers at McGill. My fellow history students have been a lifeline – be it for discussing the intricacies of historical psychiatric practice, commiserating over piles of readings, or extolling the merits of Chicago-style citations," she says.