By James Martin, with files from Patrick McDonagh
From lab work to fieldwork, McGill's undergraduate students are taking learning beyond the classroom.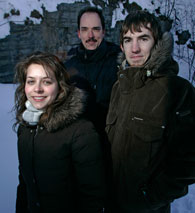 In August 2006, an excavation led by André Costopoulos unearthed a large stone structure near Wemindji, a remote Cree community on the east coast of James Bay. Drawing on his extensive knowledge of northern European archeology, Costopoulos was confident they'd found the edge of an ancient dwelling. His colleagues disagreed.
"I had a rebellion on my hands!" jokes the McGill anthropology professor. What Costopoulos interpreted as the outer wall of a big building, his teammates saw as the ruins of a hearth which once sat at the centre of an even bigger building. Disagreement is common in healthy academic discourse, but the dissension on this dig had a twist: Costopoulos's fellow researchers were undergraduate students.
These skeptical young archeologists are part of the new McGill experience, which encourages undergrads to apply their classroom smarts in labs and clinics, open fields and archives. In 2005, McGill's Faculty of Science formalized this commitment by creating the Office for Undergraduate Research in Science (OURS). The first of its kind in Canada, OURS coordinates various research opportunities for undergrads, including elective research courses and an annual student research conference. Other faculties plan to soon follow suit and some, such as Dentistry, already make it a point to contact every eligible undergrad about research possibilities. Individual professors also recruit students through classroom and Web announcements. In the 2006-07 academic year, there were almost 2,000 undergraduate researchers at McGill. As students catch on to the benefits of doing research, that number will only grow.
There's an undeniable appeal to getting one's hands dirty, figuratively and literally. "Doing research gives you a perspective that you can't find in the classroom, where everything seems very theoretical," says Colin Nielsen, 24, an archeology student who participated in the Wemindji dig. "Pulling ancient stone scrapers out of the ground in James Bay myself is more satisfying than reading about someone else doing it."
But research is more than a break from the classroom. "School isn't just about learning facts or techniques," says Jay Nadeau, a professor in the Department of Biomedical Engineering who began working with undergrad researchers last year. "It's also about learning how to say, 'Yes, I can approach any sort of problem, given the right background and the right tools.' It's absolutely wonderful to watch these students learning how to assemble a repertoire—whether it be physical tools or knowledge—to answer a given question. They're learning how to approach a problem."
In 2006, Nadeau recruited 12 students to participate in MIT's annual International Genetically Engineered Machines (iGEM) Competition. Each year, teams from over a dozen countries compete to design and assemble engineered machines using the same set of genetic parts (primarily for expression in bacteria) and their molecular cloning skills. "We learned how research projects are designed from the start," says second-year microbiology and immunology student Jamie Schafer, 20. Her iGEM team synchronized the oscillation of fluorescent protein in a group of cells—basically creating a set of tiny blinking bio-lights. "After seeing the range of projects at the iGEM conference, all products of the same starting material, I fully realized the huge potential there is in being given a clean slate to develop one's own project."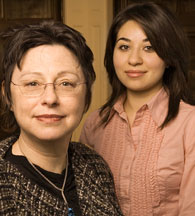 For Schafer, undergraduate research only fortifies her existing interest in pursuing graduate studies. For other students, the research experience illuminates career possibilities they hadn't previously considered. During her final year of undergraduate psychology studies, Anne Hand, 22, worked with Sonia Lupien, Director of the Centre for Studies on Human Stress at the Douglas Mental Health University Institute, to investigate how reading self-help books affected the stress levels of healthy Montreal anglophones aged 18 to 65. "Doing research made me realize that to do international, cross-cultural health work, you absolutely must be at least bilingual," says Hand, who plans on polishing her Spanish skills by taking an immersion program next year. "I've also realized that I would prefer working with more clinical populations, or with policy decisions at a political level—I've seen how policy directly influences and frustrates the efforts of scientists at the ground level." This summer, she will present a poster about her research at the International Society of Psychoneuroendocrinology conference in Wisconsin and the Hans Selye Symposium on Stress in Montreal.
Hand's fellow psychology student Laura Cooper, 22, will also be presenting the fruits of her research labours at the two conferences. Last fall, Cooper designed "DeStress for Success," a program which uses interactive workshops to teach new Montreal high school students how to cope with stress. Upon submission of her design this summer, Cooper will finish the credit requirements for her BA, but the program will continue long after she graduates; a pilot study is scheduled to begin in Montreal schools in September. Grad school is a possibility, she says, but not for a few years. "I'd like to find something that allows me to put some of my research skills to use," says Cooper, who's considering pursuing a career in coordinating and evaluating NGO social programs, "but I think research will be secondary to whatever line of work or study I find myself in next."
"Undergraduate research gives students the chance to experience grad school risk-free," says Nadeau. "The worst thing that can happen is for someone to be in graduate school for five or six years and still not have published a paper—but undergrad research is, hopefully, about having fun. And if they do publish, it's icing on the cake."
It would seem McGill undergraduates really like their icing: many of these young researchers are getting an early taste of peer-reviewed publication in journals both homegrown (such as the new McGill Science Undergraduate Research Journal) and international.
In 2004, dentistry student Romina Perri, now 23, was working on professor Jocelyne Feine's clinical study into the health impact of dental implants—satisfying work, yet she was still itching for a project to call her own. Feine suggested that she analyze the strategies used to gather the study's 250-plus participants. The result: Perri was lead author of "Monitoring Recruitment
Success and Cost in a Randomized Clinical Trial," published in the European Journal of Prosthodontics and Restorative Dentistry. The paper, which Perri presented at the International Association for Dental Research conference in Baltimore, promises to be a boon to cash-strapped researchers in search of cost-effective recruitment methods. "The project really helped enlarge my view of dentistry, making me aware that there is so much in the field," says Perri, who is currently investigating temporomandibular joint disorders with Dean of Dentistry James Lund. After graduating in 2008, she hopes to pursue a postgraduate periodontics program.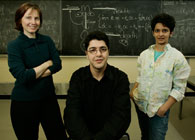 Ask professors which qualities make for a good student researcher, and the same adjectives keep cropping up: Imaginative. Open-minded. Creative. Flexible. Self-motivated. Bold. Fearless. "They have the courage to try new things without worrying about breaking or wasting something," says Nadeau. "Research is about realizing that even 'wrong' data is useful data."
Research is also about tenacity. "These students don't let themselves be limited by knowing that nobody has made much headway in answering their questions," says Costopoulos. He recalls how one of his undergraduates, Theresa Gabos, hit a snag in her study of 18th-century faience. Gabos, 23, uncovered fragments of the French-made earthenware while participating in the Pointe-à-Callière museum's Archaeological Field School, located at the site of the original settlement of Montreal. She was interested in what the fragments could reveal about early Quebec trade networks, but existing faience typologies, largely based on decor or design, were of little use in identifying small fragments. Undaunted, Gabos created a new typology based on the porosity and composition of the faience paste. "I wanted a way to categorize faience that is less subjective than the current methods," she says. "It was a challenge. I learned that archeology really is a big puzzle for which you don't have all the pieces and you don't know how many pieces there are."
"Most of my time with these students is spent reassuring them that their instincts are right," adds her supervisor. "And, when they hit a wall, explaining to them why. The joys of research are easy. The frustrations are where I come in."
Those frustrations can be legion. "It's important for students to develop the willingness to fail," says Nilima Nigam, professor in the Department of Mathematics and Statistics. "It's something that one has to get comfortable with, to not get disheartened when one's first line of attack doesn't work. That's where creativity is important: if your first or second strategy doesn't work, you need to pick up the pieces and try something else."
Nigam watched Tayeb Aïssiou, a 21-year-old student in his final year studying math physics, go through this exact process. In 2005, Aïssiou approached Nigam about getting involved in research. She invited him to join her co-project with Faculty of Dentistry professor Svetlana Komarova: modelling population dynamics among the osteoclast cells involved in bone growth. Aïssiou's task was to construct a mathematical model to predict fluctuation in the cell population. "I wanted something different from what I'd already done," explains Aïssiou, who had no biology background beyond his CEGEP studies, "and thought working in biology could be exciting." He set about filling the gaps in his knowledge through a regimen of self-study, learning how to design, run and interpret biological lab experiments. "His first few experiments were not hugely successful," recalls Nigam. "Even once he got his experiments working, his first mathematical models failed to explain what was going on. Tayeb had to try again and again until he was able to successfully predict something that he later observed in his experiments." The results of Aïssiou's diligence have opened new directions of inquiry, and he is currently co-authoring a paper based on his work.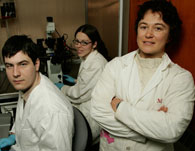 Nigam delights in the changes she's seen in her star student. "Tayeb has become gutsier," she says. "He's more open to new ideas, in the sense that not everything in the life sciences has a beautiful, elegant mathematical solution. He's learning the art of open inquiry, and developing the research temperament."
The research may change the students, but the students are also changing the research. When Jay Nadeau's lab was having difficulty screening bacterial colonies for expression of yellow fluorescent protein, biochemistry student and iGEM participant Adam Katolik, 22, plunged into an exhaustive literature search. He uncovered a polymerase chain reaction method so obscure that not even Nadeau had ever heard of it—and it worked like a charm. "I've never seen someone so dedicated as Adam," says Nadeau. "He's very good at looking things up, which is an important skill that a lot of graduate students don't have."
André Costopoulos recalls the time he and Colin Nielsen were using three different software packages to help another student reconstruct viewsheds (areas visible from a fixed vantage point) of Iron Age hill forts in southern Spain. Nielsen noticed that each program produced slightly different results. He ran the packages through a battery of tests of his own design, and found a systematic relationship between the variable of the terrain and the software.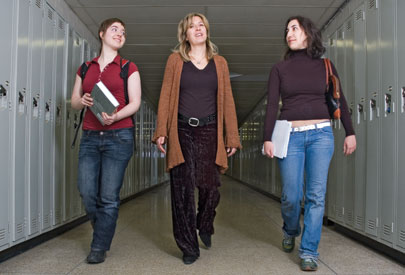 "I was concerned with the big picture," admits Costopoulos. "The different viewsheds were something I was willing to accept as a result of experimental error—then it's basically a problem of quantifying the error. But Colin grew up with computers, so for him it was a problem of finding out why different software produced different results. His inquisitiveness not only led to a correction of previous results, but it means much more accurate results for all our future work.
"Undergrads throw out questions and ideas that you've never thought of before, which then suggest new hypotheses," he adds. "When I see something coming out of the ground, I have set ideas of what I think it is. The students bring fresh perspectives to old problems, which can result in very surprising and enlightening perspectives."
Case in point: Wemindji. In August, Costopoulos and his undergrads will return to their James Bay dig. Hearth or building? There's a debate to settle.
"If the students weren't there last year," says the professor, "there wouldn't be a debate—it was pretty obvious to me what we were looking at, so I would've focused on answering other questions. But the students keep me in line by examining my claims. So for this year's trip, we're redirecting our efforts because of their input."
The team is excited about solving the mystery, about applying academic theory in the field, about making a meaningful contribution to understanding life in northern Quebec 4,000 years ago.
"Plus," says Costopoulos, "there's bragging rights up for grabs."