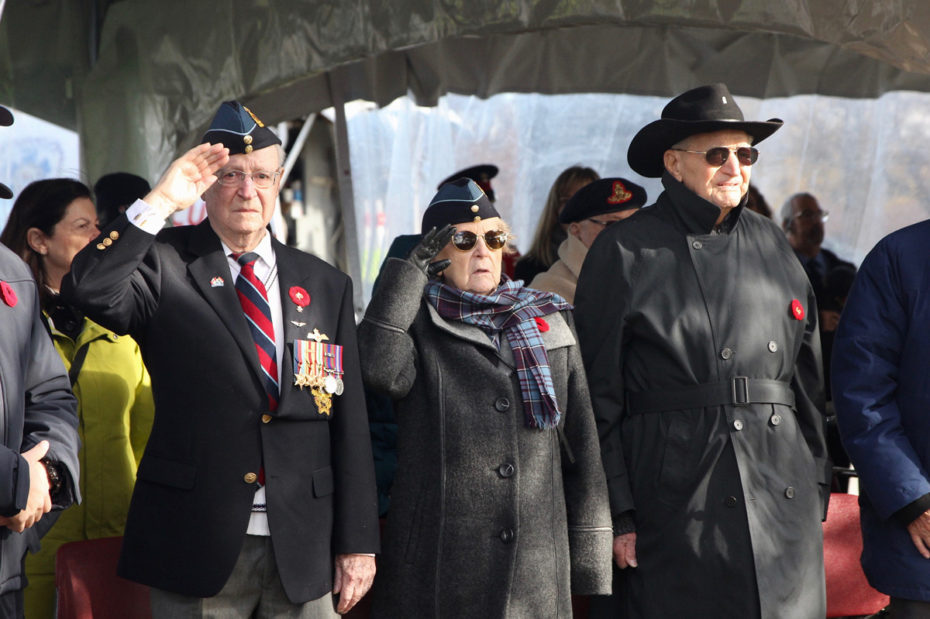 This year's annual outdoor Remembrance Day at McGill's Macdonald campus has been cancelled – but a pandemic-appropriate commemoration marches on. Longtime organizers of the annual ceremony at the campus have pivoted from an elaborate physical celebration of Canada's armed forces veterans to two remote events: a solemn memorial video (watch it below) and a campaign of postcards and letters from John Abbott College and Mac campus  students to veterans at St. Anne's Hospital.
"Our hope is that high school students understand what it means to be a vet," and honour the veterans' valour and dedication, said Franco Nardi, manager of property maintenance at McGill's Mac campus. Nardi is co-chair of this year's Remembrance Day organizing committee, with Bill Mahon of John Abbott College's  Student Activities Department. The Cégep and Mac campus have long partnered with nearby Macdonald High School on a Remembrance Day ceremony.
Bob McEwen, an organizer of the Remembrance Day event since its inception at McGill in 2006, said that "vets have been calling us wanting to know what's going to happen. So we're taken it upon ourselves to keep the tradition alive."
"A personal journey"
The three-and-a-half minute video featuring Alex Csank, a 62-year-old veteran, is scheduled to be played on TVs at St. Anne's Hospital on November 11, in both official languages. In the video, Csank pays tribute to fallen soldiers at a granite monument. The film's narration will consist of a poem on the theme of "reflection and remembrance," Mahon said. Veteran Rick Cartmel wrote the poem and will recite it in English; veteran Jean Gallagher will recite it in French.
Mahon echoed Veterans Affairs' "lest we forget" admonition:
"The poem is a personal journey. Most kids don't know anyone in the military, so this is to teach them that there's a history in Canada. Some people made sacrifices, and they need to remember that."
The video will be shared on social media platforms and sent to Cégeps in Quebec and junior colleges in Ontario, McEwen added.
Postcards for Peace
Mahon said that the letters and postcards being sent to vets are part of the Postcards for Peace initiative by Veterans Affairs Canada. The departments' website notes the importance of recognizing "the sacrifices our Veterans made."
"Postcards for Peace provides an opportunity for youth to send postcards to express messages of thanks to those who served Canada in times of war, military conflict and peace or to still-serving Canadian Armed Forces members. This learning activity allows youth to actively remember the sacrifices and achievements of Canadian Veterans."
Hospital staff will disinfect and quarantine the letters and cards for a few days before passing them on to vets.
Deep military roots
Csank, the veteran in the video, has deep roots at Mac campus and in the military. His father was the chief psychologist at St. Anne's Hospital for 35 years, and the family was housed on the hospital grounds. Csank himself served in the Canadian Navy from 1983 to 2003, and volunteered for a dangerous UN peacekeeping mission to Cambodia in 1993 to separate warring factions after the fall of the Khmer Rouge regime.
"Obviously I'm a big supporter of all Canadian vets," he said, and regrets not seeing "all those kids waving their flags" this year.
"We're not glorifying war – we want them to know just how awful war is."
Csank said that he wore his blue UN beret in the short film in order to represent all Canadians who have served under the flag, not just the Navy.
McGill retiree Peter Knox, who co-founded the Mac campus Remembrance Day celebration, said that McGillians have shouldered their share of the burden of war.
"The McGill reservists at Mac sent quite a contingent [to Europe during World War I]. There were 34 dead from Mac in that war, and many more [in World War II]. That's remarkable for a small campus."
Watch the special video