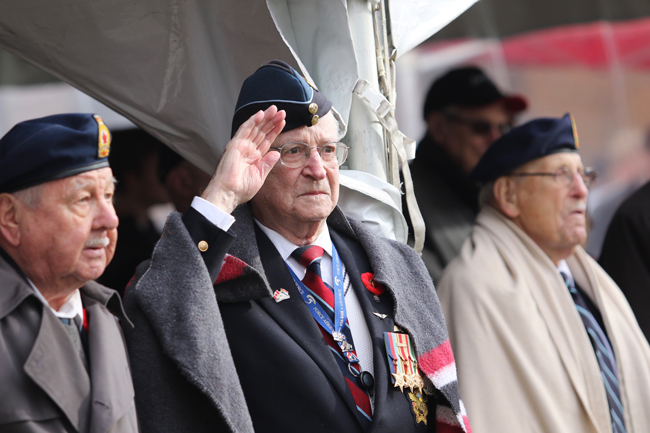 Hundreds of people gathered around the permanent War Memorial on Macdonald Campus on Nov. 9, to pay tribute to the men and women who have served in Canada's military. As in previous years, the vast majority of people in attendance were young, not yet adults – local elementary and high school students.
"Looking at these young faces around us, I'm thinking they might be wondering 'How can we possibly remember? We are too young. We weren't there. We don't know what happened,'" Jim Fyles, Macdonald's Associate Dean (Students Affairs), told the crowd.
"Our purpose here today is to remember – to remember the many times in the past that men and women were called to serve their country in defense of freedom and justice. To remember those who responded to the call and, in doing so, gave their lives," continued Fyles. "We gather here to remember."
Fyles asked people between the ages of 15-24 to raise their hands. Looking out at crowd, he nodded toward those who had put up their hand. "Quite a few of you – healthy, strong, idealistic… You would have been just perfect to ship off to the mud and cold and horror of the trenches in France," he said.
Fyles talked about Macdonald's long history of military service, beginning in the First World War. "Enrolment [in Macdonald College] at that time was just 450 students and yet, over 350 went to war," he said. "Thirty-five were killed – one in 10 – and many more had their lives changed forever. The whole community was touched. There would have been no escape.
"And at the end of the horror and loss, people gathered here to remember just as we do today."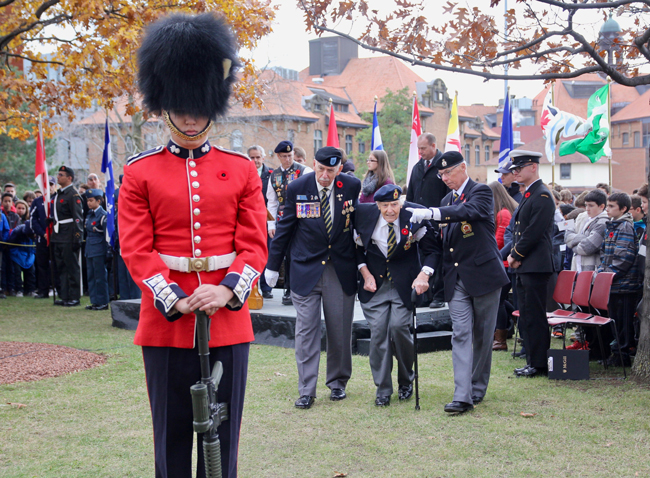 Even more people from Macdonald volunteered in World War II. In all, 525 people from Mac – including over 100 women – answered the call. Forty-two did not return.
Fyles noted that, while Canada is not at war today, the country – and individual citizens – are asked to support and defend the same ideals that thousands of Canadians have died to protect and preserve. "We are called in our own lives –  every day – in small and large ways, to stand up and speak out for the truth, justice and freedom that many people from Macdonald Campus have fought and died for," he said.
"As we gather here today; as we walk to class past the Memorial Oaks; as we confront injustice and intolerance in our lives, let us remember those who have gone before. Let us remember that their call is our call. Let us remember than in standing up for the ideals they fought and died for, we stand in solidarity with them. Let us not forget."