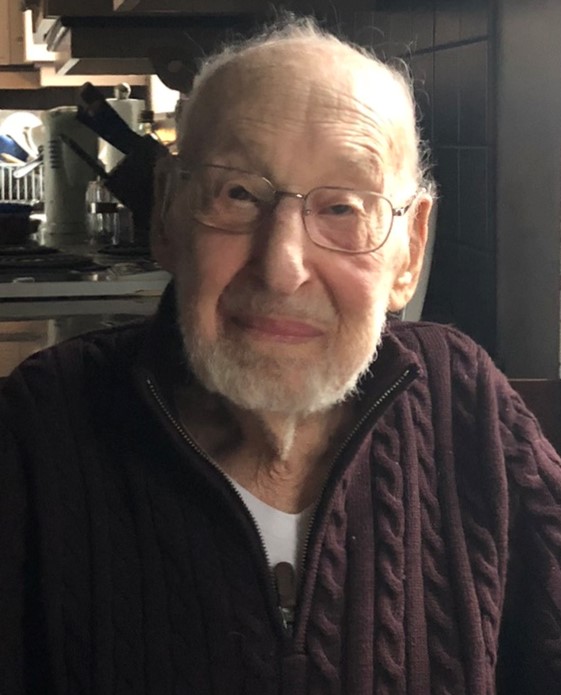 Civil engineer Benjamin (Ben) Gersovitz (BSc'40, BEng'44, MEng'48) still lived in his Westmount home when he died on May 6, 2022, just three weeks shy of his 103rd birthday. The centenarian, whose career in education and the private sector spanned over 50 years, was celebrated by family, former colleagues and students at Paperman & Sons and the Congregation Shaar Hashomayim Cemetery on May 10th.
Eulogies attested that Ben's life was an example of the power of quiet industry, humility and giving.
Ben's father, Joseph (Joe) Gersovitz, arrived in Canada from Lithuania in 1903 as a carpenter, but quickly worked his way up to become one of Montreal's most prolific residential developers, most recognized as the man behind the iconic Trafalgar Apartments on Côte-des-Neiges Street. Within five years of his arrival, Joe had established himself enough to marry Rachael Vosberg, whose family had emigrated to Montreal in the 1870s. Benjamin Gersovitz, born May 24, 1919, was the third of four
children the couple would have.
After a few early years on St. Urbain Street, Ben and his family moved to Westmount to the house Joe constructed on Argyle Street. Ben would live there through his early education at Argyle School and Westmount High, as well as during his years at McGill University, walking every day along Sherbrooke Street to Roddick Gates.
Ben earned his first degree at McGill in science in 1940, but his plans to go on to medical school were thwarted by quotas placed on the number of Jewish student candidates accepted. Undaunted by this discrimination, he reapplied to McGill, this time in the Faculty of Engineering. He earned his undergraduate degree and then in 1948, his Master of Civil Engineering.
While completing his Master's (in pre-stressed concrete), Ben took his first job at Truscon Steel at the corner of St. Catherine and Peel Streets, from whose 6th-floor vantage point he would watch the V.E. Day euphoria on the streets of Montreal May 7, 1945. He moved on to developing small-scale residential projects, finally returning to McGill's Faculty of Engineering as a professor in the early 1960s. Ben became a consummate educator, combining care for his students with inquisitiveness and innovation. He constructed a five-foot-long slide rule as a prop to show his students how it worked.
"Ben was a true gentleman with a strong intellect," remembers Gerry Soiferman (BArch'63), who took Professor Gersovitz's structural engineering class as a student of architecture. "He was a very good teacher. He knew his subject matter well, explained it in a coherent and enjoyable manner. He brought out the best in every student."
Although he would continue to teach at Vanier College for many years, Ben left the Faculty at McGill for the private sector, finally setting up shop at SNC Lavalin, where he remained until his retirement at the age of 81. At SNC, Gersovitz preferred the subtle work of designing unconventional structures, such as high tension wire supports and grain silos. He often chose to take on the salvage of buildings and other structures that had been designed badly–the challenges of repairing them were far more interesting to him than designing new ones.
This curiosity was not new to Ben. From sailboats to jewelry to knitting, there simply wasn't a skill he couldn't master, and it was frequently for the benefit of his children and grandchildren. "My father learned knitting just so he could teach it to me," remembers Ben's daughter, Julia Gersovitz, O.C., BSc(Arch)'74, BArch'75, a professor of practice at McGill's Peter Guo-hua Fu School of Architecture. "He made the most beautiful jewelry. If we wanted to play basketball, he poured the foundation for the net. If we wanted to play pingpong, he made the table. There was simply no material that this man could not work with his hands."
It was also Ben who encouraged Julia to pursue a career in architecture. He was a feminist, convincing his wife Sarah to leave her teaching job and study art full-time. He took care of their three young children on the weekends so she could concentrate on her creations. It enabled Sarah to become a celebrated artist-printmaker and member of the Royal Canadian Academy of Arts. Ben and Sarah Gammer married in 1944 and they remained together until her death in 2007. These are emblems of the fierce moral compass, progressive outlook, and outstanding ethical character, informed by his dedication to Judaism, that guided his life.
Adoring father of Mark (late Karen Neander), Julia (Mark Boretsky), and Jeremy (Peggy Donahue); doting grandfather to Alexander, Jesse (Marisa Corona), and Francesca (Louis Clouâtre), Benjamin Gersovitz left his mark on the world with kindness and intelligence, sporting a mischievous smile and an understated sense of humour until the end.