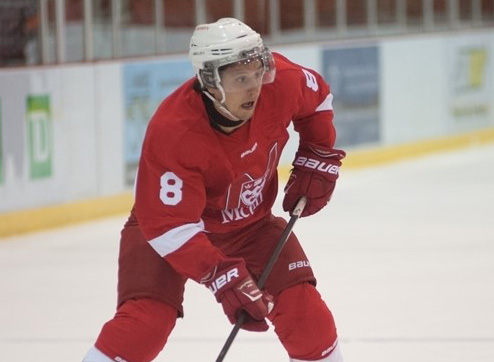 By Earl Zukerman
Simon Tardif-Richard of Gatineau, Que., tallied twice, including the game-winner on a power-play at 14:45 of overtime as No.8-ranked McGill rallied for a hard-fought 4-3 victory over Concordia and an OUA East men's hockey quarter-final playoff sweep at the Ed Meagher Arena, Friday.
The Redmen, who overwhelmed Concordia 9-2 in the best-of-three series opener on Wednesday, will play the Carleton Ravens in the semifinals of the OUA East playoffs.
It marked the third straight year that McGill had disposed of the Stingers in the opening playoff round as the Redmen have now taken nine of 13 post-season series against their cross-town rivals, improving to 16-11 in 27 playoff confrontations.
"It was unbelievable. It felt like like 50 pounds of pressure had been lifted from our shoulders," said Tardif-Richard, a 5-foot-10, 189-pound finance sophomore who was playing in just his second contest after returning from an injury that cost him the final seven games of the season. "I jumped on the (loose) puck in the crease, then the next thing I know, the puck was in the net and everybody was coming at me. It was an amazing feeling."
McGill, which had a 51-36 edge in shots, fell behind three times but roared back on each occasion, with the first two markers coming from David Rose and the latter two from Tardif-Richard. who forced a sudden-death period by making the score 3-3 at 9:30 of the third period. He then served as johnny-on-the-spot in the extra session, pouncing on a Samuel Labrecque rebound in the crease.
Rose, a speedy economics senior from St. Hubert, Que., who also dressed for the second straight game after being kept out for the previous six with injury, ended up with three points on the soiree. He missed an opportunity for a hat-trick when he failed to connect on a penalty shot after being tripped by blueliner Andrew Rossy on a breakaway early in the third period. Rose was almost awarded a second penalty shot on another breakaway in the overtime but Concordia defenceman Anthony Cortese was called for hooking instead. The ensuing power-play led to the winning goal.
"Both (Tardif-Richard and Rose) were real fast, moving their feet, had a lot of jump in their game and it was good to see them both contribute in big ways," said Redmen head coach Kelly Nobes, who improved to 175-77-3 overall in six seasons behind the Redmen bench. "But it was really a team win, a collective win from top to bottom. Everyone contributed tonight."
The Stingers had taken leads of 1-0, 2-1 and 3-2 on respective goals by Scott Oke, Raphael Lafontaine and Olivier Hinse, but were no match for the vaunted McGill power play, which led the nation at 31.2 per cent and went 2-for-3 in the game. One of the Redmen man-advantage situations was a five-minute checking to-the-head major assessed to Stingers sniper Philippe Hudon late in the first period. Hudon also received the automatic game misconduct that is accompanied with all majors and will serve at least a one-game suspension next season.
Concordia replied on one of their two power play chances.
But McGill kept battling back and for long stretches in both the second and third periods, looked like they were on a prolonged power-play. They had a challenging time, however, trying to beat Concordia goaltender Miguel Sullivan who was officially credited with 47 saves although the McGill stats count had him making 61 stops.
"We knew it was going to be a hard game and it was," said Nobes. "It went to overtime… We lost three key guys (F Daniel Milne, F Patrick Delisle-Houde and D Dominic Talbot-Tassi to injury) and we put 50-plus shots on their goalie. What we wanted to see tonight was fighting through that adversity and showing the character that we have. I told the guys after the game that I was proud of them."
 McGill will host the Ravens this Wednesday, Feb 24, at 7 p.m. at McConnell Arena in the opening game of the OUA semifinals. Tickets sold at the Redbird Sports Shop.