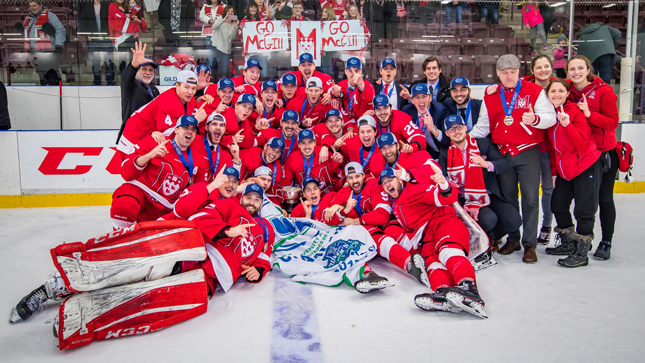 Samuel Tremblay of St. Hubert, Que., scored twice, including the game-winner as McGill skated to a 5-1 triumph over the Brock University Badgers to capture the 107th edition of the Queen's Cup championship in OUA men's hockey, presented by CCM, before a capacity crowd of 1,517 at the Seymour-Hannah Centre, Saturday, March 10.
It was McGill's 18th Queen's Cup title but their first since 2012 when the went on to win a national championship. McGill, which won 13 Cups from 1903 to 1946, has now collected five more in the past 11 years, from 2008 to 2018. Both the Redmen and Badgers will advance, along with OUA bronze medalist Concordia, to the U SPORTS Final Eight tournament in Fredericton, Mar. 16-18, where McGill will earn a top three seeding as one of three league champions from across the country.
The Redmen, who outshot Brock 32-25, led 2-0 after the first and 5-1 after two. McGill was 3-for-8 on the power-play and erased five of six penalty-killing scenarios.
"It was a great team win, we had contributions from everybody tonight," said McGill head coach Kelly Nobes, who also led the team to Queen's Cup championships in 2012 and 2011. "Our special teams were very good, all four lines up front and all six 'D', along with our goaltending was great. We had a complete game and I'm really proud of this group. It's a very significant accomplishment to to win the championship of a 20-team league and to have to do it on the road in front of a capacity crowd."
McGill, which finished first in the league with a 24-2-2 record, was forced to travel 650 kilometres to the Niagara region to play the title match on the road as OUA policy dictates that their championships must be played in Ontario. That said, McGill was permitted the last line change and the last set-up on faceoffs.
Tremblay, a science sophomore who earned CCM player-of-the-game honours, opened the scoring at 7:20 of the first period, then made it 2-0 less than four minutes later, beating Brock starter Clint Windsor for his fifth goal in nine playoff games.
Brock cut the lead in half midway through the second period when Ayden MacDonald connected on the power-play, narrowing the gap to 2-1.
With five minutes left in the second period, McGill's offence exploded for three straight power-play goals to take a 5-1 lead.  Connecting for the Redmen was Guillaume Gauthier, Christophe Lalonde and Jerome Verrier, who finished with a three-point soiree to win the OUA playoff scoring title with a 6-11-17 in nine games,
In goal, McGill starter Louis-Philip Guindon registered 24 saves for the victory. Guindon has posted a 7-2 record in the post-season, with a 1.81 goals-against average and a .933 save percentage. Brock's Clint Windsor was beaten five times on 32 shots and took the loss. He was also penalized twice, for slashing and delay of game (knocking the net off the moorings), which resulted in two PP goals.
"I was especially proud and happy for our seniors, who had a chance to hoist the Cup," added Nobes. "They have lost in the Queen's Cup final before and may have won the bronze for a wildcard to the Nationals but this was their first championship with us."
It was McGill's sixth straight victory over Brock as they improved their lifetime record to 28-4-2 against the Badgers in a series that began in 1988. It marked the second time that these teams had crossed paths in the Queen's Cup final. The first occurrence was on March 3, 2008 and McGill came away with a 4-1 victory that night to capture the Cup for the first time since 1946. Trailing 1-0 in the third period that night, All-Canadian rearguard David Urquhart scored early in the third to spark a four-goal rally. Now a full-time assistant coach with the Redmen, Urquhart is a native of nearby Thorold, Ont., and had a plethora of family and friends on hand on both occasions.
"It was great to have a large group of alumni and family behind our bench," noted Nobes. A lot of them were Urq's family and friends and I'm really happy for him. he was the captain of that Queen's Cup championship team in 2008 and he's been a huge part of our success for the last few years as an assistant coach and it's very well deserved."
This one-game affair marked the 100th playoff series in McGill history dating back to 1910, with the Redmen having won 54 of them. In 187 post-season contests since their first, McGill has 98 wins and 89 losses, including a 93-62 mark since joining the OUA in 1987.
Heading into the U SPORTS University Cup tourney, UNB, the Atlantic champion (24-2-4) is the top seed, followed by Alberta (Canada West champs; 23-4-1) at No.2 and McGill (22-4-2) at No.3. Of the remaining five teams, Brock (OUA finalist;14-9-5) is seeded fourth, St. Francis Xavier (AUS finalist; 22-4-4) fifth, Saskatchewan (Canada West finalist; 20-7-1) sixth, Acadia (AUS host; 18-10-2) seventh and Concordia (OUA bronze medalist; 18-7-3) is eighth. McGill is scheduled to depart for Fredericton Tuesday morning and will play its quarter-finals match on Friday versus Saskatchewan.