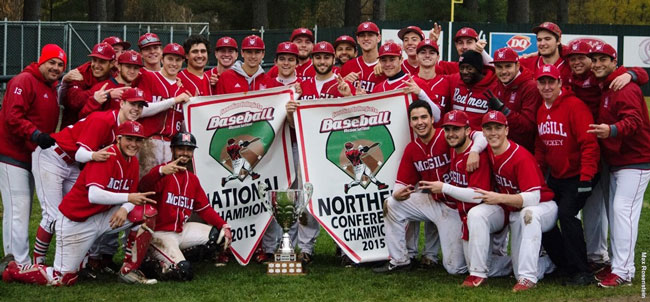 By Earl Zukerman
If Toronto's Jays left you feeling a blue after bowing out of baseball's American League Championship last week, the McGill Redmen will give you reason to cheer after the team's championship performance this past weekend.
Infielder Tyler Welence, a senior from Ridgewood, N.J., went 2-for-4 and scored twice, sparking McGill to a 4-1 victory over the Holland College Hurricanes, Sunday, to capture the Canadian Collegiate Baseball Association Championship at Royals Field in the New Brunswick capital.
The Redmen won all five of their games in the six-team CCBA tourney, outscoring opponents by a lopsided 37-8 margin, extending their win streak to 10. It was the fifth national baseball title overall for McGill, including last year's tournament won on thir home turf at Gary Carter Field in Cote St. Luc, Que. They also claimed three championships under the old CIBA banner in 1994, 2006 and 2010.
"I'm really proud of these guys, we played some great baseball. It was just an unbelievable weekend that we had down here," said head coach and field manager Jason Starr, a McGill grad, whose Redmen posted a 23-6-1 record overall, including a 12-4 first-place finish atop the CCBA Northern Conference and a perfect 9-0 mark in post-season play. "We played well and really didn't give up a lot of runs throughout the tournament… that always helps. The guys had a lot of key hits and came here ready to win and were prepared to do it."
"Our coaching staff has been unbelievable, they volunteer their time and put in a lot of hours and its very rewarding to see it pay off. The players worked hard and executed the game plan but the coaches deserve just as much credit in this victory."
McGill never trailed after scoring two runs in the first on a two-run single by first baseman Zachary Aaron, a finance senior from Montreal. The Redmen added one run in both the fifth and sixth innings. In the fifth, they scored on an error, bringing home Welence, who had previously singled in the first inning and doubled in the third.
Welence, a second baseman, also made a stellar defensive play on the final out of the game. With two out and a runner on first, he dove up the middle to block a hard hit ground ball behind second base. Shortstop Robert Sedin then pounced on the ball and fired it over to Zachary Aaron on first base to end the contest as the team swarmed the mound in celebration.
"That was one of the best plays I've ever seen to win a championship," said Starr, who previously was an infielder for the Redmen from 2001 to 2004 and took over as head coach in 2012. "I can't say enough about how much Welence and Sedin have brought to this program."
Besides Welence, the only other multi-hit player in the game was third baseman Jamie Fuoco, an engineering senior from Pierrefonds, Que., who went 2-for-2 with a walk.
Starter Adriano Petrangelo, a third-year anatomical science major from Montreal, recorded the win. He scattered three hits and three walks over five innings, striking out one and allowing just one run. He threw 76 pitches, 47 for strikes before being relieved for the last two innings by Henry Dennis, who collected a save.
For Holland, a junior college based in Charlottetown, Dominique Ryan went 1-for-2 at the plate, with a homer in the third inning. Spencer Horne was the game's losing pitcher. He lasted just six innings, walked one, struck out two, and allowed four runs.
Sedin, also a key starting pitcher, was voted as the championship tournament MVP in addition to being named as the CCBA Northern Conference pitcher of the year. In the five games, he was 5-for-19 with a walk, a pair of doubles, one homer, five runs scored and five RBIs. On the mound, the second-year entrepreneurship student from Sunnyvale, Calif., won his only start, scattering four hits and allowing just one run in six innings. He struck out seven, walked six and hit one batter.
He was joined on the all-tourney team by three teammates, including catcher Sam Groleau of St. Laurent, Que., second-baseman, Welence and sophomore left-fielder James Pavelick of Surrey, B.C. Groleau, a first-year transfer from the Universite de Montreal, was also voted as the tourney's most outstanding hitter.
REDMEN RAP: The back-to-back national titles caps a fine career for four graduating members of the Redmen, including the aforementioned Sedin (diploma in management), Welence (BA '16), Petrangelo (BSc '16) and pitcher Justin Hii (B.Eng '16).