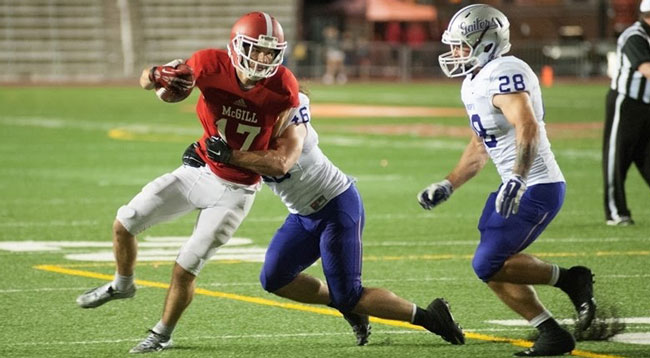 By Earl Zukerman
Slotback Louis Brouillette, a 22-year-old mechanical engineering senior from Sherbrooke, Que., collected a game-high 172 all-purpose yards, including a spectacular game-breaking, 33-yard TD pass-and-run play with 4:26 remaining as McGill defeated visiting Bishop's 10-3 in their RSEQ conference opener at Percival Molson Stadium on Friday.
It was McGill's first season-opening victory in 15 years – dating back to a 20-15 home-field decision over Concordia on Sept. 9, 2000 – and also snapped an 11-game losing streak in regular season play for the Redmen, since a 53-52 overtime conquest at Concordia on Sept. 28, 2013. Bishop's, which had claimed the last three head-to-head meetings with McGill, leads the all-time series between the two rivals at 45-40-1 dating all the way back to their first rendez-vous in 1885.
BU opened the scoring on a 32-yard field goal by Vincent Dubé at 6:27 of the opening quarter. McGill countered with a field-goal of their own when Justin Lavallee nailed a 14-yarder at 9:46 of the second quarter, setting the stage for Brouillette's late heroics. He hauled in seven catches for 100 yards, to go along with 72 yards on nine punt returns. His game-breaking play was a leaping catch up the middle in triple coverage.
"It was a switch release against man-coverage and (quarterback) Joel Houle threw a good ball, right on target," explained Brouillette, who led the team in receptions last year. "I caught it but honestly, I don't know what happened, it went very fast. I went up for the ball, a defender hit me but I managed to land on my feet and when I looked up, I saw the endzone about 10 yards away so I just sprinted as fast as I could."
The Redmen, who had an 18-12 edge in first downs, registered 332 yards of net offence, including 127 rushing and 212 in the air. Bishop's collected 237 net yards, 93 of them on the ground and 160 in the air.
"It feels real nice to finally win after going a whole year without a victory," said Houle, a sophomore from Chateauguay, Que., who went the distance to post his first career conquest, completing 18 of 38 attempts for 212 yards, one TD and an interception. He also rushed nine times for 58 yards.
"Louis is a guy with a big heart and makes big plays for this team. We saw that tonight. He made a great catch, in traffic, broke a tackle and scored the winning touchdown. It was a designed play with a tight window (of opportunity). I just threw it but he did all the work on that play."
It marked the first official CIS victory for McGill head coach and defensive coordinator Ronald Hilaire, whose opening-day 48-man dress roster featured 19 freshmen, 13 sophomores, 10 juniors and only six seniors. The milestone was not lost on the players, who baptised Hilaire with a traditional ice water shower after the final whistle.
"Well I wasn't expecting that (shower) because when I put down my headset in the last few seconds, I thought that they forgot about me, so I was playing it cool," revealed Hilaire, a 30-year-old native of Laval, Que., who was appointed co-head coach on an interim basis late last September and was officially named to the post on Feb. 17, 2015. "They got me good but it was a pretty good feeling. We'll get to enjoy that for another few hours before going to bed. Then we wake up and go back to work. I think we did a good job but we've still got a lot of things to fix.
"One of the things that I liked about the way we played was that we were real competitive. That's one of the points we've stressed. We wrote that as a slogan on our T-shirts and talked about competing for 60 minutes, from start to finish… and that's exactly what we did. We never gave up and believed in ourselves. As long as you believe, then anything is possible."
Travis Eaman started at quarterback for the Gaiters and was 14-for-29 passing, for 160 yards, no TDs and no interceptions. The sophomore from Brampton, Ont., was sacked five times by a voracious McGill defence, including two by linebacker Karl Forgues, who had a monster day at the office. The 5-foot-9, 188-pound sophomore served notice that his RSEQ defensive rookie-of-the-year award last year was no fluke. The physical education major was in on 15 tackles, including eight solos and seven assisted. He was also credited with a forced fumble and a knockdown.
Trevor Millings led the Gaiters with 138 all-purpose yards, including 103 on seven punt returns, 31 on three receptions and four rushing yards. Vincent Davignon topped the team in rushing with nine carries for 65 yards. Robby Burke was their leading receiver with 51 yards on three receptions. Jonathan Fortin spearheaded the BU defence with six solos, one assisted tackle and a knockdown.
McGill (1-0) will have their hands full this week when they make a short 20-minute jaunt around Mt. Royal to take on the Carabins on Friday, Sept. 11, at 7 p.m. Bishop's (0-1) plays host to Concordia (0-1) on Sept. 12 at 1 p.m.
REDMEN RAP: Other McGill sacks in the game went to junior RE Devon Stewart (2) and freshman MLB Dane Wagner (1)… RB Luis Guimont-Mota led all rushers with 72 yards on 14 carries… LB Anthony Couturier-Lagace was credited with one fumble recovery to go along with a pair of solo tackles and five assisted tackles… McGill's team captains for this year are OL Pierre-Olivier Daloze and WR Louis Brouillette on offence, along with DL Devon Stewart and SFTY Alexandre Lefebvre-Tardif on defence.