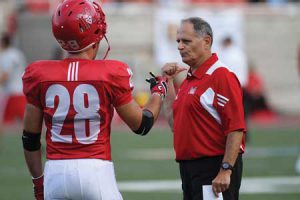 By Earl Zukerman
Sonny Wolfe is stepping down as head coach of the Redmen football team. The 68-year-old native of Montreal was scheduled to
retire at season's end but has decided to move up his date of departure.
"The chances of making the playoffs are slim so it's time to start thinking of next year," said Wolfe, who will be staying on staff at McGill until his contract expires in April. Clint Uttley, the team's full-time defensive coordinator, will take over as interim head coach.
"Sonny has been a true gentleman to work with and we accept his decision to step down a few months earlier than planned," said Drew Love, executive director of Athletics and Recreation at McGill. "We will now concentrate on providing Coach Uttley with the assistance he needs to focus on the future of the program."
McGill is currently last in the six-team Réseau du sport étudiant du Québec conference with an 0-6 record and three games remaining in the season. The Redmen are scheduled to host the No.5-ranked Montreal Carabins (3-3) in the annual McGill Homecoming game this Saturday at 1 p.m. The game will be televised nationally on SRC, the French-language network of the CBC.
Wolfe took over at McGill in 2007 after 19 years as head coach at Acadia University and three more as an assistant at the Université de Montréal. He owns an 83-94 lifetime record in CIS regular season play, winning Atlantic Conference championships in 1986, 1995 and 1998. A former defensive back with the Redmen, Wolfe graduated from the University with a physical education degree in 1976. He then served as an assistant coach at McGill for eight seasons under head coach Charlie Baillie from 1976 to 1983 before moving on to coach at Acadia.
Uttley, a 38-year-old native of Orillia, Ont., has served on the McGill staff since 2008. His previous coaching experience includes a two-year stint at the University of British Columbia, where he was the special teams coordinator and defensive backs coach. He also spent six years at Acadia University, where he served his final two years as assistant head coach and defensive coordinator with the Axemen.
Uttley played five seasons at middle linebacker for Acadia (1996-2000) where he was a four-year starter and team captain for two seasons. He graduated with a Bachelor of Arts in 2000, followed by an education degree in 2004. A product of St. Mary's high school in Hamilton, he also had playing stints with the Burlington Braves (junior) and Champlain Regional College in Lennoxville, Que., where he helped guide the Cougars to the Bol d'Or junior college championship in 1995