On April 25, some 100 people gathered for the fourth event on the McGill trivia calendar. During the two-hour event, teams huddled and conferred to answer 70 questions covering everything from geography and science to pop culture and music.
At the end of a tight contest, Henry's Habitual Habitat, anchored by a family of Quebec and Ontario players, nudged We Know Stuff with a rare perfect 10 in the final round.
Of course, trivia in the time of COVID-19 means the whole enterprise – including team huddles and celebratory fist bumps – was done virtually on Zoom.
Labour of love
Now in its tenth year, McGill trivia is the brainchild of David Harpp, Macdonald Professor of Chemistry and the Tomlinson Chair of Science Education at McGill.
It is a much-loved child and one that is not lacking in attention.
"It's just an estimate, but I put about 140 hours into each season of six events," says Harpp via phone from New Brunswick where he and his wife are riding out the COVID-19 pandemic. "But I enjoy doing it, a lot. I'll spend an hour or two making up questions just for fun.
"I'm actually a year ahead in questions," he says with a chuckle. "Just finished April 2021."
Six times over the course of an academic year, 25-30 teams gather in the ballroom of the Faculty Club to vie for prizes that include everything from McGill merch to vouchers for LE JAMES Bookstore and dinner at the Faculty Club.
But, says Harpp, the most coveted prize of all is bragging rights. "It's really very competitive," he says. "People have fun, but they really want to win."
Adapt and overcome
Like the entire world, this trivia season was derailed by COVID-19. However, lockdowns and social distancing have forced people and institutions to adapt, innovate and overcome. And trivia is no exception.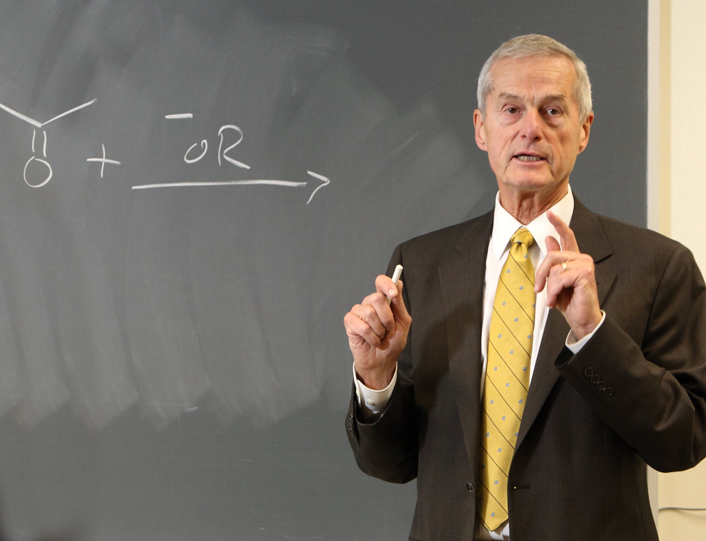 "I needed the help of electronic wizards like my daughter who hosted the Zoom event from Colgate University (she is a Geology prof there); and a former McGill grad student, Brandon Bray for scoring the results. He works for the Environmental Protection Agency in Washington, D.C.," says Harpp. "The main scorekeeper is Ms. Meaghan Osborne from Windsor, Ontario. She is an undergraduate student at McGill who helps me with the World of Chemistry Courses."
Of course, the new format wasn't without a few minor growing pains.
"Our team didn't realize you can't have concurrent Zoom meetings running on the same device," says Bud Martin, a member of the Ministry of Truth, once a trivia juggernaut that has fallen upon hard times of late. "So, we had a few panicked minutes trying to figure out how to run our side conversation. We finally MacGyvered a solution running a second Zoom meeting on secondary laptops, phones and tablets. That worked great, but we had other problems that can't be pinned on technology."
The Ministry limped to a three-way tie for eighth place.
Filling the void
"You don't get the same energy as when everyone's packed into the Faculty Club ballroom, but the virtual game was still a ton of fun – and Prof. Harpp and his crew did a great job of running a smooth game," said Martin. "A big part of the fun is joking around with teammates, and that works well on Zoom. It's also a shorter walk to the washroom. The downside: it's harder to trash talk the other teams, and I missed the Faculty Club's shoe-buffing machine. Not that I've worn shoes in the last 50 days, but still."
For Harpp, who, presented the whole set of 70 questions on PowerPoint rather than risk people missing out because of a frozen computer or garbled transmission, the most striking difference was the silence.
"Usually, people are whispering. There's lots of laughter and background chatter," he says. "But there I was sitting alone by myself looking out at the Northumberland Strait. I felt the huge vacancy. So, I filled the silence with odd, quirky remarks."
Much appreciated diversion
Trivia is a labour of love for Harpp, who tries to keep the questions, the answers – and the delivery of both – as fun as possible. One of his preferred PowerPoint ploys is a slow, digit-by-digit reveal for answers involving dates. "It adds a bit of drama," he says with a laugh. "I follow the same adage I followed when I started teaching – would I want to be in this class?"
By Harpp's own standards then, trivia night is a resounding success, enjoyed by hundreds of people over the past decade. And the first virtual event was not an exception. "I was touched by how many people sent their thanks after the match was over," he says.  "I think it was a nice diversion and a welcome relief in these stressful times."
While most of the participants are vets, Harpp says newcomers are more than welcome to sign up for the final two trivia nights of the season. "People should email me (david.harpp@mcgill.ca) and we'll do our best to accommodate as many people as we can," he says.
The next event is on May 12 at 7 pm EST.