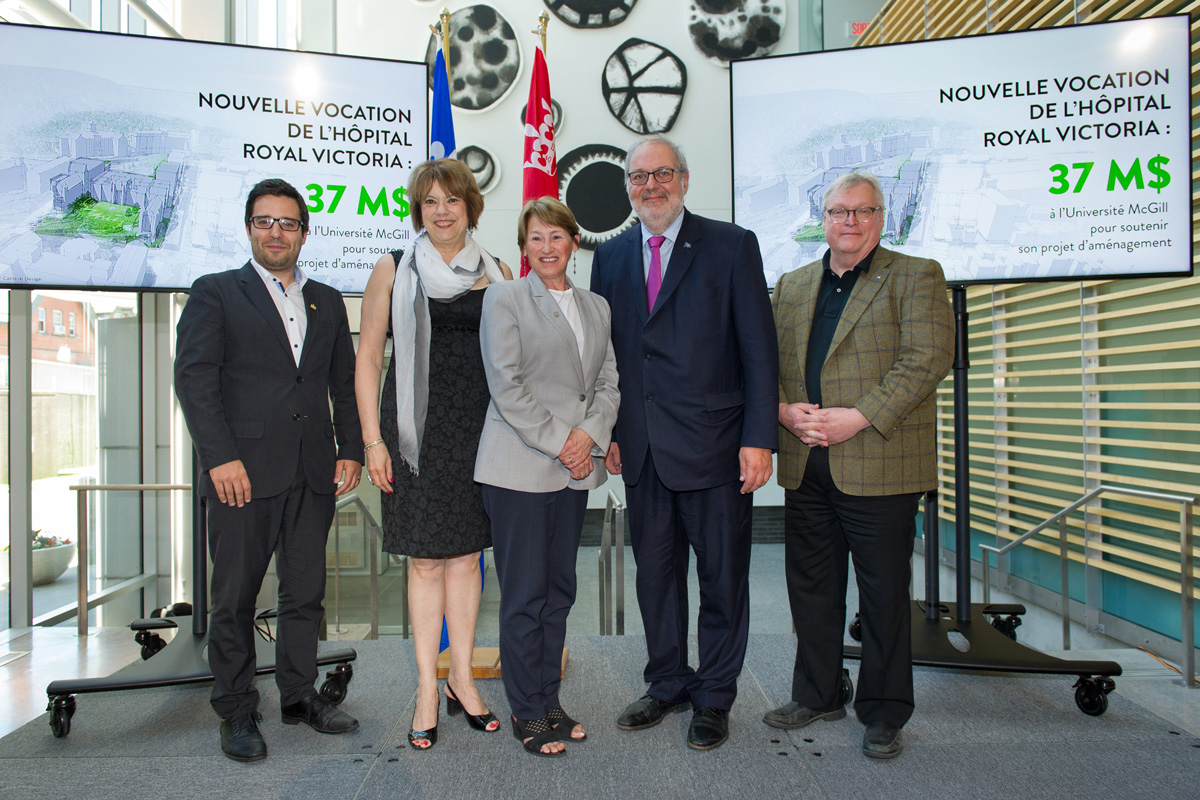 The Government of Quebec is investing $37 million to allow McGill to plan the transformation of the former Royal Victoria Hospital into one of the world's leading hubs for learning, research and innovation in environmental sustainability and public policy. Three ministers made the announcement on Friday, June 22: Hélène David, Minister responsible for Higher Education; Gaétan Barrette, Minister of Health and Social Services; and Pierre Arcand, Chair of the Conseil du trésor.
Adjacent to the northern portion of McGill's downtown campus, the iconic site has played an important role in the lives of thousands of Montrealers for more than a century. The hospital operations transferred to the Glen Site in April 2015, leaving the building largely empty.
The $37 million allows McGill to proceed with detailed design specifications to create modern and energy-efficient quarters housing the new Max Bell School of Public Policy and the McGill Sustainability Systems Initiative. The University's plans will respect the Vic's architectural heritage, sensitively repurposing landmark buildings of immense historical and cultural importance.
The Government also announced on Friday that it intends to transfer part of the RVH site to McGill, and will authorize the Société québécoise des infrastructures (SQI) to plan the transfer process. The SQI will collaborate with McGill and the Ville de Montréal on a master plan for the entire locale.  
"I want to thank the Government of Quebec for supporting a visionary project for McGill, Montreal, Quebec and Canada," said Principal and Vice-Chancellor Suzanne Fortier. "This historic site is a unique opportunity to create new ways of addressing the most pressing issues of our time, particularly environmental sustainability. It will be an important gathering place for people from Quebec and around the world to learn, conduct research and innovate."
"A large project like this will take a considerable amount of time and effort, and we will of course engage with various groups within the McGill community as we move forward," said Yves Beauchamp, Vice-Principal (Administration and Finance). "According to our plans, people could be moving in as of 2026."
The RVH site is one element of a holistic Master Plan that will ultimately revitalize space on McGill's downtown and Macdonald campuses to support McGill's academic evolution. As part of this process, Campus Planning and Development will engage with the McGill community to rethink the space that would become available when people move to the Vic.